2020: A Year Like No Other
IPR's top content over the year reflects key social themes and the coronavirus pandemic
Get all our news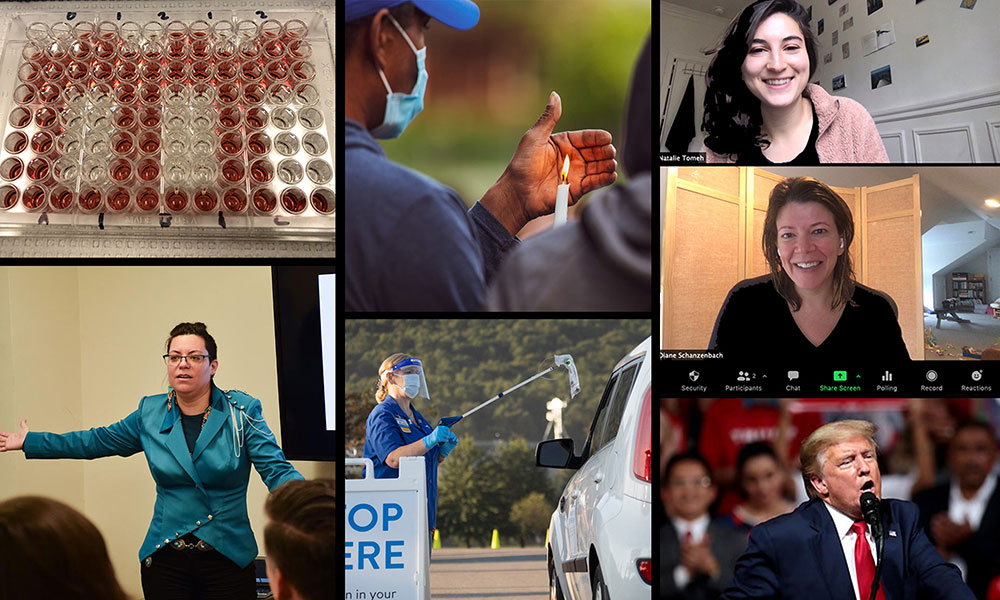 Snapshots from IPR's most-accessed 2020 content (captions below)
2020 was a year in which we saw the unrelenting spread and devastation of the coronavirus, George Floyd's death and Black Lives Matter protests, a turbulent presidential election amidst entrenched political divisiveness, misinformation and disinformation, growing disparities, deadly gun violence, and a widening recession.
Across IPR's top content of the year, seven key research themes emerged: food insecurity, poverty, racial disparities, policing and violence, politics, education, and, of course, the pandemic itself.  
"The problems of 2020 are still with us in 2021, and their effects will be with us for years to come," said IPR Director and economist Diane Whitmore Schanzenbach. "IPR faculty pivoted to producing relevant research at a record pace over the past year to respond to these crises, and their work remains critically important as our nation continues to confront them."
IPR's Top 2020 Content
IPR's Top 2020 Content

IPR Director and economist Diane Whitmore Schanzenbach has studied food insecurity for most of her academic career, but when some of the first data on food insecurity came through in April after the start of the pandemic, she was shaken. "I've never seen numbers this bad," she said. As one of the nation's foremost experts on the food safety net, Schanzenbach launched into conducting a real-time study of figures from the COVID Impact Survey and the Census Bureau's Household Pulse Survey. She and her research assistant Abigail Pitts put together six IPR rapid research reports over the year. She also worked with an undergraduate researcher, Natalie Tomeh, to create an app that allows users to easily access food insecurity rates for each of the 50 states and also to sort by household types as well as racial and ethnic groups.

In January 2020, IPR sociologist Beth Redbird discussed the persistent, high poverty rate among Native Americans, where 1 in 3 live in poverty with a median income of $23,000 a year—a figure that has likely worsened with the pandemic. "Poverty has been, for over a century, a huge part of the conversation about Indigenous well-being, but to a large extent we don't even know what drives Native [American] poverty, what causes it, and where it comes from," she said. "And without those answers, it's awfully hard to know how we can fix it." She pointed to the role of demographic changes and possible economic opportunities. The talk was co-sponsored by the Center for Native American and Indigenous Research, where Redbird is also a fellow.

 

 


When the pandemic hit the U.S., IPR faculty pivoted their research programs or created entirely new ones to meet the challenges of the pandemic. Their research covered a wide swath of topics, including a new model for contact tracing, racial disparities, and gender equality, among others. But one of 2020's most-read articles involved how research-driven insights from the social sciences can help address many of the social, economic, and political ills arising out of the pandemic. IPR experts Eli Finkel, a psychologist, and James Druckman, a political scientist, worked on the project with an interdisciplinary cadre of more than 40 social scientists from around the world. The researchers synthesized more than 250 prominent peer-reviewed studies, chapters, and books with concrete recommendations for navigating threats, social contexts, communicating science, moral decision making, leadership, and stress and coping. Their research was first disseminated as a working paper before it appeared in the journal Nature Human Behaviour. 

As antibody testing ramped up across the country in the spring, a team of Northwestern University researchers developed a new method for testing antibodies of SARS-CoV-2, the virus that causes COVID-19. Their method combines the convenience of a single drop of blood collected from a finger stick at home with the analytical rigor of a lab. IPR biological anthropologist Thomas McDade, the paper's lead author, worked on the interdisciplinary project with Feinberg Medical School faculty Alexis Demonbreun, Richard D'Aquila, and Elizabeth McNally and medical social sciences professor Brian Mustanski, an IPR associate. "[A]ntibody testing is necessary for ascertaining the true prevalence and mortality rate of infection and for evaluating how effective policies such as social distancing or closing schools and restaurants are working to prevent viral transmission," McDade said. Read the published article here.

 


IPR political scientist James Druckman was part of an ongoing national survey of attitudes about COVID-19, the State of the Nation: A 50-State COVID-19 Survey. The university research consortium between Northwestern, Harvard, Northeastern, and Rutgers issued 30 reports between March and December, covering, for example, economic hardships, public health measures, teen depression, and confidence in political leaders. One of their most-accessed surveys involved the average turnaround time for COVID-19 nasal swab tests. Their survey showed it had decreased from an average of 4 days in April to 2.7 days by September. Despite the quicker testing speeds, however, the results were still too slow in most cases to support successful contact tracing. The survey also revealed racial disparities in the turnaround times: Across the three survey waves, Black and Hispanic Americans reported longer delays in getting back their test results than their White and Asian American peers.

As communities across America gathered to protest police abuses, researchers took a close look at how, where, and why racial disparities in policing occur. IPR sociologist Beth Redbird along with graduate research assistant Kat Albrecht compiled data for a powerful new visual tool that shows how those disparities have grown over time. In their police bias map, Redbird and Albrecht show county by county the extent to which Black Americans are arrested at a higher rate than White Americans—a trend that has only accelerated in recent decades. The tool draws from a recent working paper in which Redbird analyzed data from more than 13,000 law enforcement agencies nationwide. She and Albrecht discovered that even while crime rates fell in recent decades, the racial disparity in arrest rates nearly doubled. For example, in 1999, the average law enforcement agency arrested 5.48 Black Americans to 1 White American, and by 2015 that number had risen to 9.25. Data for the map visualization are available online. 

 

 The protests that followed the killing of George Floyd at the hands of Minneapolis police roiled the country all summer long, provoking widespread debate on fundamental questions about policing, crime, and equality. IPR sat down with sociologist and Chicago native Andrew Papachristos, one of the country's leading criminologists, this summer for a Q-and-A on what is and isn't working in Chicago. With the pandemic raging, he likened it and gun violence to managing two pandemics with many similarities between the two in terms of the long- and short-term challenges and opportunities to address them. "With gun violence you ask, 'How do we stop the bleeding today?' Literally, how do we keep people from being shot?," he said. "On top of this, we also need to address the long-term underlying inequalities … that are so deeply embedded in our society and continue to cause such great harm." As faculty director of the Northwestern Neighborhood & Network (N3) Initiative, Papachristos worked with his team to produce seven IPR rapid research reports related to gun violence and policing.

What happens when your research experiment stopped due to the pandemic? IPR statisticians and education policy experts Larry Hedges and Elizabeth Tipton address how to continue with ongoing education research, in particular for randomized field trials in education, the "gold standard" for studies. They identify some possible responses to the disruption, emphasizing those that would allow investigators to capitalize on completed work and sunk investments. They discuss tradeoffs of strategies such as ways to maintain statistical power of designs that could be compromised or dealing with designs that may have lower power than was initially planned. They also consider more radical changes to a study's initial aims such as focusing on intervention or instrument development, methodological studies, or the codification of craft knowledge. Tipton and Hedges are co-directors of the Statistics for Evidence-Based Policy and Practice, or STEPP, Center at IPR.

Despite the pandemic, research activities keep rolling along, including for IPR's long-running summer undergraduate research assistants' program. Five of the more than 30 summer RAs wrote about their experiences in conducting social science research with IPR faculty experts. They also discussed how they adapted to working in virtual labs and offices. Junior Lola Knight worked with IPR associate Michelle Shumate on investigating how nonprofit networks can improve community outcomes. Knight wrote, "It has been both surprising and interesting to me to see the different ways nonprofit leaders address similar community problems. I have learned that social science research is ever-changing and unpredictable. This research deals with dynamic human lives, which subsequently requires adaptability within the research process," she wrote. "Similarly, COVID-19 posed its own challenges not only to the … lab, but to the organizations we are researching—that must overcome new obstacles in their fight to better their communities."

Every Republican president dating back to Dwight D. Eisenhower seemed to act out the same basic script: Assert control over the Republican Party. Invest in new organizational capacities. Reach out to new voters and try to persuade them to join the Republican coalition. All adopted a strikingly similar style of party leadership. That is, until Donald Trump was elected in 2016. In a working paper, now published in The Forum, IPR political scientist Daniel Galvin reveals how former President Trump differs from previous Republican presidents. Unlike his partisan predecessors, Trump has paired party domination and organizational investment with an almost exclusive focus on the strategy of "base mobilization." "Trump's strategy drills down vertically to penetrate and deepen his base in the hopes of swelling the number of like-minded supporters who are active in electoral and party politics," Galvin wrote.
Read more about these and other articles on IPR's website.
Photo captions and credits:
Top image: (Clockwise from the top left) An assay plate contains samples of reconstituted blood collected from a finger prick that are ready for analysis (courtesy of T. McDade); a vigil in June 2020 for George Floyd and others who have lost their lives to police brutality (Risingthermals, Flickr); screenshot of Diane Schanzenbach and Natalie Tomeh, part of the SURA program; former President Trump at a 2020 election rally (G. Skidmore, Flickr); a woman hands a person a COVID-19 test kit (Pennsylvania Governor's Office, Flickr); Beth Redbird discusses her research on Native American poverty (P. Reese)  

Images for articles by rows from left to right: Screenshot of an app tracking food insecurity; Beth Redbird discusses her research on Native American poverty (P. Reese); family isolating due to COVID-19 (iStock); an assay plate contains samples of reconstituted blood collected from a finger prick that are ready for analysis (courtesy of T. McDade); a woman hands a person a COVID-19 test kit (Pennsylvania Governor's Office, Flickr); stock photo of police car (PxHere); a vigil in June 2020 for George Floyd and others who have lost their lives to police brutality (Flickr, Risingthermals); stock photo of classroom; screenshot of Diane Schanzenbach and Natalie Tomeh, part of the SURA program; former President Trump at a 2020 election rally (G. Skidmore, Flickr)
Published: January 26, 2021.