'I've Never Seen Numbers This Bad'
IPR's Diane Schanzenbach details the nation's widespread COVID-19 food crisis, calls on lawmakers to act
Get all our news
Rates of food insecurity are high across across urban, suburban, and rural areas and all racial and ethnic groups, with those low-income families making less than $40,000 per year especially hard hit.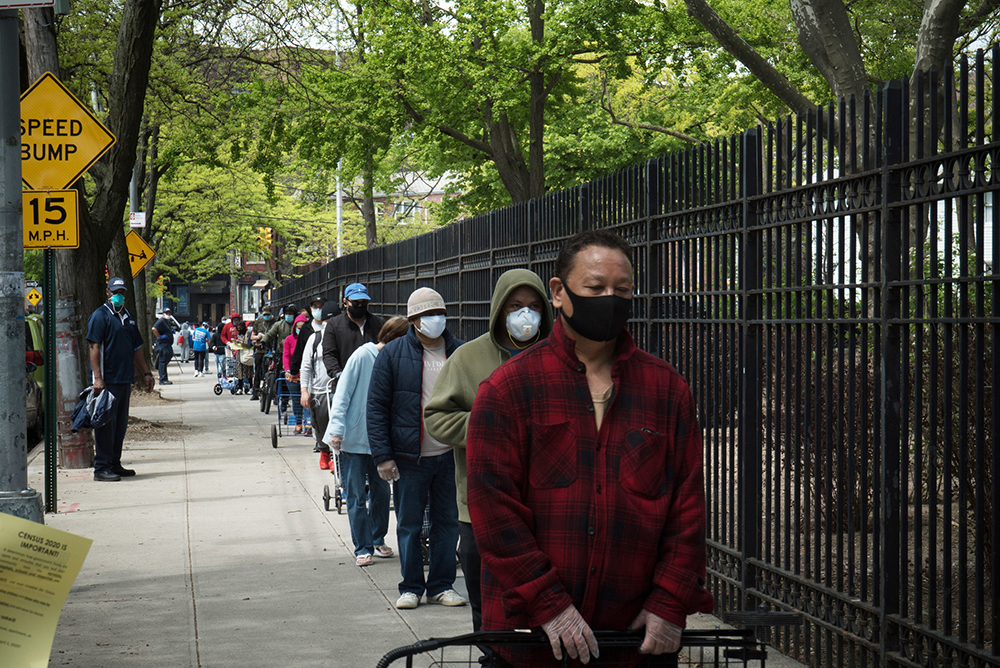 People wait in line outside a food pantry at St. Bartholomew's Roman Catholic Church in Elmhurst, Queens. 
IPR Director and economist Diane Whitmore Schanzenbach has studied food insecurity for most of her academic career, but when some of the first data on food insecurity in the wake of the COVID-19 pandemic came through in April, she was shaken.
"I've never seen numbers this bad," Schanzenbach said.
She has tracked survey measures of food insecurity since they were first collected 2000 as well as over the last global economic crisis, the Great Recession, which took place in 2007–09.
As one of the foremost experts on the food safety net in the nation, Schanzenbach has undertaken a real-time study of figures from the COVID Impact Survey with research assistant Abigail Pitts. So far, they have analyzed the two available waves of data for April 20–26 and May 4–10, comparing the numbers to those collected between 2011 and 2018. Their reports from May 13 and May 18 can be read and downloaded here. More reports will be released as the data become available.
Food insecurity can be measured in various ways, but they are looking at responses to two of the survey items:
"We worried our food would run out before we got money to buy more."
"The food that we bought just didn't last, and we didn't have money to get more."
The respondents indicated whether these statements were often, sometimes, or never true for them or their households over the past 30 days.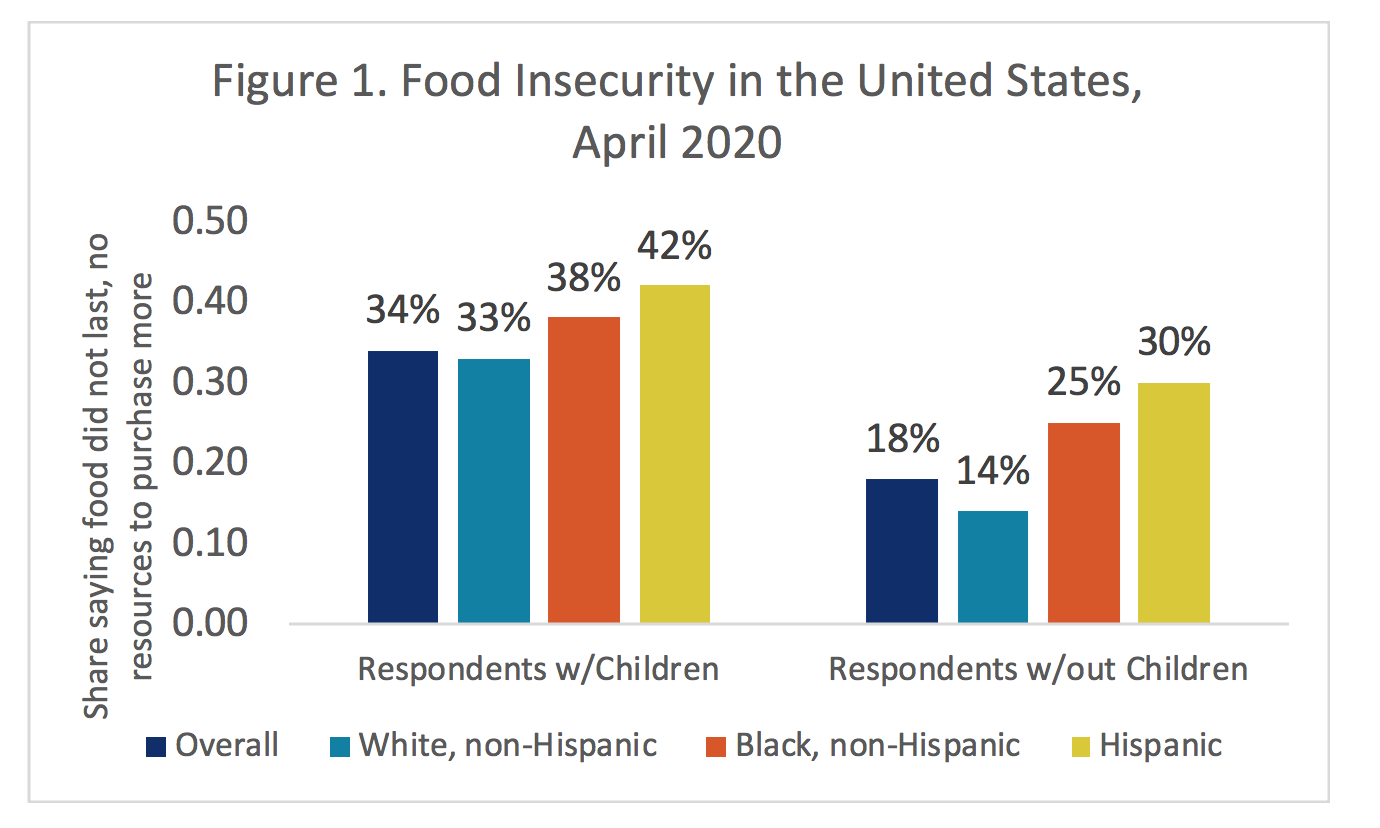 Schanzenbach and Pitts' analyses of the immediate data mirror what the media have reported—a deepening food crisis as seen in the people lined up for blocks at some food banks and the skyrocketing numbers of Americans overall going to food banks. They find that compared to the months before the crisis, the rates of food insecurity have doubled overall and have tripled for families with children.
Rates of food insecurity are high across urban, suburban, and rural areas and all racial and ethnic groups, with those low-income families making less than $40,000 per year especially hard hit. They show, for instance, that nearly half of all African American families with children are in the midst of a food crisis in their homes, with white and Latino families also experiencing higher rates of food insecurity.
Additionally, the two researchers uncover wide variation in rates of food insecurity across the nation, and both reports offer specific details on 10 states and 8 major metropolitan areas. For example in their May 18 report, 1 in 10 residents in Texas and New York reported having used a food pantry within the past week, while it was 1 in 20 for Colorado and Florida residents.
Schanzenbach, who also sits on the board of directors of the Greater Chicago Food Depository, one of the nation's largest food banks, put a human face on the numbers in a May 22 opinion piece published in the Hill.
In it, she describes how Tahari, a boy in a Spiderman hat and a Mickey Mouse face mask who loves math and reading, was waiting in line for assistance at a food bank on Chicago's South Side.
"His most immediate need is food," Schanzenbach wrote, noting how in this widespread crisis hunger "doesn't have a geographic location or political affiliation."
Schanzenbach offers that Congress already has one of the most effective tools available to address the widening crisis, the Supplemental Nutrition Assistance Program (SNAP), originally known as the Food Stamp Program. Schanzenbach who studied SNAP and its effectiveness as a stimulus tool in the Great Recession, urges the legislators to increase benefits immediately by 15%. In previous testimony before the U.S. Senate, she cited a USDA statistic that every $5 in new SNAP benefits can generate as much as $9 of economic activity.
"It would be unconscionable and heart-breaking to miss the opportunity to ease the suffering and spur economic growth in this next round of stimulus aid," Schanzenbach continued in the op-ed. "This is not a crisis that charity alone can address."
IPR Director Diane Whitmore Schanzenbach is the Margaret Walker Alexander Professor of Human Development and Social Policy. Abigail Pitts is a research assistant at Northwestern University. Find out more from the reports.
Photo credit: iStock
Published: June 1, 2020.