Beth Redbird
Assistant Professor of Sociology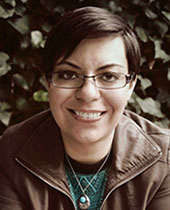 PhD, Sociology, Stanford University, 2016
Beth Redbird is an assistant professor at Northwestern University.  She studies the impact of group structure on inequality.  Her primary research interests are racial inequality (particularly Native American inequality); group interactions; occupations and work; social class; and survey methodology.  In particular, she studies the consequences of human movement and interaction on inequality.  She is also a fellow with the Center for Native American and Indigenous Research.  She received her PhD from Stanford University in 2016.
The thread connecting her research is the simple proposition that human interaction improves well-being.  Interacting frequently, particularly with a diverse collection of others, makes us more tolerant, improves information flow, improves mental and physical health, and increases labor market participation.  Contact is important for social cohesion, generosity, and trust.
This begs the question – who do we see every day?  How often do the rich actually encounter the poor?  Does the professional class encounter the working class only when they are served, waited on, or supervising them?  Redbird's work examines how often we come in contact with one another, and how those contacts change and define us.
Current Research
Seventh Generation. The importance of tribal constitutions to sovereignty and self-governance is hard to overstate, and many tribal governments regard their constitutions as the cornerstone of self-determination.  But constitutions do not develop in a vacuum; they are the result of historical trajectories and power processes that shape modern states.  Using constitutions from the IRA era to the present, this project illuminates the development of four constitutional areas: (1) constitutional origins and the federal-tribal relationship; (2) citizenship and rights; (3) tribal courts; and (4) legislative power.  Exploring the power dynamics of this example of colonial constitutionalism and the structures it fostered will give historical and legal context to ongoing tensions between tribes and the federal government, and build on our understanding of the development of native sovereignty and tribal governance.   We seek to map the trajectory of tribal structures, forged in the shadow of colonization, to understanding how tribes claim power, articulate sovereignty, and define a just society.
Loneliness of Affluence. One American's typical Saturday might have involved spending 20 minutes with a neighbor and a couple of hours shopping with a friend. But what happened during the rest of the time? People interact with others through "micro-acts" that range from paying for an espresso at the neighborhood coffee shop to nodding at another parent during a child's soccer game, but sociologists know virtually nothing about the collective mass of these interactions or how they shape a person's perception of the world. Social network analysis was supposed to provide revolutionary insight into the cause and consequences of such interactions, but fell short because of massive data requirements. This project is the first large-scale, nationally representative measurement of micro-interactions and their structure.  Early results suggest that high wage earners experience the most class segregation in exchanges. Redbird seeks to determine how much inequality drives this segregation and how these micro-exchanges structure Americans' views and understanding of the economic world. 
COVID and the Pattern of Human Interactions.  The benefits of diverse human interaction are on stark display in the COVID world.  Before the pandemic, different racial and income groups tended to travel the same distances in their urban mobility patterns, even if their patterns tended to isolate the different groups.  The pandemic changed this, and the resulting limitations of movement and mobility are likely to create differential impacts on different groups depending on the kind of jobs individuals hold, the neighborhoods they live in, and their access to essential services.  The pandemic has the potential to further isolate the isolated, but it also has the potential to make our worlds smaller.  It decreases the distance we travel, the number of others we see, and the number of contexts we experience daily.  Resources differ substantially by neighborhood and as our worlds shrink, our local contexts matter even more.  Thus, the long-term consequences of the pandemic, and our ability to rebound as a society, will be deeply intertwined with interaction patterns that develop during and after the pandemic. This project utilizes cell phone GPS data to develop measures of the frequency, depth, and diversity of modern interactions.  We have three primary goals: (1) describe and map patterns of human interaction prior to the pandemic; (2) map and explore changes in human interaction during the pandemic; and (3) monitor changes in social isolation for the next two years, producing monthly measures of segregation and isolation.
Selected Publications
Redbird, B. and A. Escamilla-Garcia. 2020. Borders within borders: The impact of occupational licensing on immigrant incorporation. Sociology of Race and Ethnicity. 6(1):22-45.
Redbird, B. 2017. The new closed shop: Economic and structural effects of occupational licensure. American Sociological Review 82(3): 600–24.
Redbird, B., and D. Grusky. 2016. The effects of the Great Recession: Income inequality and labor market. Annual Review of Sociology 42(1): 185–215.
Redbird, B., and D. Grusky. 2015. Rent, rent-seeking, and social inequality. In Emerging Trends in the Social and Behavioral Sciences: An Interdisciplinary, Searchable, and Linkable Resource, ed. R. Scott and S. Kosslyn (15 pp). Hoboken, N.J.: John Wiley and Sons.
Chavez, K., and B. Redbird. 2015. Occupational licensure and changing barriers to immigrant workforce incorporation. In How Global Migration Changes the Workforce Diversity Equation, ed. M. Pilati, H. Sheikh, F. Sperotti, and C. Tilly, 294–319. Newcastle-upon-Tyne, U.K.: Cambridge Scholar Publications.
Redbird, B., N. Rodriguez, C. Wimer, and D. Grusky. 2013. How much protection does a college degree afford? The impact of the recession on recent college graduates. Washington, D.C.: Pew Charitable Trusts, Economic Mobility Project.