What Drives Native American Poverty?
Sociologist Beth Redbird's research points to job loss, not education, as a key driver
Get all our news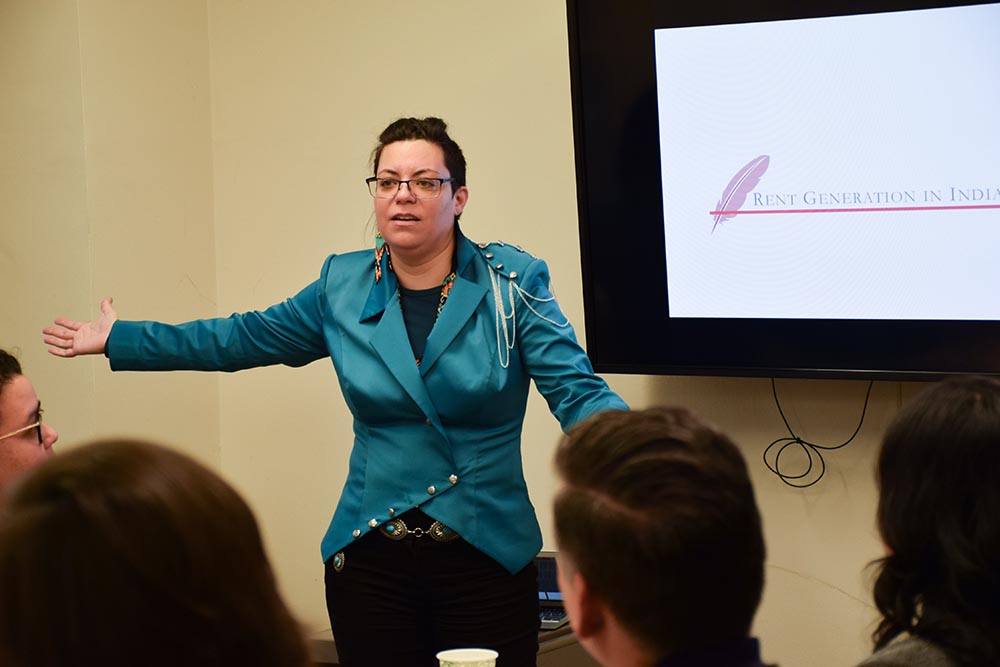 IPR sociologist Beth Redbird presented her research on what drives Native American poverty on Jan. 29. 
Across the United States, 1 in 3 Native Americans are living in poverty, with a median income of $23,000 a year. These numbers from the American Community Survey highlight the stark income inequality the nation's first peoples face.  
"Poverty has been, for over a century, a huge part of the conversation about Indigenous well-being, but to a large extent we don't even know what drives Native [American] poverty, what causes it, and where it comes from," said sociologist Beth Redbird. "And without those answers, it's awfully hard to know how we can fix it."
She presented her research on what has been driving this poverty rate among Native Americans at a January 29 seminar. It was co-sponsored by the Center for Native American and Indigenous Research (CNAIR) and Institute for Policy Research (IPR). Redbird is both an IPR and a CNAIR fellow.
Changing Demographics
Redbird pointed out several changes Native Americans have experienced since 1980: Over that time, more Native American tribal nations have invested heavily in education and sending their children to schools. As a result, more Native Americans have gone to high school and college than ever before—nearly 1 in 5 reservations offer an elementary school and high school education. Many have moved back to rural parts of the country, with nearly 80% living in a rural area.
Despite the substantial investment and increase in education in Native American communities, the employment rate among Native Americans has declined and wage growth has decreased in that same time period. Even considering that poverty tends to be higher in rural parts of the country, the poverty gap between Native Americans living in rural and urban areas is larger than the white rural and urban gap. This means that poverty is not driven by the fact that Native Americans are more likely to live in rural areas.  
Overall changes in the U.S. economy have especially impacted Native peoples, Redbird notes, including the loss of a large number of jobs in construction and manufacturing, the decline of the minimum wage, and the increase in unstable employment.
"One of the things that we also know about jobs is there's been this declining relationship between working and a job's ability to help you get out of poverty," Redbird explained.
Redbird calculated what would happen if Native Americans had the same employment rates, occupations, levels of education, lived in the same geographic location, and were a part of the same types of households as white Americans. Her results showed that employment was the most significant factor in driving poverty.
"The payoff to education is not nearly as high as the payoff to jobs," she said. "The idea that we could reduce poverty for the Indian-only population by nearly 20% with employment is astounding."
Creating Jobs and Customizing Policy
She also studied how tribes are working to address their own economic development through two common job initiatives—tribal gaming and energy—to measure if they were successful. Using data from the Census, Redbird finds that even when tribes started gaming establishments or energy projects, few lasting new jobs were created and poverty rates didn't improve. In 2015, casinos created an average of 25 jobs and energy projects created 12, which barely had an effect on reservations with more than 2,000 residents on average.
"Big projects bring hope to reservations and frequently a lot of debt," Redbird said, noting their tendency to create few, mostly low-paying, jobs.
She suggests that to generate more jobs, tribes should invest in a variety of job initiatives to diversify economic opportunities, rather than putting all of their capital into one project they hope will reform the tribe. Policy solutions, Redbird believes, should also come from both the federal and tribal governments. 
"Federal policy has the ability to be applied broadly," Redbird said, if you can identify a consistent problem across tribes. "[But] Indians don't have the highest trust in federal policy. And one of the things that self-determination has really become about is the ability to say, 'We want to do what's right here.'"
Because economic well-being at the local level might also look different for a tribe in Wyoming versus one in California and lead to a variety of outcomes, she says it is helpful to have federal and tribal policies that work together. Redbird hopes future research on Native American poverty will consider the best ways to guide tribal policy development. 
"The ability to take policy prescriptions and then make them your own, I think has a better chance of success in addressing some of these, than the idea of larger policy," she argued.
While the high poverty rate among Native Americans is not a new issue, Redbird does not think it is a hopeless one.
"The ability to have enough money so that we at least think that you can meet minimum standards of living— feed a family, [have] clothes, childcare, [and] healthcare—those kinds of things are a standard that we'd at least like to see we're capable in this country of providing to everybody," Redbird said.
Beth Redbird is assistant professor of sociology, an IPR fellow, and a CNAIR fellow.
Photo credit: Patricia Reese.
Published: February 24, 2020.