SURA 2020 Student Blog
Each summer since 1998, the Institute for Policy Research (IPR) has run the Summer Undergraduate Research Assistants (SURA) program, which gives undergraduate students first-hand experience in the conceptualization and conduct of policy-relevant social science research. This year, SURA students are sharing their research experience from their own perspective, and we will feature students discussing the research projects they are part of throughout the summer. 
Harry Xie | Lola Knight | Alex Chang | Michelle Sheinker| Natalie Tomeh
Harry Xie: Exploring the Role of Pay-For-Performance Within Government and Nonprofit Organizations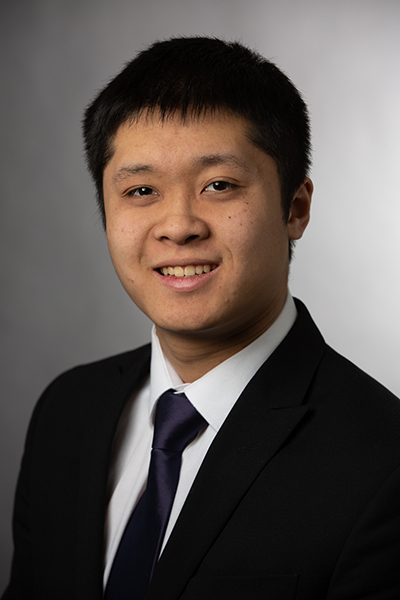 Harry Xie is working with IPR economist Burton Weisbrod and Dr. Evelyn Asch to explore the use of pay-for-performance (P4P) incentives by  governments and private nonprofit organizations.
Our project looks at the metrics used to reward performance, and the prevalence of strategic gaming  of the measures, in such diverse industries as education, health care, policing, prisons, museums, charities, and Federal Courts. P4P is increasingly relevant as the roles of nonprofits and government in the economy grow. Understanding how and when nonprofits and governments choose to utilize stronger or weaker incentives can help these organizations avoid unintended consequences and become more efficient, aligning rewards with well-measured performance.
I was initially drawn to this project because I am interested in working with a private nonprofit or governmental organization in the future. This project has taught me to be flexible and creative in my approach to research, as I have had to pull from a variety of sources to overcome both conceptual and measurement barriers.  
Working from home due to the COVID-19 pandemic has been challenging and unexpected, but I have been very grateful for the flexibility of Professor Weisbrod and Dr. Asch, as well as the resources Northwestern has made available for remote work. I look forward to the rest of the summer!
Harry Xie is a rising junior from Vancouver, Canada. He is pursuing a dual degree in political science and saxophone performance. He was interested in doing research this summer because he wanted to learn more about social science research and was very interested in the topic of the research project. Outside of research, he enjoys practicing saxophone, debating, and reading good books.
Lola Knight: Understanding Nonprofit Networks
Lola Knight is working with communications studies researcher and IPR associate Michelle Shumate and the rest of the research team in the Network for Nonprofit and Social Impact (NNSI) Lab.

NNSI studies various networks of nonprofit organizations around the United States to decipher which types of networks are best at improving community outcomes. This summer I am helping write the final report for this study, which will highlight the structure and governance of 26 education reform networks. Nonprofit organizations play a critical role in their communities by providing services and resources, and by advocating for the people they serve. They do not always work alone; nonprofits can work with other nonprofit organizations, as well as with businesses and government agencies.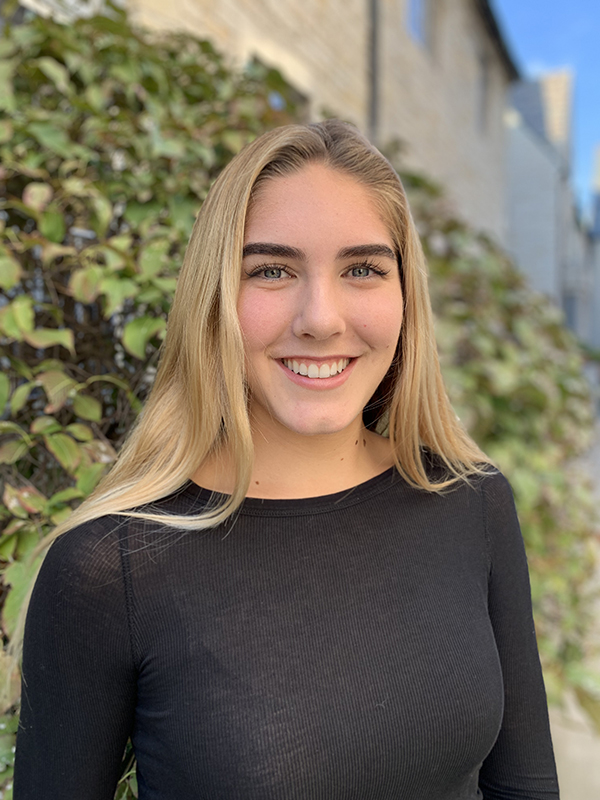 While they are not the only form of network governance, these cross-sector networks—frequently denoted as 'collective impact' networks—are praised for their structured response to complex social problems. This research will offer evidence of the most effective organizational structures for achieving shared objectives across organizations.
It has been both surprising and interesting to me to see the different ways nonprofit leaders address similar community problems. I have learned that social science research is ever-changing and unpredictable. This research deals with dynamic human lives, which subsequently requires adaptability within the research process. Similarly, COVID-19 posed its own challenges not only to the NNSI lab, but to the organizations we are researching—that must overcome new obstacles in their fight to better their communities.
Lola Knight is a rising junior from Evanston, Illinois, studying social policy and philosophy. Her desire to gain a better understanding of inequity within education led her to do research with NNSI. Follow her on Twitter @LolaKnight_.
Alex Chang: Understanding the Health of Sexual and Gender Minorities
Alex Chang is working with IPR associate Gregory Phillips II, who leads the Evaluation, Data Integration, and Technical Assistance (EDIT) Program at Northwestern University's Institute for Sexual and Gender Minority Health and Wellbeing (ISGMH).
ISGMH is the first university-wide research institute in the country that focuses exclusively on improving the health of sexual and gender minorities (SGM), who disproportionately face deleterious health outcomes relative to their heterosexual peers. As a research assistant, I am primarily working on two research projects.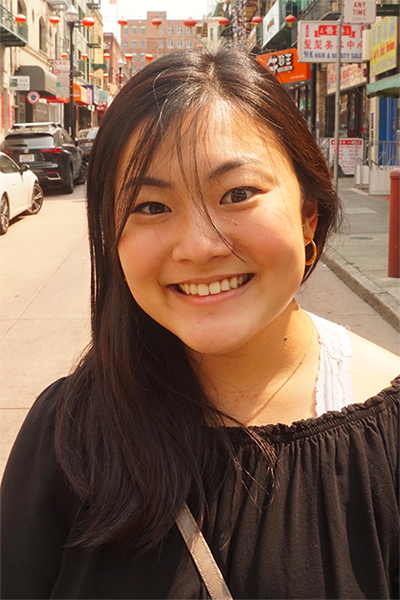 First, I am studying how alcohol use behaviors disproportionately affect sexual minority youth (SMY) using a pooled dataset from the CDC's Youth Risk Behavior Survey, a national biennial survey of high school students. Alcohol consumption and abuse are associated with health outcomes that range from neurocognitive deficiencies to HIV acquisition, warranting deliberate investigation — especially for vulnerable communities such as SMY — in order to develop and deliver equitable public health policies.
Second, I am supporting research on the impacts of COVID-19 on people with HIV (PWH) and SGM through an online survey led by EDIT. Thus far, little research has explored the effect of the pandemic on these vulnerable populations, resulting in a gap in pandemic response. While the COVID-19 survey is a particularly relevant project given the current pandemic, I believe that EDIT's research is necessary to ensure an equitable response to current public health issues. Many health disparities are driven by systemic inequality, which underlies countless social determinants of health including stress, poverty, and access to health care.
From working on these projects, I have learned the importance of using an intersectional lens when approaching public health research. Individuals who hold multiple marginalized identities experience multiple minority stress, which often exacerbates the poor health outcomes that vulnerable populations — such as the LGBTQ+ community and racial minorities — already face. Accordingly, it is essential to utilize an intersectional approach in order to thoroughly understand these complex issues.
Alex Chang (she/her/hers) is a rising third-year from the San Francisco Bay Area, which sits on Ohlone land. Alex is majoring in Ethnic Studies with minors in Legal Studies and Data Science, and her academic interests are primarily in social justice and intersectionality. Upon graduation, she plans to serve historically marginalized communities, primarily BIPOC and SGM populations. At Northwestern, Alex is involved in planning live music events through Mayfest Productions and A&O Productions.
Michelle Sheinker: Researching the Effects of Campaign Promises on Voter Perception and Behavior
Michelle Sheinker is assisting IPR social policy expert Tabitha Bonilla in researching the effects of campaign promises on voter perception and behavior.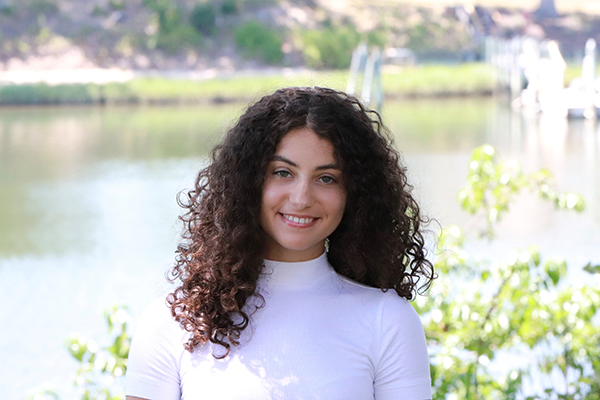 This project includes coding general election debate rhetoric into distinct categories dating back to 1960, to help ascertain the nature of candidates' promises. Campaign promises are important because they can serve as a metric for what makes a "good" representative.
In the spirit of the election year, we are working on a paper about President Trump's first-term campaign promises. Our research aims to analyze whether voters see Trump as an effective leader, based on how much his promises are perceived as deliverable. Via surveys and interviews, we seek voters' retrospective opinion: Do they believe Trump has followed through on his promises, and how does Trump's track record impact voter behavior at the polls?
Trump has been criticized for making "outrageous" and seemingly infeasible promises; it appears that voter assessments of his promise-keeping abilities are quite partisan. I am grateful to have been working with Professor Bonilla since winter quarter 2020. She has offered me a glimpse into the rich world of substantive policy research, and the lessons I learn from her continue to inspire my goals as an aspiring changemaker.
Michelle Sheinker is a rising junior from Long Island, New York. She is majoring in social policy and legal studies with a minor in psychology. She is interested in researching political candidates' rhetorical efficacy and their motivations. She hopes to pursue a career in public policy and aspires to go to law school.
Natalie Tomeh: Analyzing Data on Food Insecurity and Employment During COVID-19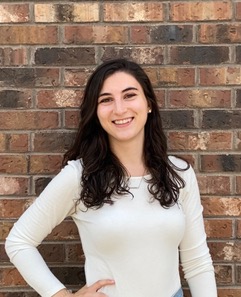 Natalie Tomeh developed a web app with IPR Director and economist Diane Whitmore Schanzenbach to understand food insecurity and employment. 
I have been working on analyzing data on food insecurity and employment in the wake of the COVID-19 outbreaks in the U.S., with IPR Director and economist Diane Whitmore Schanzenbach.
Right now, I am working on a web app that visualizes employment numbers across the U.S. using the data from the Current Population Survey and the Census Household Pulse Survey. I have also created a web app visualizing food insecurity across the U.S. in the wake of COVID-19. This project was unique because it converted the Household Pulse's food sufficiency metric into a food security metric, based on ratios determined from previous surveys. As we navigate the crises caused by the pandemic, these projects will map out the scope of the pain that Americans are feeling.
The most surprising thing I've learned so far is the severity of food insecurity in America. One out of every four individuals reported being food insecure, including one-third of Black and Hispanic or Latino individuals and one-fifth of White individuals. This discovery has highlighted how inadequate the relief provided by Congress has been.
More generally, I've come to appreciate how rarely a single dataset is enough information on its own: Determining rates of food insecurity requires pulling from surveys across many years for context, and it's necessary to compare across multiple surveys on employment to get a clear picture. This work has not been too disrupted by the changes brought on by the COVID-19 pandemic, thankfully—the most challenging aspect of the pandemic has been working from home.
Natalie Tomeh is a rising senior most recently from Bethesda, Maryland, but grew up in the Boston suburbs. She is majoring in Mathematical Methods in the Social Sciences and Economics with a minor in Data Science. She plans on pursuing a career in micro economic policy, is particularly interested in the social safety net, and enjoys creating data visualizations.
Published: September 2, 2020.