Americans Are Losing Confidence in Government Executives' Ability to Handle COVID-19
New survey data from IPR's James Druckman shows the average governor seeing a steep drop in approval rating.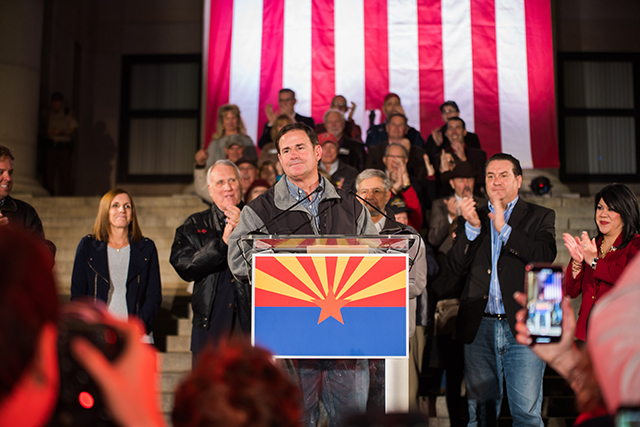 Arizona Governor Doug Ducey at a rally in 2018.
The latest results from an ongoing survey of Americans' opinions about the COVID-19 pandemic show that confidence in executive leadership is declining, with governors seeing a 10-point drop on average in approval from April to June.
The survey, conducted by IPR political scientist James Druckman as part of a consortium of four universities that includes Northwestern, Harvard, Northeastern, and Rutgers, found not only governors' approval ratings dropping, but those of President Donald Trump. His approval dropped an additional 8 points over the same period.
Just five governors saw increases in approval, in Hawaii, Michigan, New Jersey, South Dakota, and Vermont. Approval for Republican governors is highly polarized: Only four governors overall have approval ratings at 70% or above, and all are Republicans in Democratic-leaning states. Out of the 10 governors with approval ratings below 45%, eight are Republicans in Republican-leaning states.
Druckman said "It is fascinating, the extent to which Americans are in fact responding to the pandemic itself not entirely through the lens of partisanship – if your state is doing better handling cases, approval is more stable."
Erosion of support for President Trump's handling of the COVID-19 pandemic was almost uniform across demographics including party, gender, race, age, and income, although for those with graduate degrees support only decreased by two points. Among those aged 65 and older with a high school education or less, support decreased dramatically, from 56% to 44%.
Druckman and his co-authors pay special attention to Arizona's Republican Gov. Doug Ducey, who has the lowest approval rating in the country amid a renewed outbreak of the disease in his state. His rating dropped from a high of 57% in early May to 32% in late June. The researchers say his particularly low approval rating may be due to the fact that when they surveyed Arizonans in late May only 15% of respondents supported reopening "immediately," despite the state government's aggressive re-opening schedule.
The researchers note that despite the overall decrease in confidence, governors in many of the states that saw large spikes in case numbers early on in the Northeast, Midwest, and West Coast have retained consistently high approval ratings throughout the crisis. More highlights of the survey data include:
Support for President Trump's handling of the pandemic among independents has consistently fallen below his overall rating, dropping to 25% in late June.

Just 31% of women who responded approve of the president's actions, seven percentage points less than his approval rating among men.

Respondents' preference for former Vice President Joe Biden over the current president has reached 10 percentage points.

In Arizona, the gap between Democrats and Republicans in favor of immediately re-opening the state's economy has grown from 7 percentage points in late April to 34 points in late June.


Support among independents in Arizona over that same period for an immediate re-opening grew by 10 percentage points, from 11% to 21%.
Read the full report here.
James Druckman is the Payson S. Wild Professor of Political Science and IPR Associate Director. Read the complete report. Photo courtesy of Wikimedia Commons.
Published: July 9, 2020.