As Latest Relief Package Passes, 1 in 5 Americans Confronts Severe Economic Hardships
Parents with children at home, Hispanics, and COVID-stricken have been particularly hard hit
Get all our news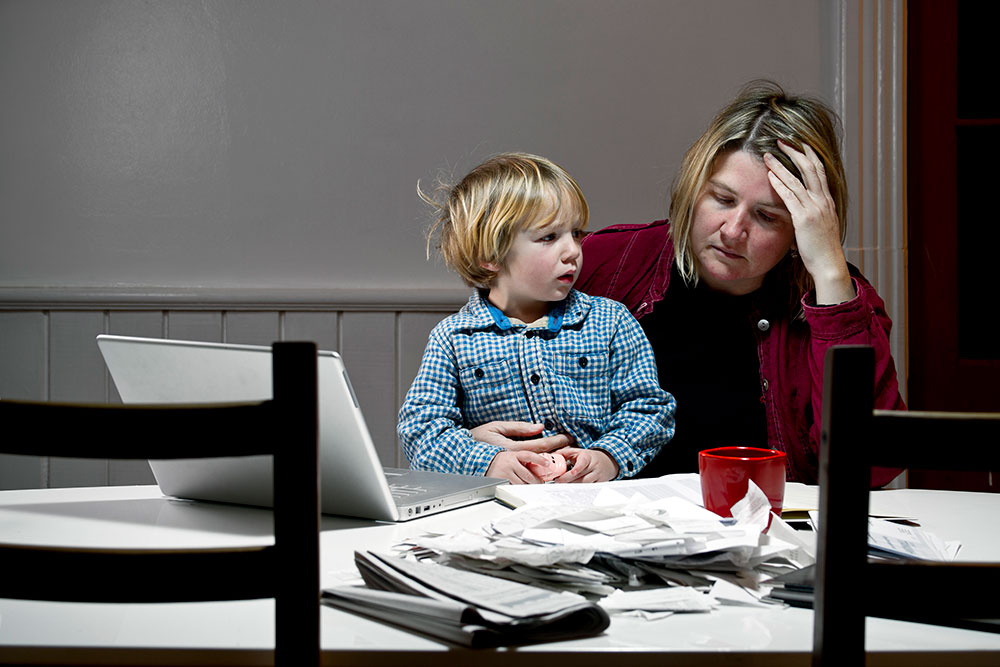 A new survey reveals the dismal scope of many Americans' economic struggles as Congress approved an eleventh-hour $900 billion pandemic relief package before their remaining benefits expired at the end of December.
Between November 3 and 30, the researchers asked roughly 20,000 individuals across the United States and Washington, D.C. about five key economic hardships: unemployment, pay cuts, evictions, making rent or a house payment, and stopping or cutting work to take care of children.
The two biggest hardships reported nationally were losing a job (18%) and taking a pay cut (18%). While only 3% of those surveyed reported they had been evicted, 13% said they had missed a rent or mortgage payment. Nearly 10% said they had stopped working, or cut back their hours, to stay at home and take care of their children.
"These results highlight the economic pain that COVID-19 has caused—a consequence that could reverberate long after the pandemic itself is under control," said IPR political scientist James Druckman.
Druckman is part of a research consortium from Northwestern, Northeastern, Rutgers, and Harvard universities that has been conducting nationally representative surveys since March. The researchers are asking Americans about social behaviors related to the pandemic and messaging.
Particularly hard hit were those who got sick with COVID-19. In contrast to those who did not get sick, those stricken were far more likely to have lost their job (22% vs. 17%), taken a pay cut (27% vs. 17%) missed their rent (21% vs. 12%), been evicted (6% vs. 2%), or stopped or scaled back work to take care of a child (18% vs. 8%).
The researchers find all five COVID-related hardships are generally widespread across the country, with some partisan differences: Democrats and independents were between 1 and 5 percentage points more likely to confront one of the five hardships than Republicans. 
They also note wide differences between states. For example, more than one in five respondents in two states, Louisiana at 24% and Alaska at 20%, indicated that they had missed rent or mortgage payments due to the pandemic. At the low end, 10% or fewer of respondents indicated that they had been unable to make mortgage or rent payments in six states and Washington, D.C., from California at 10% to Massachusetts at 8%.
Additionally, the researchers uncover large gaps across a variety of demographic and socioeconomic factors, with Hispanics the most likely of all racial/ethnic groups to have faced all five economic hardships. Nearly one-quarter of Hispanics (24%) had lost a job versus 16% for Whites and Asian Americans and 18% for Black Americans.
When it comes to family status, those who experienced the most hardship overall were parents with children at home, saying that they endured all five of the economic hardships. Of those with children at home, single moms had it the worst, with 1 in 4 experiencing job loss, missing a rent or mortgage payment, taking a pay cut, or stopping or reducing work to stay home with their kids, as shown below.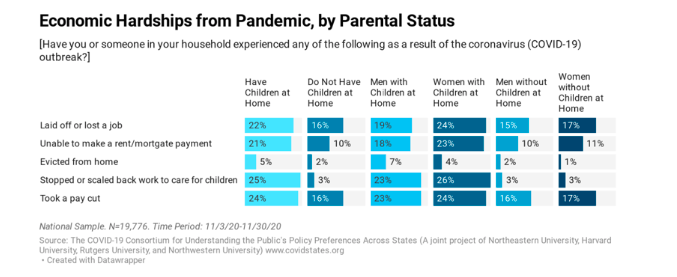 The report can be read here  and also offers state-by-state responses to each of the survey questions.
James Druckman is the Payson S. Wild Professor of Political Science and IPR Associate Director. Previous surveys can be found here. 
Photo credit: Fertnig, iStock photo
Published: December 21, 2020.