Producing Evidence for Better Policy Decisions
IPR's top-read articles of 2019 highlight interdisciplinary policy research
Get all our news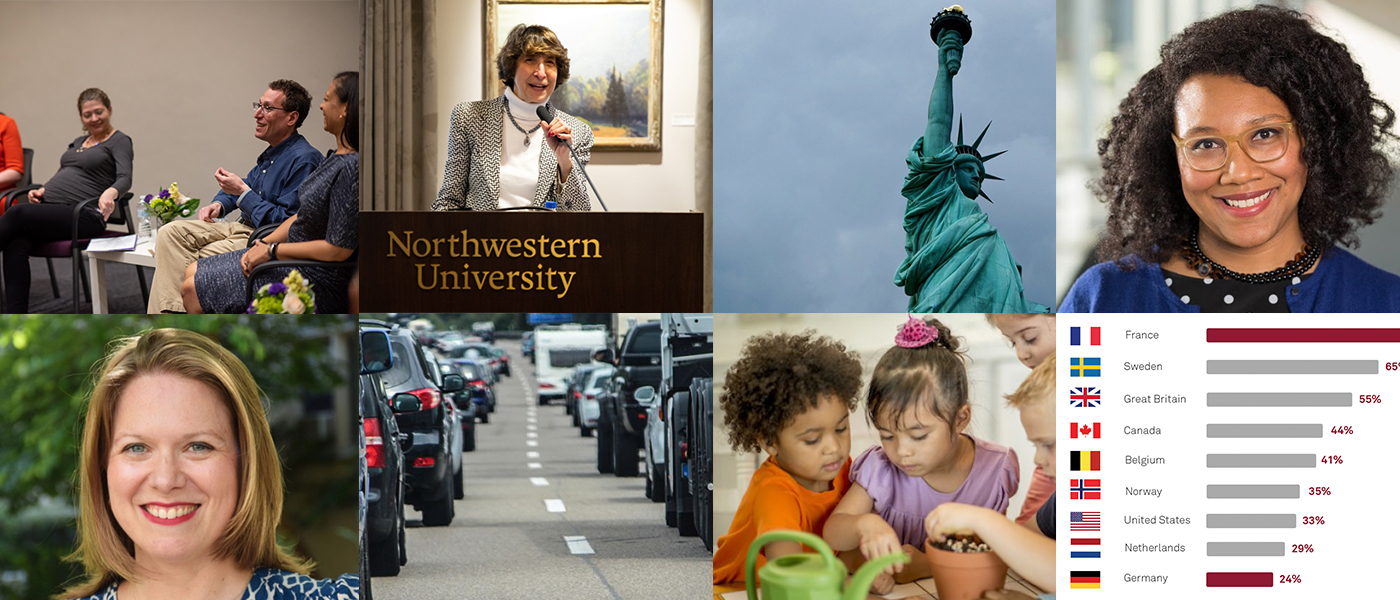 In 2019, IPR's most-read articles reflected a year of celebration, as IPR marked its 50th anniversary, and of commitment, as studies tackled many of the persistent problems that society has faced since IPR's founding in 1968. The topics revealed how racism and discrimination, immigration challenges, and gender inequality are still present. But they also showed interesting paths forward to resolving persistent ills, such as an hour-long growth mindset intervention that improves academic achievement for all students, including those most disadvantaged.
As IPR Director Diane Whitmore Schanzenbach recently wrote, "In Washington and other policymaking hubs, policymakers are hungry for facts and data, but these are often in short supply. When decisions are made in their absence, bad policy almost always results. Interdisciplinary policy research, like the kind IPR conducts, is one antidote: It is not only innovative, but also apolitical, rigorous, and relevant."
Read more about how in 2019, IPR researchers have boosted the supply of evidence for better policies below.
Top IPR Research Articles in 2019
| | |
| --- | --- |
| Do some countries discriminate against racial minorities in the hiring process more than others? A meta-analysis on hiring discrimination by IPR sociologist Lincoln Quillian and his colleagues finds evidence of pervasive hiring discrimination against all non-white groups in all nine countries they examined. Yet some countries discriminate more than others—and certain laws and institutional practices might explain why. The study was published in Sociological Science. | Held on June 6–7, the six faculty panels of "IPR@50: The Next 50 Years of Research" investigated government spending, neighborhood inequality, community partnerships, policy measurement, experience and biology, and what ails American democracy. Princeton University sociologist Matthew Desmond gave a distinguished lecture on his recent book, Evicted (Crown Books, 2016), describing how 20 years of stagnant incomes for the poorest Americans and soaring housing costs are linked to a rise in U.S. evictions. |
| A working paper by IPR political scientist James Druckman and IPR graduate research assistant Richard Shafranek finds that African Americans who mentioned politics when contacting college admissions departments received substantially fewer responses, compared with those who did not mention politics in their emails. Political affiliation or involvement did not affect the response rate for white students. The study found that the response rate dropped significantly to roughly 66% when an African American male expressed interest in politics or a partisan affiliation, versus the 75% average response rate for a white male or African American male who did not mention politics. | The U.S. Census Bureau continues to prepare to launch the 2020 Census on April 1, as mandated by the U.S. Constitution. In a policy research brief, statisticians Bruce Spencer of IPR and Zachary Seeskin of NORC (PhD 2016) weigh the importance of taking an accurate census count versus the financial expense of gathering information for the census. They find that while census accuracy is expensive, it is crucial. Their research shows a lack of funding for the census would lead to error, potentially shifting as many as six seats in the U.S. House of Representatives and misallocating $40 billion in federal funding to government programs. |
| A groundbreaking study co-authored by IPR statistician Elizabeth Tipton has revealed how a low-cost, online program taking less than an hour to complete can help students develop a growth mindset and improve their academic achievement. Published in Nature, the study of more than 12,000 ninth-grade U.S. students shows that both lower- and higher-achieving students benefited from the mindset program. Tipton helped design the study's methodology, making it the first in education or social psychology to employ a random, nationally representative sample of schools.   | Each summer since 1998, IPR has run the Summer Undergraduate Research Assistants (SURA) program, which gives undergraduate students first-hand experience in the conceptualization and conduct of policy-relevant social science research. In blog posts, SURA students shared perspectives from, and insights into, their research that covered a variety of projects, including learning how to code the constitutions of Tribal Nations, understanding chronic stress, studying healthcare's impact, and examining race and gender bias in preschoolers. |
| U.S. immigration policy continued to make headlines across the year, and a round-up of recent IPR faculty research highlighted immigration's effects on education, employment, public opinion, and healthcare, among others. It included work by psychologists Onnie Rogers and Mesmin Destin to study why immigrant teens' self-concepts inhibit their career achievements. Another study, by IPR education economist David Figlio and Umut Özek of the American Institutes for Research, shows that first-generation immigrants perform better than their children and grandchildren, or the second- and third-generation immigrants.  | A meta-analysis co-authored by IPR psychologist Alice Eagly investigated how gender stereotypes in the U.S. have evolved between 1946 and 2018. The study, published in the American Psychologist, analyzed 16 nationally representative U.S. opinion polls conducted with more than 30,000 adult respondents. While people stereotyped women as being just as competent as men by 2018, women were still stereotyped as less ambitious and decisive than men despite their increased participation in the labor force and education.  |
| What led Republicans to make tax cuts a defining policy of the modern conservative party? This is the question that IPR sociologist Monica Prasad examines in her latest book, Starving the Beast: Ronald Reagan and the Tax Cut Revolution (Russell Sage Foundation, 2019). Prasad studied the origins of the Republicans' focus on tax cuts starting with the Economic Recovery Tax Act of 1981, the largest tax cut in U.S. history, from its inception in the mid-1970s to the passing of the law during Reagan's first year in office. | A study by IPR psychologist Sandra Waxman and former IPR graduate research assistant Danielle Perszyk (PhD 2018), now with Google, provides strong and consistent evidence of bias at the intersection of race and gender in 4-year-old children. The researchers examined 4-year olds' responses to images of other children who varied both in race and gender. They find that although 4-year olds generally responded positively to other children, their response to black boys was significantly less positive than their responses to children of any other group.  |
IPR faculty also added 31 working papers to the Institute's series over the year. One of the most downloaded was economist Hannes Schwandt's working paper about the health consequences of diesel cars that cheated on emissions testing. Other top downloaded working papers examined school spending and college sports. 
Additionally, IPR's most-accessed articles highlighted key events and awards over the year, such as Jocelyn Samuels' distinguished lecture on LGBT rights and opportunities, Diane Whitmore Schanzenbach's nomination to the National Academy of Education, and Mesmin Destin's Distinguished Scientific Award for Early Career Contribution to Psychology from the American Psychological Association. Faculty spotlights on statistician Beth Tipton, linguist Annette D'Onofrio, and psychologist Sylvia Perry, describing their individual paths to conducting the research they do, also resonated with readers. 
Read more about these and other articles on IPR's website.
Photo credits:
Top image: Clockwise from the top left: James Druckman discusses his research at the IPR@50 Conference (R. Hart); Jocelyn Samuels lectured on the challenges and opportunities for LGBT rights (E. Moloney); Statue of Liberty (Flickr/Aku S. Photography); Sylvia Perry (courtesy of Sylvia Perry); IPR Infographic (M. Francis); Stock photo of children playing; Stock photo of traffic; Elizabeth Tipton (S. Schumacher).

Additional images for articles by rows from left to right: IPR Infographic (M. Francis); Christopher Kuzawa (R. Hart); Pexel stock photo of empty classroom; IPR Infographic (C. Gall); iStock photo of students in class; Kaitlyn Rubinstein (C. Gall); Statue of Liberty (Flickr/ Aku S. Photography); Stock photo of women by blackboard; Monica Prasad (P. Reese); Stock photo of children playing. 
Published: January 21, 2020.