The Next 50 Years of Policy Research
Conference explores how IPR research is set to tackle 21st-century policy challenges
Get all our news
For its 50th anniversary, IPR decided to look forward rather than back. 
Held over June 6–7, the six panels of "IPR@50: The Next 50 Years of Research" investigated government spending, neighborhood inequality, community partnerships, policy measurement, experience and biology, and what ails American democracy.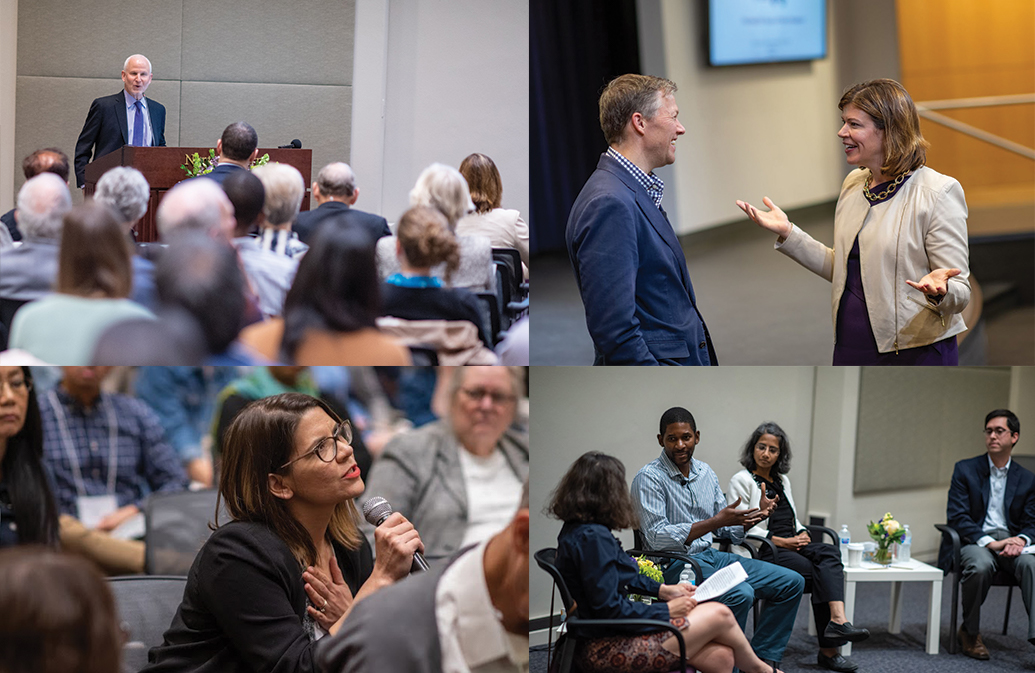 Clockwise from left: Morton Schapiro, Northwestern president, professor, and IPR economist, welcomes participants to the IPR@50 conference; Princeton's Matthew Desmond and IPR Director Diane Schanzenbach share a light-hearted moment before his keynote; health psychologist and IPR associate Michelle Birkett asks a question; IPR economist Kirabo Jackson (second from left) discusses education spending with WBEZ's Sarah Karp, IPR sociologist Monica Prasad, and IPR economist Matthew Notowidigdo.
 "We think these are incredibly exciting directions in policy research, all of which came out of our longstanding IPR tradition of conducting the highest quality research informed by genuine interdisciplinary discussion and collaboration," said IPR Director Diane Whitmore Schanzenbach in opening the IPR@50 conference.
Each panel of experts dove into current research, followed by topical discussions of what such research means for the wider policy universe. Princeton sociologist Matthew Desmond, a MacArthur Fellow and Pulitzer Prize winner, gave the IPR@50 Distinguished Lecture on "Evictions in America," in which he spoke about the U.S. eviction crisis and challenged researchers to rethink poverty research over the next 50 years.
In welcoming the attendees, Northwestern University President, Professor, and IPR economist Morton Schapiro said how proud he was to be an IPR fellow and that he attends as many of the IPR's Monday faculty research talks as he can. For Schapiro, who has also presented in the series, IPR's Monday talks represent an intellectual "safe space," where "everyone around you wants you to succeed."
"It's my chance as an economist to hear from top sociologists, and anthropologists, and psychologists, and political scientists, and law professors, and on and on," Schapiro said.
In praising the quality of IPR's multidisciplinary faculty, Northwestern Provost Jonathan Holloway noted how its 150 faculty are spread across more than 30 different departments around the University and how they represent faculty excellence, as evidenced by the major awards and honors they garner.
IPR represents one of the "great convening spots" at Northwestern, Holloway continued, where scholars from different disciplines can come together in "interstitial places" and find the answers to society's most vexing problems.
"It is clear, collectively, that IPR fellows are in service to a larger ideal, and that is about making this world better," Holloway said.
In reconvening the IPR@50 conference on its second day, Jay Walsh, Northwestern's vice president for research, spoke about how IPR brings together a great interdisciplinary faculty from across the university who conduct innovative and high-quality research while taking account of practitioners' perspectives—and it does all of this while remaining policy relevant. This formula helps to explain why IPR has been "fantastic for 50 years," he said.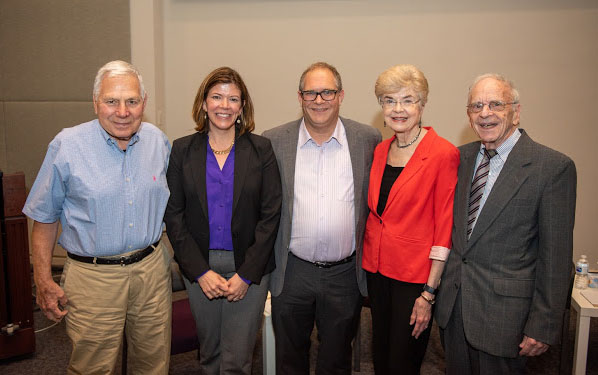 In all, the conference welcomed more than 200 faculty, students, staff, researchers, and members of the media and the public across its two-day program. Four of IPR's past six directors, Louis Masotti, Burton Weisbrod, Fay Lomax Cook, and David Figlio, also attended the conference or participated in the panels.
Some of IPR's earliest faculty and administrators, John Heinz and John McKnight, also spoke about IPR's development. They traced its founding as an urban research center in the turmoil of the late 1960s, spearheaded by its first director, the late sociologist Raymond Mack. The initial group of 12 faculty has grown to 150-plus faculty researchers who, today, address local, state, national, and international policy concerns. (Read more about IPR's history here.)
Schanzenbach thanked IPR political scientist Laurel Harbridge-Yong and IPR economist Kirabo Jackson and the entire IPR@50 faculty planning committee for their efforts in organizing the conference. IPR sociologist Anthony Chen wrapped up the conference, noting that the six panels were a "tour de force of excellent policy-relevant research."
Schapiro observed that, "These 50 years at IPR have been great, and the next 50 years are going to be better. We have never needed this passionate, honest research more than we do now. The problems are greater, and the rhetoric, alas, is also greater. So I can't wait for the decades ahead."
Read more about the panel discussions.
Photo credits: Rob Hart.
Published: July 9, 2019. Updated: July 17, 2019.