Back to School: IPR Researchers Discuss the Pandemic's Impact
As millions of children return to schools, IPR faculty examine key education issues through their work
Get all our news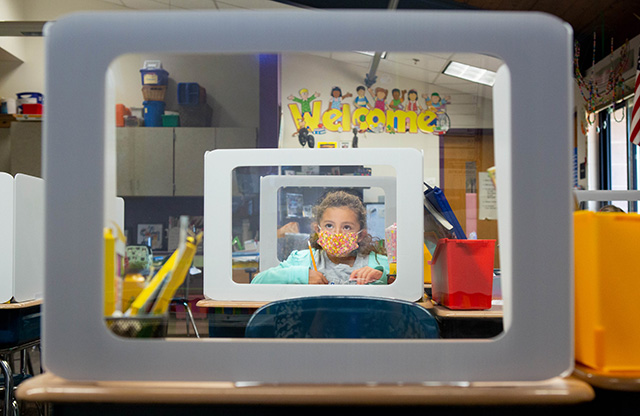 A student sits behind a protective shield inside a school classroom in October 2020.   
How are students faring as U.S. schools reopen after being shuttered due to the pandemic? Many school districts are bringing their students back into the classroom after months of remote learning. But data about how long schools were closed and how students and their families have coped during the COVID-19 pandemic are hard to come by. This is why the Department of Education's research arm, the Institute of Education Sciences (IES), is currently undertaking the collection of high-quality data as part of President Biden's January 21 Executive Order.
Though current data are limited, IPR faculty from multiple fields have much to contribute to the understanding of the impact of school closures and remote learning on students during lockdowns and pandemic precautions.
IPR researchers answered a number of questions based on their research about reopening schools, and their answers are illuminating. Below is a summary. To learn more, you can read their complete answers.
Learning Gaps, Inequities, and Remote Learning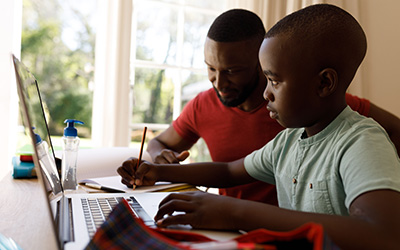 A key theme that emerges in many answers is how shuttered schools and online learning may have exacerbated inequalities in student learning. Ofer Malamud points out that differences in resources that children have at home will increase the learning gaps between the haves and the have-nots. Hannes Schwandt warns that these gaps may lead to future inequality in children's long-term outcomes. Online education will likely continue to grow, and David Figlio notes that educators will need to work to prevent a "two-tier" system that advantages successful and well-off students over academically and financially struggling ones.
To address the inequalities, Mesmin Destin shows the importance of redeveloping educational systems and supports with an emphasis on leveraging the strengths of marginalized students rather than presumed deficits. Jonathan Guryan's research on Saga Education's "high-dosage" math tutoring may be useful, as it could target high school students at risk of dropping out who are often written off as being too old for effective interventions. Kirabo Jackson demonstrates that increased spending on education results in better student outcomes, which suggests the shortsightedness of school funding cuts. Diane Whitmore Schanzenbach urges school districts to continue standardized tests and other learning assessments to inform our understanding of what students need.
Students' Mental Health
Another significant thread in researchers' responses is concern about the mental health of children and young people. James Druckman finds that the level of clinical depression among youth has skyrocketed during the pandemic. Schwandt expects that children will bear psychological scars that are more important than any learning losses. The stress and grief that children suffer from will return to the classroom with them, Emma Adam observes, and she recommends that standardized testing be paused until children begin to recover.
Read more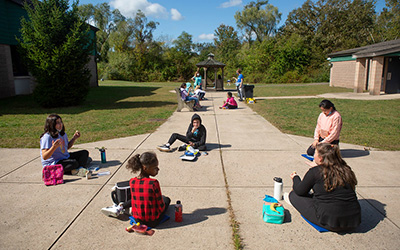 Social Connections and Community

Of special concern is the isolation and lack of social interaction for children during the pandemic, as Joseph Ferrie points out. The vital role schools play as a supplement to the social safety net for the children most in need is starkly evident with their closure, Sally Nuamah writes. For the youngest students, Terri Sabol suggests that to overcome the trauma that may have resulted from abruptly ending preschoolers' relationships with their teachers and peers, teachers should focus on building trust and engaging preschoolers more in play once they are back in the classroom.
Lessons from the Past and for Reforms
Faculty also looked to the past and contemplated the future. Ferrie cautions that education during the 1918–19 influenza pandemic was quite different from today's. But schools' closures may also provide opportunities for growth.  Simone Ispa-Landa and Figlio each see the possibility of reforming practices and improving the system—in school discipline and in improving online education as a part of schooling going forward.
Emma Adam is the Edwina S. Tarry Professor of Human Development and Social Policy and an IPR fellow. 
Mesmin Destin is Associate Professor of Psychology and of Human Development and Social Policy and an IPR fellow.
James Druckman is the Payson S. Wild Professor of Political Science and IPR Associate Director. 
Joseph Ferrie is Professor of Economics and an IPR associate. 
David Figlio is Dean of the School of Education and Social Policy, the Orrington Lunt Professor, and an IPR fellow. 
Jonathan Guryan is the Lawyer Taylor Professor of Education and Social Policy and an IPR fellow.
Simone Ispa-Landa is Associate Professor of Human Development and Social Policy and an IPR fellow.
Kirabo Jackson is the Abraham Harris Professor of Human Development and Social Policy and an IPR fellow. 
Ofer Malamud is Associate Professor of Human Development and Social Policy and an IPR fellow. 
Sally Nuamah is Assistant Professor of Human Development and Social Policy and an IPR fellow. 
Terri Sabol is Assistant Professor of Human Development and Social Policy and an IPR fellow. 
Diane Whitmore Schanzenbach is IPR Director, the Frances Willard Professor of Human Development and Social Policy, and an IPR fellow.
Hannes Schwandt is an assistant professor of human development and social policy and an IPR fellow.
Photo credits: A. Shelley for American Education, Flickr; Pikwizard 
Published: March 17, 2021.