Terri Sabol
Assistant Professor of Human Development and Social Policy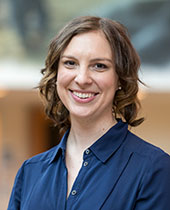 IPR Fellow
PhD, Applied Development Science, University of Virginia, 2011
Terri Sabol is a developmental psychologist who conducts research at the intersection of child development and social policy with the broad goal of reducing disparities and maximizing the potential of young children living in economic hardship. In particular, she has initiated three lines of research that focus on ways to optimize investment in early childhood education. First, she studies how young children's lives unfold over time to discover new ways that early childhood education can enhance child development. Second, she examines micro-level classroom processes to improve the quality of early childhood education. Third, she explores family-centered approaches and how to support both parents and children together in early childhood education programs. 
Sabol has published in a wide range of journals from multiple disciplines, including Science, Child Development, Journal of Policy Analysis and Management, Developmental Psychology, and Journal for Research on Education Effectiveness. Her work has been supported by the National Institutes for Health, Institute for Education Sciences (IES), Administration of Children and Families, as well as the McCormick Foundation and the Foundation for Child Development. She is currently an AERA-SRCD Early Career Fellow in Early Childhood Education and Development and serves as the director of the Development, Early Education, and Policy (DEEP) lab. 
Current Research
Characterizing Impact Variation of Early Childhood Education Interventions. In this IES-funded project, Sabol and her colleagues, including IPR education researcher and statistician Larry Hedges, are building the early childhood education evidence base. The researchers identify the conditions that contribute to the effectiveness of professional development programs for early childhood classroom quality and child learning outcomes. Using cutting-edge statistical approaches, they explore whether variation in the programs' effects is predicted by characteristics within school walls, such as the composition of students; teacher qualifications and psychological characteristics; and center structural characteristics, such as enrollment size, as well as out of school walls (gentrification, green space, businesses, resources, and disorder).  
Developing New Tools to Understand Young Children's Perceptions of Home and School. Young children's voices are typically absent from most research due to the challenge in reliably capturing their perspectives. Sabol is adapting a novel measure of children's internal representations of home and school experiences—adapted from the Berkeley Puppet Interview—that uses a puppet technique to create a peer-like exchange that is engaging and approachable for young children. She is currently examining the puppet technique's psychometric features as used with children attending Head Start in Tulsa, Oklahoma. She is also developing a new measure that assesses children's academic expectations and goals, which is being piloted in in Oakland, California, through an evaluation of their Promise Neighborhood program, Kindergarten to College. Future work will explore whether children's perceptions of home and school relate to later functioning.
Expanded Model of Family Engagement. In this study, funded by the McCormick Foundation, Sabol and IPR research associate professor Teresa Eckrich Sommer consider how an updated model of family engagement, which includes parent human capital, could be integrated into preschool accountability systems. One of the weakest aspects of the Quality Rating and Improvement System (QRIS) is the role of family engagement, with measures that are limited to parents' involvement at early childhood education centers. Sabol is leading a mixed-methods study in Illinois to develop a more comprehensive measure that emphasizes direct services to parents rather than voluntary activity at the center.
Selected Publications
Sabol, T., T. Sommer, A. Sanchez, and A. Busby. (Forthcoming). A new approach to defining and measuring family engagement in early childhood education programs. AERA Open 4(3).
Jenkins, J., T. Sabol, and G. Farkas. (Forthcoming). Double down or switch it up: Should low-income children stay in Head Start for 2 years or switch programs? Evaluation Review. 
Sommer, T., T. Sabol, E. Chor, W. Schneider, P. L. Chase-Lansdale, J. Brooks-Gunn, M. Small, C. King, and H. Yoshikawa. 2018. A two-generation human capital approach to anti-poverty policy. RSF: The Russell Sage Foundation Journal of the Social Sciences 4(3): 118-43. 
Sabol, T., N. Bohlmann, and J. Downer. 2018. Low-income ethnically diverse children's engagement as a predictor of school readiness above preschool classroom quality. Child Development 89(2): 556-76.
Sabol, T., L. Till Hoyt. 2017. The long arm of childhood: Preschool associations with adolescent health. Developmental Psychology 53(4): 752-63. 
Sabol, T., and P. L. Chase-Lansdale. 2015. The influence of low-income children's participation in Head Start on their parents' education and employment. Journal of Policy Analysis and Management 34(1): 136-61.
Sabol, T., and R. Pianta. 2014. Do standard measures of preschool quality used in statewide policy predict school readiness? Education Finance and Policy 9(2): 116-64.
Sabol, T., S. Soliday Hong, R. Pianta, and M. Burchinal. 2013. Can rating pre-k programs predict children's learning? Science 341(6148): 845-46.