New Fellows Deepen IPR's Interdisciplinary Policy Expertise
They examine critical policy topics, including immigration, housing, discrimination, and inequality
Get all our news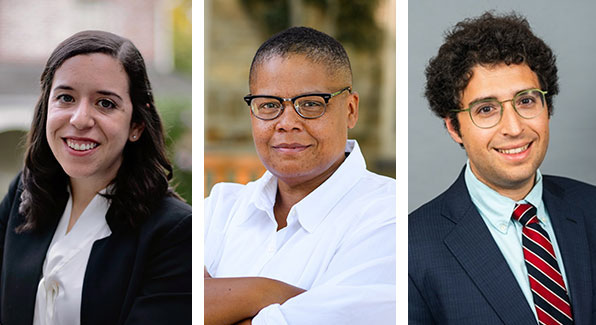 IPR's new fellows (from left to right): Economist Elisa Jácome, African American Studies scholar Keeanga-Yamahtta Taylor, and political scientist Brian Libgober.
Three new fellows joined Northwestern's Institute for Policy Research (IPR) in September, adding their expertise in critical areas of the Institute's interdisciplinary social policy research portfolio: Economist Elisa Jácome, political scientist Brian Libgober, and African American Studies scholar Keeanga-Yamahtta Taylor.
"We are excited to welcome Elisa, Brian, and Keeanga to IPR," said IPR Director and economist Diane Whitmore Schanzenbach, the Margaret Walker Alexander Professor of Human Development and Social Policy. "Their impressive scholarship aligns with long-standing research themes of our 160-plus faculty, and we look forward to the fresh perspectives they will bring to our interdisciplinary research community."
IPR also celebrates five of its fellows who were recently promoted with tenure: political scientists Tabitha Bonilla and Chloe Thurston, developmental psychologists Onnie Rogers and Terri Sabol, and economist Hannes Schwandt.
Introducing IPR's New Fellows for 2022–23
Keeanga-Yamahtta Taylor | Elisa Jácome | Brian Libgober
Confronting Race, Politics, and Class: Keeanga-Yamahtta Taylor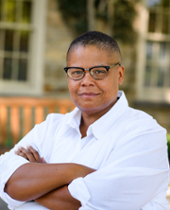 Keeanga-Yamahtta Taylor, an award-winning scholar and public intellectual, returns to Northwestern where she earned her PhD in 2013, as the Leon Forrest Professor of African American Studies. She examines racism, inequality, Black politics, radical politics, and social movements in the United States, both in historical and contemporary contexts.
Awarded Guggenheim and MacArthur fellowships in 2021, Taylor's current projects look at the dynamics of race, class, and politics in the first generation after the Black social movements of the 1960s along with the Black radical tradition mediated through the life and politics of scholar and activist Angela Y. Davis.
Her recent book, Race for Profit: How Banks and the Real Estate Industry Undermined Black Homeownership (University of North Carolina Press, 2019), meticulously traces how 1968's Housing and Urban Development Act banned exclusionary practices and guaranteed mortgage lending to Black homebuyers—but also gave rise to a more sinister form of housing discrimination. Calling it "predatory inclusion," she explains how this phenomenon created perverse incentives for bankers, investors, and real estate agents to engage in exploitative practices with disastrous consequences for Black homeowners. The book was a semi-finalist for the 2019 National Book Award and a finalist for the 2020 Pulitzer Prize in History. The New Yorker called it "groundbreaking."
Her previous award-winning book, From #BlackLivesMatter to Black Liberation (Haymarket Books, 2016), examines the BLM movement's emergence and the persistence of racism and structural inequality in the United States. And her book How We Get Free: Black Feminism and the Combahee River Collective (Haymarket Books, 2017) won the Lambda Literary Award for LGBTQ non-fiction in 2018. 
A former contributing opinion writer for The New York Times, she now writes for The New Yorker covering topics that include identity politics, racism, and abortion. Her writing has also appeared in outlets such as the Los Angeles Times, Paris Review, and The Guardian.
Prior to returning to Northwestern, she was a professor in Princeton University's department of African American studies from 2014–22.
Read more about her.
Investigating Crime, Mobility, and Immigration: Elisa Jácome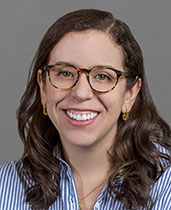 IPR economist Elisa Jácome, who spent 2021–22 as a postdoctoral fellow at the Stanford Institute for Economic Policy Research, studies topics in labor economics, public economics, and economic history. She focuses on questions related to criminal justice, mental health, immigration, and intergenerational mobility. She received her PhD in economics from Princeton in 2021.
An assistant professor in Northwestern's department of economics, Jácome studies issues around mental healthcare and crime. One of her current research studies explores how losing access to Medicaid services could be linked to a rise in criminal activity: Low-income men who age out of eligibility for Medicaid are 14% more likely to be incarcerated in the next two years, and the increase is entirely driven by men with histories of mental health illness. Jácome argues that policymakers might consider improving access to mental healthcare as one of the tools in their arsenal for reducing crime and criminal justice expenditures.
She has also examined trends in U.S. intergenerational mobility. A 2021 study she co-authored in the American Economic Review examined how millions of father-and-son pairs have fared since the 1880s, revealing that children of immigrants are more upwardly mobile than U.S.-born children, both historically and today. It received widespread media attention, including from The New York Times and Bloomberg.
Jácome is now studying the effect of higher levels of immigration enforcement on crime and crime reporting, as well as investigating trends in intergenerational mobility over the 20th century and how including women and Black Americans in such research changes our understanding of the evolution of intergenerational mobility.
Read more about her.
Scrutinizing Inequality, Interest Groups, and Institutions: Brian Libgober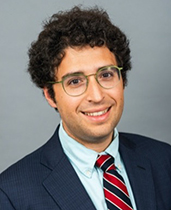 IPR political scientist and legal scholar Brian Libgober is interested in the relationship between economic inequality, interest group power, and the design of legal institutions. His research focuses on the political economy of American institutions, with a particular focus on administrative policymaking, interest group politics, and financial regulation.
A prize-winning study he co-authored examined 300,000 comments on 800 regulatory actions that organizations made on the Dodd-Frank Wall Street Reform and Consumer Protection Act of 2010 to U.S. agencies. The unique dataset shows how comments from wealthier organizations—which tend to be more sophisticated, likely due to their wealth and access to lobbyists—were more successful in influencing the agencies and the resulting policymaking. The study raises questions about equity in the legislative process.
Libgober, who is assistant professor of political science and of law (by courtesy), also studies access to justice, including racial discrimination in the job market. Recently, he and two collaborators received a National Science Foundation grant to conduct a follow-up study on a field experiment using cold email requests for representation to lawyers. The 2020 study shows how those with Black-sounding names were less likely to get a response than those with White-sounding ones. A number of media outlets covered the findings.
After completing his bachelor's degree at the University of Chicago, Libgober worked for President Barack Obama's re-election campaign in polling analytics. He earned a JD from the University of Michigan in 2015 and a PhD in government from Harvard University in 2018. He comes to Northwestern from the University of California, San Diego, where he was an assistant professor from 2020–22. He is also a senior research scholar at Yale Law School.
Read more about him.
Keeanga-Yamahtta Taylor is the Leon Forrest Professor of African American Studies. Elisa Jácome is assistant professor of economics. Brian Libgober is assistant professor of political science and of law (by courtesy). All are IPR fellows.
Published: September 29, 2022.