IPR Faculty Receive Prestigious Honors
Honors reflect IPR faculty's expertise and innovation in social science research
Get all our news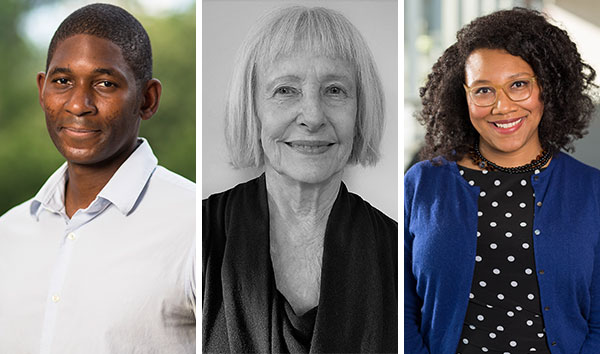 Three IPR scholars earned notable recognition for their policy-focused research.
IPR economist Kirabo Jackson was elected to the American Academy of Arts and Sciences, and IPR psychologist Alice Eagly, a fellow emerita, was elected to the National Academy of Sciences. The academies are considered two of the nation's most prestigious societies.
Additionally, IPR psychologist Sylvia Perry was selected as a fellow of the Center for Advanced Study in the Behavioral Sciences (CASBS) at Stanford University for 2022–23. The CASBS is known for identifying distinguished scholars early in their careers.
"Kirabo, Alice, and Sylvia are conducting extraordinary research, with profound policy implications," said IPR Director Diane Whitmore Schanzenbach, the Margaret Walker Alexander Professor of Human Development and Social Policy. "These are among the nation's top honors for scientists, recognizing their substantive, widely cited, and methodologically rigorous work."
Kirabo Jackson: A Respected Expert in the Economics of Education

Jackson and three Northwestern University faculty members were selected to join the American Academy of Arts and Sciences, a longstanding and revered honorary society.
Jackson joins 19 other IPR scholars at Northwestern who have been elected, including IPR political scientist James Druckman, IPR psychologist Sandra Waxman, and IPR education researcher and statistician Larry Hedges. Founded in 1780, the academy has elected many prominent individuals, including Benjamin Franklin, Albert Einstein, and Martin Luther King, Jr. More recently, former U.S. Secretary of State Condoleezza Rice, recording artist John Legend, and neurosurgeon and medical correspondent Sanjay Gupta were also named members.
Jackson's research addresses the challenges in education, such as the role of public school funding on student outcomes through adulthood, the effects of college preparatory programs on students' college and labor market outcomes, and the effects of educational tracking on students' academic achievement.
His election is the latest among Jackson's remarkable scholarly achievements. In April 2022, the American Economic Journal: Economic Policy announced Jackson as its next lead editor, effective in January 2023. The journal is among the most esteemed academic journals in economics. He was also one of the youngest members ever elected to the National Academy of Education and won the Kershaw prize for best policy researcher under 40.
Alice Eagly: A Groundbreaking Scholar in the Psychology of Gender
Eagly is among 120 new members and 30 international members elected to the National Academy of Sciences for prominent and continuing achievements in the research community. Membership is one of the highest U.S. recognitions given to scientists.
IPR economist Charles Manski and IPR anthropologists Thomas McDade and Christopher Kuzawa are members of the academy. Inventor Thomas Edison, scientist Alexander Graham Bell, and anthropologist Margaret Mead have also been named members of the academy since its founding in 1863.
Eagly has published widely on the psychology of gender and attitudes. Her research investigates attitude change and structure, women and leadership, the content of stereotypes, feminism and psychology, science and advocacy, and the psychological differences between women and men.
She has also written numerous articles and books, including Sex Differences in Social Behavior: A Social Role Interpretation (Psychology Press, 1987), The Psychology of Attitudes (SAGE Publications Ltd, 2010) with co-author Shelly Chaiken and Through the Labyrinth: The Truth About How Women Become Leaders (Harvard Business Review Press, 2007) with co-author Linda L. Carli.
Sylvia Perry: A Rising Star Who Studies Racial Bias
Perry is an expert who studies racial bias and its impact on relations between people, such as interracial interactions between White doctors and minority patients and reducing racial bias.
Her lab, the Social Cognition & Intergroup Processes Laboratory, observes conversations between parents and children about race. She uses the findings to help inform the development of curricula for schools and to provide tools for parents to facilitate discussions of racial bias with their children.
Well-known fellows at CASBS include the late Supreme Court Justice Ruth Bader Ginsburg, Harvard professor Henry Louis Gates, Jr., and Nobel Prize winner economist Paul Milgrom, as well as a staggering 26 Nobel Laureates, 24 Pulitzer Prize winners, and 51 MacArthur (the so-called "Genius Grant") Fellows.
Perry was also recently elected a fellow of the Association for Psychological Science in 2021 for her "sustained outstanding contributions to the science of psychology." Fellows are first considered 10 years following their postdoctoral activity.
Kirabo Jackson is the Abraham Harris Professor of Education and Social Policy. Alice Eagly is the James Padilla Emerita Chair of Arts and Sciences. Sylvia Perry is an associate professor of psychology. All are IPR fellows.
Image credits: M. Wnuk, R. Eagly, and courtesy of S. Perry
Published: June 6, 2022.