College Access and Success
Symposium honors Morton Schapiro for his research and efforts to make higher education more accessible
Get all our news
Read more
about the symposium panels and fireside chat.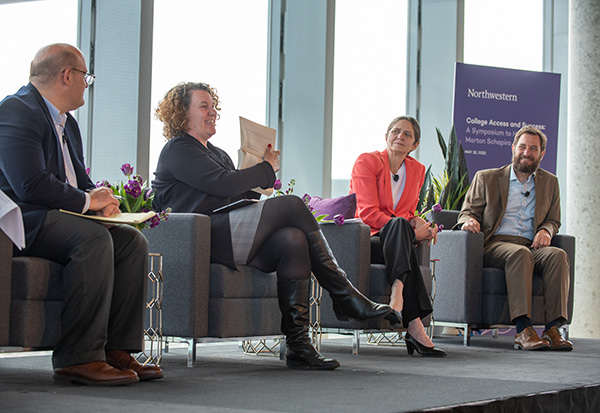 Susan Dynarski holds up her copy of "Keeping College Affordable" by Morton Schapiro 
and Michael McPherson, sharing how it informed her research, as fellow panelists 
Eric Bettinger (far left), Sarah Turner, and Jesse Rothstein look on.

Financial aid and student debt, support for first-generation students, inequities in college access, measurement of returns to higher education, and research-to-practice pipelines. These were but a few of the topics covered in a wide-ranging discussion by some of the nation's top higher education researchers, leaders, and thinkers at Northwestern University on May 10.
The symposium "College Access and Success," held in the Kellogg School of Management's Global Hub, was organized as a tribute to Northwestern Professor and President Morton Schapiro, whose tenure concludes on August 31.
As one of the nation's leading experts on the economics of higher education, Schapiro has addressed many of these issues from the field in his work on college financing and affordability and on trends in educational costs and student aid. Many of the symposium panelists also spoke to his scholarly influence on their own research and the field.
In welcoming the 125-plus attendees, Northwestern Provost Kathleen Hagerty mentioned how the symposium theme "so deeply speaks toward his work as a higher education leader, scholar, and professor."
IPR Director and economist Diane Whitmore Schanzenbach organized the event with Hagerty and economist David Figlio, who recently stepped down as dean of the University's School of Education and Social Policy to become provost at the University of Rochester.
"It was a spectacular set of all-star discussions, and I couldn't think of a better way to celebrate Morty's tireless efforts as a scholar and as a university president to promote college access," Schanzenbach later said about the event.
"I hope, Morty, that you see this [symposium] as a testament to just what extraordinary work you've done to help seed the field of scholars who are making life better, and we couldn't have done it without you and your work," Figlio said.
Bookending a Northwestern Career
Hagerty underlined how the event served as a fitting "bookend" to a similar one held during Schapiro's 2009 inauguration. Then, the discussion was "about what he might do, and today, we're going to find out what he did do," she said.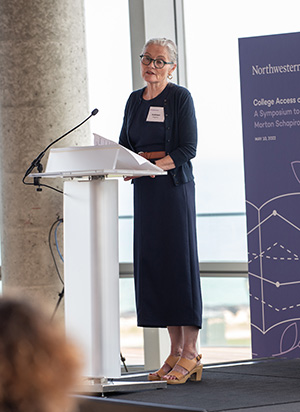 She pointed to his work to diversify Northwestern's student body across his 13 years as president. This resulted in African American, Latinx, and Native American enrollment rising from 11% of the 2009 entering first-year class to 30% in 2022 and an increase in the number of Pell Grant-eligible students from 12% to 21% during that same period.
In recognition of his accomplishments, Hagerty also announced a multimillion-dollar gift from the Potocsnak family to support key programs created during Schapiro's presidency—in particular, an academy that prepares high-achieving Chicago Public Schools (CPS) students for college that came out of his conversations with then-Chicago mayor Rahm Emanuel.
Now known as the Morton Schapiro Northwestern Academy for Chicago Public Schools, the academy is a free, multiyear college access and enrichment program for CPS high school students from diverse backgrounds that has served more than 500 students since it was founded in 2013. More than 90% of participating students are the first in their families to go to college.
Andrew Duarte, '21, a member of the inaugural academy cohort, said, "It helped me see I had the potential to get in here and feel like I actually belonged at a school like this."
Chicago industrialist John Potocsnak, who attended the symposium, said in a press release, "With this gift, my family and I intend not only to honor Morty, but also hopefully to inspire future Morty Schapiros when they realize what their contributions can achieve."
Morton Schapiro is president of Northwestern University, professor of economics, and an Institute for Policy Research (IPR) fellow. Kathleen Hagerty is the University's provost and First Chicago Professor of Finance. Diane Whitmore Schanzenbach is the Margaret Walker Alexander Professor and IPR director and fellow at the University. David Figlio was the Orrington Lunt Professor, dean of the University's School of Education and Social Policy, and an IPR fellow until May 15. He becomes provost of the University of Rochester in July.
Editor's Note: With former president-elect Becky Blank stepping down due to an aggressive cancer diagnosis, Morton Schapiro will remain president until a successor is named.
Image credits: R. Hart

Published: June 9, 2022.