College Access and Success: Creating Avenues for Policy and Practice
Prominent higher education leaders outline how institutions can use evidence to promote student success
Get all our news
Read more
about the symposium discussions and fireside chat.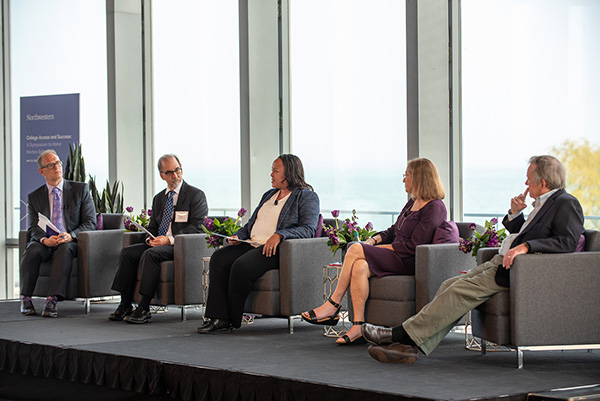 From left: David Figlio, Adam Gamoran, Bridget Long, Sandy Baum, and Michael
McPherson address what colleges can do to increase access and student success.
While the first panel of the May 10 "College Access and Success: A Symposium to Honor Morton Schapiro" tackled how evidence might boost access to higher education, the second panel evoked how such research might apply to the decisions, actions, and structures of colleges and universities. Schapiro is Northwestern's 16th president, whose tenure concludes on August 31.
"The first panel was a challenge to us as a society," said David Figlio, then-dean of the University's School of Education and Social Policy, in asking his panelists for their thoughts on how organizations and systems can promote access and success for marginalized students. "I think the second panel is a challenge to us … who are university leaders."
Deliberate Efforts and Small Decisions
In tracing her path to becoming an education economist and now as dean of Harvard's Graduate School of Education, Bridget Long recalled her interest in inequality drew her to the economics of higher education.
But she recalled debates over K–12 education research at the time "were less about evidence and more about politics." In books by co-authors Schapiro and Michael McPherson, however, she found rigor and careful thought. She saw them treating colleges as being responsive to incentives, an idea which many economists had initially rejected. She also credits Schapiro and McPherson with moving beyond studying higher education to taking "the reins of institutions" as presidents and seeking to influence systems.
She pointed to students playing soccer on the field behind the auditorium and others sitting together speaking as emblematic of "the American experiment with higher education." She described it as one that pulls students together from vastly different backgrounds, confronts them with hard problems, and allows them to grow, revealing the importance of peer effects.
But getting "the right peers around the table" and making students feel "fully included," especially those who have not traditionally been part of higher education, involves making deliberate efforts to do things like expand financial aid—which McPherson and Schapiro discussed in their books, she said. It also involves making "small decisions that have tremendous weight," from simplifying forms and clarifying messaging to having a welcoming face on a prospective student's first Zoom call.
"Because as we've seen, policy design matters, program design matters," Long continued, "and what we do as institutions, and whether we actually seem welcoming or not, mainly comes down to those small, small differences."
Broadening Access and Societal Views
Urban Institute economist Sandy Baum also addressed the issue of how to get more students into higher education, especially those who have traditionally not gone to college. She commended Schapiro for his work to increase the numbers of such students at Northwestern, but she also pressed all university leaders to do more "much, much more" to broaden access.
Drawing from her latest book, Can College Level the Playing Field? (Princeton University Press, 2022) with McPherson, Baum pointed out that the vast majority of students, particularly those from low-income backgrounds, will not go to highly selective schools like Northwestern and the Ivies. Many would, instead, find themselves going to more accessible institutions like community colleges or broad access public four-year institutions.
"So, we need to put our energies into those institutions, not just by lowering the price of those institutions so much as by making sure they have the resources necessary to educate students well," she said.
Baum, who studied income tax progressivity and social security before coming to higher education research, offered that higher education researchers and administrators also need to take a broader societal view of what prevents children from going to college.
It's not just whether there are enough Pell Grants to go around, she said, but the dangerous neighborhoods, substandard housing, lack of healthcare, and other factors that many underrepresented students experience growing up. These factors, too, can have a big impact on whether low-income students make it to college.
"We need big federal and state efforts for the child tax credit and for early childhood education," Baum said. "That's the best way to move forward with getting students to have access and success in higher education. We can't fix it just at the college level."
Promoting Better Decision Making and Research Partnerships
Addressing the role funders can play, Adam Gamoran asked, "What leads systems and organizations to promote access and success for marginalized students?"
As president of the William T. Grant Foundation, he pointed to his foundation's efforts to increase the numbers of such students attending college by supporting research on building organizational capacity and encouraging colleges and universities to use evidence in their decision making.
"The kinds of research findings that we heard from the last panel should feed into the decision making of leadership of universities," Gamoran said. "But it turns out that high-quality evidence is not sufficient."
He spoke to the importance of breaking down the silos between research and administrative decision making. "So, in order to increase the use of evidence, we need to promote relationships between those who produce evidence and those who might be in position to use evidence," he said.
The importance of asking practitioners what questions they want answered and also of "rewarding faculty for solving problems for real people" will do a better job of boosting policy take-up, he said, rather than the current academic model that rewards "tests of theory," which is why the foundation set up an institutional challenge grant to promote such reward models.
Gamoran also noted that the Northwestern Academy for the Chicago Public Schools "is not only evidence-based" in its academic and social programs, "but also evidence-providing." And by yielding more evidence for learning, it will help inform others about the success of students from underrepresented backgrounds.
"Many of us in education research got into this business because we wanted to make a difference," Gamoran said. "And it turns out that we're better positioned to do this if we immerse ourselves in problems of practice through these partnership relationships."
Investing in Measurement and Economic Thinking
Michael McPherson has seen all sides of academia and funding as president emeritus of Macalester College and the Spencer Foundation, in addition to being a higher education researcher, consultant, and longtime writing partner of Schapiro. His key insight revolved around the question of "How do you prepare yourself to be a leader and a meaningful contributor, either in an administrative role or in a scholarly role?"
"I think one thing that's absolutely true is you should have some comfort with economic thinking," McPherson said.
"Even if you're a classicist who has become a provost, you are going to face trade-offs," he continued. "You're going to have to understand issues about resource scarcity and priority setting."
Additionally, he encouraged those in both research and leadership to "get out more."
"It's so easy to think that the world you're living in is the world," he said. "You grow up in these elite institutions, and you think that's the world of higher education—and it's not."
He also pointed out that economists care about measurement and measuring student outcomes through income is easy enough to do. But "college is not just a machine for producing people who will get paid," he said.
"It's just nonsense to think that it's all about money," McPherson continued, referring to a speech that Schapiro once made asking how we could live as a society without art.
It's not impossible to measure these less obvious outcomes, he said, but researchers have to "invest" themselves in finding measures "beyond simply income."
Sandy Baum is a senior fellow for the Center on Education Data and Policy at the Urban Institute and professor emerita of economics at Skidmore College. Adam Gamoran is president of the William T. Grant Foundation and the John D. MacArthur Professor Emeritus of Sociology and Educational Policy Studies at the University of Wisconsin-Madison. Bridget Long is the Saris Professor of Education and Economics and dean of the Harvard Graduate School of Education. Michael McPherson is a senior fellow for the Center on Education Data and Policy at the Urban Institute and president emeritus of the Spencer Foundation and of Macalester College. David Figlio was the Orrington Lunt Professor, dean of the School of Education and Social Policy, and an Institute for Policy Research fellow at Northwestern University until May 15. He becomes provost of the University of Rochester in July.
Image credit: R. Hart

Published: June 9, 2022.