Connecting Social Science Research to Critical Societal Issues
Undergraduates discuss what it was like conducting research with IPR faculty and what they learned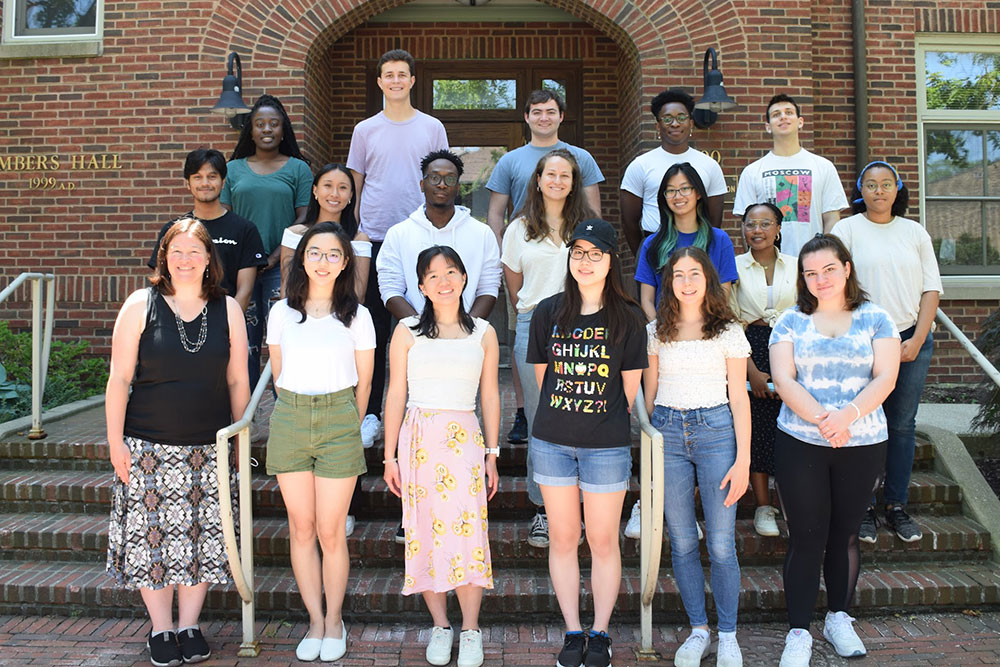 IPR social demographer Christine Percheski (front left) and some of IPR's 2022 summer undergraduate research assistants take a photo break during a training session. 
How might spouses influence decisions about planning to have a family, and how might policy affect such decisions?
Weinberg senior Aditi Ghei investigated these questions this summer in IPR's Summer Undergraduate Research Assistants (SURA) program while working for IPR economist Lori Beaman and IPR sociologist Julia Behrman.
From conducting a literature review, she learned that the past 20–30 years of research focused on women. It highlighted a gap in family planning research about men, who she learned might hold more conservative views and influence family outcomes more.  
"This has huge implications for how we might go around aiming policy towards addressing [issues] like domestic abuse or helping with contraception and family planning," Ghei said.  
Ghei, an economics major, was one of 44 students who worked with IPR faculty to gain research experience and learn how social science research influences policies to address critical societal issues. The SURA program started in 1998 under former IPR Director Fay Lomax Cook and is one of Northwestern's longest-running undergraduate research programs. IPR social demographer Christine Percheski currently directs the program.
Allison Macdonald, a Weinberg senior majoring in linguistics and English, said one of the highlights of her SURA experience was learning to approach research from an interdisciplinary perspective. Her faculty mentors—IPR sociologist Beth Redbird and computational linguist and IPR associate Rob Voigt—are working to identify and analyze racial bias in courtroom proceedings.   
"We would often start with a sociology-related question like, 'How and why are mentions of specific locations and gangs employed in these court trials?'" she said. "And then use linguistic tools to attempt to answer that question." 
Redbird added that Macdonald assisted them with developing a method to measure systemic bias in courtrooms. She analyzed transcripts, word usage, and how courts talk and interact with criminal defendants by race. 
"Determining the presence of such bias, and analyzing exactly how it unfolds in trials, will enable defense attorneys to more effectively defend their clients and give them more tools to address bias against their clients," Macdonald said. She added that it has the potential to reduce prison sentences for individuals and provide more equitable outcomes in the criminal justice system. 
In addition to the research components, SURA students also participated in information sessions on campus research resources and best practices for being a research assistant during their first week. Other events included a session about PhD programs and a SURA alumni panel with former undergraduate RAs Kenneth Lim ('20), a health policy analyst at Mathematica, Megan Pisarczyk ('20), a senior associate at Tusk Strategies, and Ericka Woods ('20), an analyst at Civic Consulting Alliance.
Forty-four undergraduates participated in SURA this year, including Ghei. The program is supported, in part, by a generous sponsorship from corporate director and former healthcare executive Terry Bayer ('72). It also received funding from the Anderson Research Fund through Northwestern's Office for Research, which allowed IPR to support 12 additional students in the Weinberg College of Arts and Sciences this summer. Three Anderson scholars—Rahul Aggarwal, Lahari Ramini, and Leila Stoll—wrote about their research experiences for the SURA blog.
Beyond the program's benefits to undergraduates, Redbird said the SURA program enables faculty to conduct projects that would not be possible without their assistance. Redbird and other faculty also enjoyed seeing students become passionate about social science research as they collaborated with undergraduates in the program.  
"It's not just an opportunity to work with bright undergrads who are interested in not just research but also in the way the world functions and understanding the amazing things that social science can discover," Redbird said.
IPR sociologist Julia Behrman, one of Ghei's faculty mentors, added that the program allowed her to build a deeper relationship with Ghei, a former student. 
"I got to see her critical thinking skills and was very impressed with how she was able to synthesize complex academic literature and pull out key findings," Behrman said. "I knew she was a good student, but having the opportunity to work with her on a research project meant I got to know her in a different light."  
For more information about the program, please visit the website and the 2022 blog. IPR's 2023 program will launch in February.
Lori Beaman is associate professor of economics. Julia Behrman and Beth Redbird are assistant professors of sociology. Christine Percheski is associate professor of sociology. Rob Voigt is assistant professor of linguistics. All are IPR faculty.
Photo credit: J. Guillen
Published: November 21, 2022.