Christine Percheski
Associate Professor of Sociology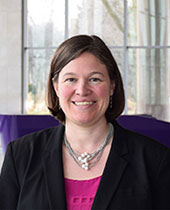 PhD, Sociology, Princeton University, 2008
Sociologist Christine Percheski's research is focused on family demography, economic inequality, and health policy. Her research is particularly concerned with understanding the wellbeing of American women and families with children. Her past work has investigated how changes in family characteristics are associated with the rise in economic inequality among U.S. households, how the employment patterns of new mothers vary by their partner status, how the Great Recession affected pregnancy rates, and how health insurance coverage varies by family characteristics. She has also investigated the employment patterns of college-educated professional women and the so-called "opt-out phenomenon," finding that women of Generation X with young children have higher full-time employment rates than previous cohorts of American women.  
Percheski's research has been published in such journals as the American Sociological Review, Demography, Journal of Marriage and Family, Social Science & Medicine, and Maternal and Child Health Journal. Prior to coming to Northwestern, Percheski was a Robert Wood Johnson Scholar in Health Policy Research at Harvard University.
Current Research
Wealth Inequality among American Children. This NSF-funded project with Duke University professor Christina Gibson-Davis maps the rise in wealth inequality among families with children in the United States. This project considers racial inequalities in wealth for families with children, and how the Great Recession impacted wealth differently for different family types. Their results will help social scientists understand racial inequalities in wealth, and whether changes in economic conditions and public policies are widening economic inequalities among children. 
Fertility and Marriage Change among American Indians. This project documents changes in marriage and birth rates for American Indian and Alaska Native women in the United States. The project interrogates why marriage and birth rates are falling for this group and whether there are differences in the pace of decline across geographic areas or tribal groups. Large changes in birth rates, such as those investigated in this project, have with important implications for politics and policy domains including education, employment, and health care.
Selected Publications
Journal Articles
Gibson-Davis, C., and C. Percheski. 2018. Children and the elderly: Wealth inequality among America's dependents. Demography 55(3): 1009–32.
Percheski, C. 2018. Marriage, family structure, and maternal employment trajectories. Social Forces 96(3): 1211–42.
Percheski, C., and S. Bzostek. 2017. Public health insurance and health care utilization for children in immigrant families. Maternal & Child Health Journal 21(12): 2153–60.
Cannon, S., and C. Percheski. 2017. Fertility change in the American Indian /Alaska Native population, 1980–2010. Demographic Research 37(1): 1–12. 
Percheski, C., and R. Kimbro. 2017. Deciding to wait: Partnership status, economic conditions, and pregnancy during the Great Recession. Sociological Science 4:176–95.
McCall, L., and C. Percheski. 2010. Income inequality: New trends and research directions. Annual Review of Sociology 36: 329–47.
Percheski, C. 2008. Opting out? Cohort differences in professional women's employment rates from 1960 to 2005. American Sociological Review 73(3): 497–517.
McLanahan, S., and C. Percheski. 2008. Family structure and the reproduction of inequalities. Annual Review of Sociology 34: 257–76.
Western, B., D. Bloome, and C. Percheski. 2008. Inequality among American families with children: 1975–2005. American Sociological Review 73(6): 903–20.