Time for Long-Term Investments in Children and Childcare?
IPR researchers outline ways that improving children's lives supports the nation
Get all our news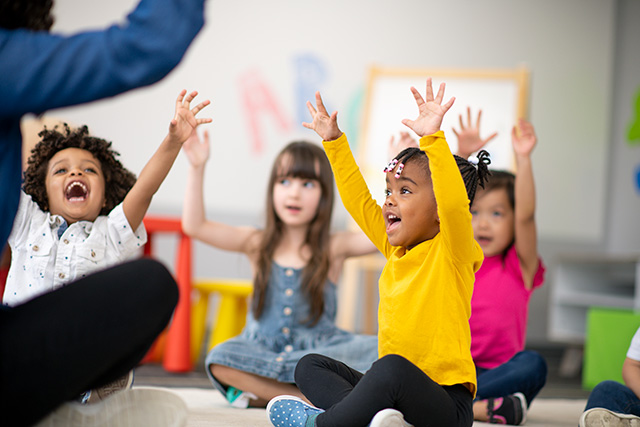 Even before COVID, childcare was a challenge. The pandemic's swift economic plunge only made it worse, closing down childcare centers, shedding workers, increasing food insecurity, and turning working parents into full-time nannies and tutors on top of their regular jobs.
Lawmakers responded by voting through childcare relief in the last two coronavirus packages, but such relief has been temporary. Now, many researchers who have long studied child development and outcomes, including those at IPR, see the Biden administration's current push to invest in children and families through a "human infrastructure" bill as an opportunity to make key strides in improving outcomes for children around the nation.
"We can fully invest in research-informed policies for our children that will substantially matter for them across their lives—and will boost our economy in the short run by supporting employment among their parents," said IPR Director and economist Diane Schanzenbach, an expert in the social safety net and child outcomes. "It's an investment that's in our national interest."
Below, six IPR faculty in economics, psychology, and social policy outline how their research speaks to improving childcare, narrowing childhood disparities, and improving the overall wellbeing of America's children, especially its poorest.
Shifting from Instability to Access and Affordability | Meeting Extraordinary Challenges and Closing Gender Gaps | Serving a Dual Purpose | Passing a Permanent Child Tax Credit
Shifting from Instability to Access and Affordability
In the 1920s, only 10% of mothers with children between the ages of 3 and 7 were employed. One hundred years later, 70% of such mothers are working, according to IPR developmental psychologist Terri Sabol.
However, even before the COVID-19 pandemic began, U.S. childcare suffered from "instability, an inadequate number of slots, and insufficient funding," she explains.
Families spend an average of $11,000 per year for infant childcare—more than the price of public college tuition in 33 states. Low-income families spend 30% of their household income on childcare for their children under the age of two, while high-income households spend about 7% of their income, Sabol notes.
"Most families who cannot afford childcare are often out of luck," Sabol said. Despite the existence of programs to help low-income families afford childcare, only one in six families who are eligible for childcare subsidies receive them.
There are also large disparities in preschool attendance between low- and high-income children. Among low-income 3-year-olds, 32% attend, but 62% of high-income children attend preschool. Sabol's research also shows that beyond mere access, providing high-quality childcare is important for both parents and children.
High-quality programs are characterized "by warm, supportive, and stimulating interactions with their teachers," she noted. "Moreover, as young children are beginning to navigate their social world, active play and social connections with their peers are critical for development."
The pandemic has demonstrated that beyond the needs of individual children and their families, the health and strength of the economy depends on childcare, Sabol says. Her examination of Illinois' childcare policies during the pandemic finds that the state equitably granted funding to over 8,000 childcare programs in eligible neighborhoods so they could stay open.
On the federal policy level, the Biden administration's Build Back Better Plan calls for low- and middle-income families to spend a maximum of 7% of their income on childcare and the provision of high-quality childcare programs.
And new evidence is showing the positive impact of attending preschool, going back to the federally subsidized "nursery schools" of World War II, according to research by economist and IPR associate Joseph Ferrie and his colleagues. These "Lanham preschools" boosted high school academic outcomes for men, though not for women. Still, the study points to the possible positive impacts of policies to expand funding for early childhood programs, including those that offer universal access.
Sabol sees reason for hope. "There is a lot of optimism right now that the U.S. will start investing more in building a robust and strong childcare system that supports both children and parents," she said.
Meeting Extraordinary Challenges and Closing Gender Gaps
Economist and IPR associate Matthias Doepke says the U.S. faces extraordinary challenges around childcare right now.
Doepke, who studies family economics, shows that because schools and daycare centers closed early in the pandemic, many women were forced to leave their jobs to care for their children. While labor participation has improved since 2020, smaller childcare providers did not survive the pandemic recession, and wages for childcare workers are still relatively low.
"Beyond the changes brought about by the pandemic, there are long-term structural issues, such as the high cost of childcare, that often makes high-quality care unaffordable for the families that need it most," Doepke explained.
He notes that the pandemic has highlighted the connection between childcare and the labor market, saying "unequal childcare burdens are at the root of the gender wage and employment gaps." Research shows high-quality childcare, especially in the early years, is important for children's development, so providing subsidized access to quality childcare is one of the best investments we can make, according to Doepke.
He said he is glad to see the introduction of policies such as universal preschool and financial support for families to help with childcare expenses. Flexible employment, such as work-from-home options for mothers and fathers, can also ease the burden of childcare for working parents.
"I hope we will see similar policies introduced to deal with affordable childcare in the earliest years and promote workplace practices that work for parents, even in career positions," Doepke said.
While the pandemic shutdowns left many parents and caregivers without childcare and threatened their ability to work, IPR research professor Teresa Eckrich Sommer discussed how childcare is not just a work support.  
Sommer explains childcare has a "dual purpose" of serving both parents and children, like those programs evaluated by Northwestern University's Two Generation Research Initiative (NU2Gen) which supports both child and parent economic and social mobility.
Sommer, who co-leads NU2Gen with IPR developmental psychologist Lindsay Chase-Lansdale, said the pandemic gave "us an incredible opportunity to intensively and intentionally focus on improving how we support both generations." She proposes that now is a time to rethink childcare in ways that benefit both parents and children alike. Childcare can advance the developmental needs of children, while also supporting the education and skill needs of parents, Sommer said. 
One example Sommer gives is NU2Gen's research on CareerAdvance, a program that provides high-quality Head Start to children with intensive workforce training to low-income parents. Sommer, Chase-Lansdale, Sabol, and their colleagues have shown positive outcomes for both parents and children.
More recently, the researchers find that parents in the program advance further in their education and demonstrate better psychological wellbeing after one year. Additionally, children of CareerAdvance parents regularly attend Head Start and have fewer chronic absences than those children whose parents are not in the program.  
"What we've seen is when you give parents this incredible opportunity to improve their own lives, not only are they benefiting across a range of outcomes, but their kids are doing better," Sommer said.
Passing a Permanent Child Tax Credit
As Congress wrestles over President Biden's signature $1 trillion bipartisan infrastructure plan, Schanzenbach has called on legislators to seize the moment and make the Child Tax Credit (CTC), slated to end in 2021, permanent.
In testifying before the House Select Subcommittee on the Coronavirus Crisis on September 22, Schanzenbach outlined what far-ranging research into children's education, health, and economic security reveals about what such policies could yield, the most important of which is cutting child poverty in half.
She pointed out that prior to COVID, 27 million of America's most impoverished children, including half of Black and Latinx children and many of those living in rural America, did not receive any help from the pre-COVID CTC since families had to file a federal tax return to receive it. This left out many poor families who did not make enough to file. But the 2021 CTC expansion lifted that restriction and now covers 98% of America's children with benefits of up to $300 per month per child.
"If the changes introduced in the American Rescue Plan were made permanent, they are projected to cut child poverty nearly in half," Schanzenbach told the subcommittee members. "If these changes are not made permanent, the CTC will have very little anti-poverty effect."
She then walked the subcommittee through research that rebutted claims that a permanent CTC would cause parents to work less—indicating, rather, that 99.5% of working-class parents would continue in their jobs—or that they would spend the money on unnecessary purchases.
Schanzenbach also summarized the economic benefits to passing a permanent policy, pointing to the massive costs of child poverty each year of up to more than $1.1 trillion, according to one study. It could boost the nation's long-term economic prospects by allowing more parents to work, and could cost as little as 16 cents for every dollar of new benefits spent. Additionally, studies by Schanzenbach and others have detailed a host of long-term benefits that accrue to children who do not grow up in dire poverty, from higher graduation rates and better health to being more likely to hold a job and earn more over their lives.
In fact, Schanzenbach is not the only economist who has endorsed making the CTC permanent. More than 460 of her fellow economists from around the country co-signed a letter that she penned with Hilary Hoynes of the University of California-Berkeley calling on House and Senate leaders to do just that.
"For the good of the nation, we need to be investing more in children than we have been," Schanzenbach concluded. "The enhanced CTC is an important start."
Diane Whitmore Schanzenbach is the Margaret Walker Alexander Professor of Human Development and Social Policy and IPR director. Terri Sabol is assistant professor of human development and social policy. Joe Ferrie is professor of economics and chair of the economics department. Matthias Doepke is the HSBC Research Professor in Economics. Teresa Eckrich Sommer is an IPR research professor. Lindsay Chase-Lansdale is the Frances Willard Professor Emerita of Human Development and Social Policy. All are IPR faculty members.

Photo credit: iStock
Published: September 30, 2021.