Grant to Support Study of Two-Gen Expansion in Tulsa, Okla.
IPR experts to continue evaluation of CareerAdvance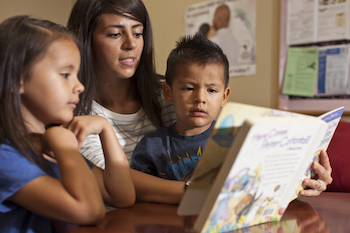 The researchers will use the $1.4 million grant to examine the short- and long-term impacts of CareerAdvance.
Teresa Eckrich Sommer, co-director of Northwestern University's Two Generation Research Initiative and IPR research associate professor, has received a four-year, $1.4 million grant to study the expansion of CareerAdvance, an innovative education program that combines quality early learning for preschoolers with career training in the healthcare field for their low-income parents.
The new funding allows the Northwestern team, led by Sommer and developmental psychologists Lindsay Chase-Lansdale, an IPR fellow, and Terri Sabol, an IPR associate, to build on six years of previous work studying CareerAdvance, which serves parents and their children enrolled in early childhood education programs run by the Community Action Project of Tulsa County (CAP Tulsa).
To date, CareerAdvance is one of the only workforce development programs in the nation that uses a two-generation approach to simultaneously improve the education and skills of both parents and children.
"A parent's education is a central driver for a child's success in school and life," said Sommer, the study's principal investigator.
"Previous research suggests that investing in a parent's education is associated with significant improvements in their children's development, especially when these investments happen early in a child's life."
The program has recently expanded to serve families of children enrolled in early elementary school as well as Head Start, the largest publicly-funded early childhood education program in the nation.
It works by providing the parents with short-term but intensive education and training in healthcare while their children are in school.
Through their children's schooling, parents also have access to career coaching, small learning groups, tuition assistance and other supportive services, such as counseling and emergency funds.
CAP Tulsa has also partnered with a local workforce agency, Tulsa Community WorkAdvance, to help parents find and persist in career employment.
Early results suggest positive outcomes
Preliminary findings from interviews and focus groups with CareerAdvance participants show that while children are enrolled in school, parents serve as role models for their children, engage in school-related activities together such as shared homework time, and invest more in the quality of their interactions with their children at home.
"It's exciting to have the opportunity to study the expanded and improved version of the original model," Sommer said. "Understanding how to scale a pilot model, typically with fewer program resources, is of great interest to policy makers and program providers."
Back in 2011, Northwestern received a research grant from Health and Human Services for a five-year evaluation of the original CareerAdvance pilot model.
In 2015, CAP Tulsa expanded and modified the program to reach more low-income families in the Tulsa area and to make it easier for parents to become certified for jobs that that can lead to sustainable careers.
With the new grant, Sommer and her team will conduct a four year mixed-methods study, looking at two related issues:
The short and long-term impacts of CareerAdvance on the education outcomes of parents and children, and the labor market success of parents
Explanations for why these impacts occur, including possible improvements in the home language environment, changes in parents and children's academic and career identities, and better strategies for coping with the competing demands of family, school, and work
In the study, which includes 450 parents and children, families are randomized to a treatment group in which parents are offered the opportunity to participate in CareerAdvance or to a control group that does not offer access to the program.
Children in both groups are enrolled in either Head Start or elementary school. All families will be followed from baseline and one and two years later.
In addition to CAP Tulsa, the research-practice partnership for this study involves evaluators from New York University, the University of Texas at Austin, Columbia University, and Oklahoma State University.
Sommer's grant from the U.S. Department of Health and Human Services is a University Partnership Research Grant for the Health Profession Opportunity Grants (HPOG) Program overseen by the Administration for Children and Families.
These grants focus on research questions related to career pathway training and certifications programs in the health professions, and related employment issues.
Teresa Eckrich-Sommer is an IPR research associate professor. Lindsay Chase-Lansdale is Associate Provost for Faculty, Frances Willard Professor of Human Development and Social Policy, and an IPR fellow. Terri Sabol is assistant professor of human development and social policy and an IPR associate.
Originally published by the School of Education and Social Policy.
Published: January 27, 2017.