Three IPR Fellows Selected for National Recognition
Major academic accolades underscore research talent
Get all our news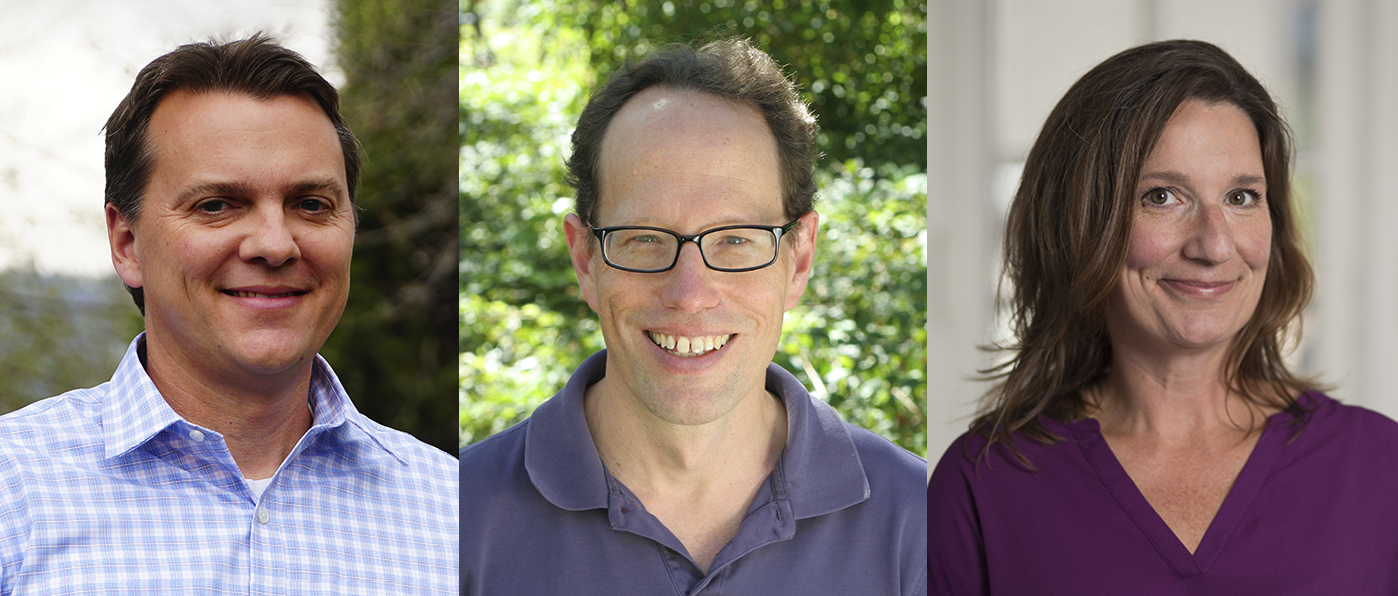 IPR faculty Christopher Kuzawa, Lincoln Quillian, and Sera Young each received recognition for their excellence in research. 
Three IPR fellows—anthropologists Christopher Kuzawa and Sera Young and sociologist Lincoln Quillian—recently received major recognition and awards, confirming their outstanding research talent. Kuzawa was elected to the American Academy of Arts and Sciences, Quillian received a Guggenheim Fellowship, and Young was named an Andrew Carnegie Fellow.
"These well-deserved honors highlight the research excellence that our IPR faculty aspire to and achieve," said IPR Director and economist Diane Whitmore Schanzenbach. "We at IPR are so very proud to be associated with these outstanding researchers—Chris, Sera, and Lincoln—and to have them as part of our intellectual community."
American Academy of Arts and Sciences: Christopher Kuzawa
Kuzawa has been elected a member of the American Academy of Arts and Sciences, one of the nation's oldest and most prestigious honorary societies. He and four other Northwestern faculty, who include Provost Jonathan Holloway, are among this year's class of more than 200 newly elected members with compelling achievements in academic, business, government, and public affairs. Former First Lady Michelle Obama and actress and playwright Anna Deavere Smith will also be inducted into the same class.
In his research, Kuzawa uses principles from anthropology and evolutionary biology to gain insights into the biological and health impacts of human developmental plasticity. Kuzawa also studies the psychobiology of social relationships and fatherhood, genetics and molecular biology, the evolution of the human brain and evolutionary medicine. He was also elected to the National Academy of Sciences in 2018.
"It's an incredible honor and thrill to have my research recognized by the Academy," Kuzawa said. "Thanks in part to IPR, Northwestern has built unique strengths in policy-relevant, biologically based research. It's been a real pleasure to work with my Northwestern and IPR colleagues who are tackling these tough questions."
The Academy's founders, who included John Adams, established it in 1780 based on their belief that the new republic should honor exceptionally accomplished individuals and engage them in advancing the public good. Its dual mission remains essentially the same 239 years later, with honorees from increasingly diverse fields who focus on the arts, democracy, education, global affairs, and science.
Kuzawa joins 14 IPR faculty who are currently elected members of AAAS.
Guggenheim Fellow: Lincoln Quillian
The John Simon Guggenheim Memorial Foundation named Quillian one of its 2019 Guggenheim Fellows.
The fellowships were awarded this year to a diverse group of 168 scholars and artists from a pool of almost 3,000 applicants from the United States and Canada. Fellows are appointed on the basis of prior achievement and exceptional promise.
Quillian has studied neighborhood poverty concentration, internal migration, racial residential segregation and racial attitudes.  
Most recently, he has focused on two projects: The first is a meta-analysis of audit and correspondence studies of racial and ethnic discrimination in labor markets around the world. The second project analyzes residential mobility patterns to better understand the sources of racial and economic residential segregation in American cities.
"I am honored to receive a Guggenheim fellowship," Quillian said. "It is humbling to review the list of past winners, which include many social scientists that I look up to. The fellowship will facilitate my work to better understand hiring discrimination against racial and ethnic minorities in North America and Europe by combining results from field experiments."
In addition to Quillian, six current IPR faculty members also belong to this august body.
Carnegie Fellow: Sera Young
Young is one of 32 scholars joining the fifth class of Andrew Carnegie Fellows.
Each recipient of the so-called "brainy award" will receive a two-year grant of up to $200,000, making it possible for them to devote significant time to research, writing and publishing in the humanities and social sciences. The program seeks to offer fresh insights into the humanities and solutions to urgent, contemporary issues. 
Young, an assistant professor of anthropology, focuses on three main research areas related to maternal and child health: food insecurity, pica (the craving and consumption of non-food items such as earth, charcoal, and ice) and, most recently, household-level water insecurity.
"It is a thrill for the promise of the Household Water Insecurity Experiences Scale to be recognized by the Carnegie Foundation," Young said. "I'm looking forward to devoting these Carnegie resources to bring attention to what the measurement of water insecurity can teach us about peace, prosperity, health and policy."
Young joins IPR labor and education economist Kirabo Jackson as a Carnegie Fellow.
Christopher Kuzawa is professor of anthropology. Lincoln Quillian is professor of sociology and serves as the chair of IPR's Program on Urban Policy and Community Development. Sera Young is assistant professor of anthropology. All three are IPR fellows and faculty in Northwestern's Weinberg College of Arts and Sciences.
Reporting for this article came from Hilary Hurd Anyaso and Mohamed Abdelfattah, and the articles were originally published on Northwestern Now.
Photo credits: Christopher Kuzawa: Shane Collins; Lincoln Quillian: Jim Ziv; Sera Young: Monika Wnuk
Published: April 23, 2019. Updated: May 1, 2019.