In Memoriam: Cynthia (CC) DuBois, 1985–2018
Cynthia (CC) DuBois (PhD '17), an emerging, award-winning scholar in Northwestern University's School of Education and Social Policy (SESP), died as a result of brain cancer on Jan. 2 in Chicago. She was 32. 
IPR Director Diane Whitmore Schanzenbach, a SESP professor, one of her longtime mentors, and a co-author, called her "one of the most promising young scholars" she has ever known.
"She possessed a high level of raw intellectual power, and coupled it with dogged perseverance and unusual creativity," Schanzenbach said.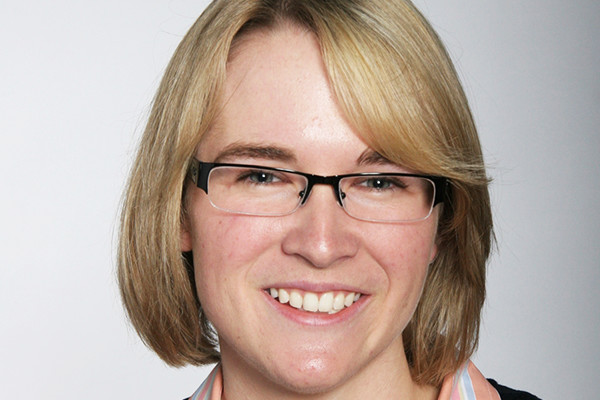 DuBois began her doctoral studies at Northwestern in 2012 after working as a research associate for the American Institutes for Research and interning with state and federal government entities, such as the U.S. Department of Agriculture and the U.S. International Trade Commission, among others. 
As part of her dissertation, she studied the effects of "hard" and "soft" affirmative action policies on hiring from the football field to the classroom as she strove to address timely and relevant issues in labor economics.
"CC always wants to do work that addresses tricky questions of first-order social importance," SESP Dean David Figlio said during DuBois' PhD graduation ceremony on Oct. 24. "She is propelled forward by the question of how to do something interesting and compelling—itself a noble pursuit in our world—but also to make a difference."
Her research on hiring patterns in the National Football League (NFL) found that that the general trend toward hiring more minority coaches can be traced to the Rooney Rule, or the 2003 policy that requires NFL teams to interview at least one minority candidate for any head coaching vacancy. 
The first chapter of her dissertation, "The Impact of 'Soft' Affirmative Action Policies on Minority Hiring in Executive Leadership: The Case of the NFL's Rooney Rule," was published in the American Law and Economics Review in 2016. 
She presented her findings at the MIT Sloan Sports Analytics Conference and discussed how a similar policy could increase the diversity of congressional staff hires on FiveThirtyEight.
Last month, she and Schanzenbach argued in a Brookings Institution post based on their NBER working paper that school districts should explore these "soft" affirmative action policies—which are designed to change the composition of the candidate pool, rather than mandate hiring criteria—and other hiring reforms to help diversify the teaching profession.
DuBois' work on the Rooney Rule illustrated both her persistence and sharp insights, Schanzenbach recalled. Initially, Schanzenbach worried that professional football might be seen as a frivolous research topic. DuBois insisted, however, arguing that it was a case study that would inform much bigger issues.
"She was quick to see that the Rooney Rule is an important example of a change to policy or practice that can help us overcome biases in hiring, and build a more diverse and stronger workforce," Schanzenbach said. 
A native of Ponchatoula, Louisiana, DuBois grew up around horses on her father Bruce's ranch. She was an American Quarter Horse Youth Association world champion calf roper in 2004.
Her late mother, Alice Vickers DuBois, was an award-winning educator who emphasized project-based learning and served as an agriculture teacher and National FFA Organization adviser at Ponchatoula High School for more than 20 years.
DuBois majored in political science at Louisiana State University (LSU), where she won its outstanding sophomore and junior awards and served as president of Americans for Informed Democracy after founding the LSU chapter. In 2006, she was named a Truman Scholar, a highly competitive national scholarship program recognizing college juniors for leadership and public service commitment. 
The following year, DuBois was selected to USA Today's annual All-USA College Academic First Team, in part for her efforts working with her old high school, which received an influx of evacuees from Hurricane Katrina. DuBois organized "We've Got Your Back," a drive that eventually provided 46,000 backpacks of school supplies to hurricane-displaced students.
DuBois received a master's in public policy, with honors, from the University of Chicago in 2010, and served as president of the school's alumni council.
At Northwestern, DuBois was the first SESP doctoral student to receive a Presidential Fellowship, the University's most prestigious graduate student award. She also served as a teaching assistant in quantitative methods core courses for SESP's Human Development and Social Policy program and worked as an IPR graduate research assistant with Schanzenbach and professors Kirabo Jackson and Christine Percheski, also IPR fellows.
Professors and IPR fellows Jonathan Guryan and Simone Ispa-Landa were members of her dissertation committee, along with Jackson, Schanzenbach, and the University of Chicago's Kerwin Charles.
"She represents the best of what a graduate student can be," said Guryan, during her October graduation ceremony. "She is among the most active participants in our intellectual community, and she does it with kindness, grace, and support." 
DuBois is survived by her partner, John Boller; her father, Bruce DuBois; and her sister, Shelley. Her mother, Alice, preceded her in death in 2015.
Published: January 4, 2018.