Early Environments on Health Trajectories
Early Environments on Health Trajectories
Understanding and Improving Nutrition for Pregnancy 
Growing evidence shows that the nutrition a baby receives while still in the womb affects its health as an adult in many ways. This has vital implications for public policy to improve pregnant women's health and diet. Nutrition includes both micronutrients—vitamins and minerals—and macronutrients, or fat, carbohydrates, and protein. Adding vitamin supplements during pregnancy can increase birth weight, a measure of newborn health. But what about macronutrients? IPR anthropologist Christopher Kuzawa, Zaneta Thayer (PhD 2013) of Dartmouth College, and former IPR postdoctoral fellow Julienne Rutherford of the University of Illinois at Chicago propose a new model to understand how nutrition is delivered to the fetus during pregnancy. In Evolution, Medicine, & Public Health, they argue that their Maternal Nutritional Buffering Model explains why other changes to pregnant women's diets have limited effects on fetal development and birth weight. Using an evolutionary perspective, the authors point out that the mother's body protects the growing fetus from both nutritional ups and downs, tempering the benefits of short-term diet interventions. The researchers propose that the most effective way to improve babies' health both at birth and as future adults is to improve their mothers' nutrition far earlier before they become pregnant.
Brain Energy Needs in Childhood
Weight gain occurs when an individual's energy intake exceeds their energy expenditure—in other words, when calories in exceed calories out. What is less well understood is the fact that, on average, nearly half of the body's energy is used by the brain during early childhood. In the Proceedings of the National Academy of Sciences, Kuzawa and co-author Clancy Blair of New York University School of Medicine, propose that variation in the energy needs of brain development across kids—in terms of the timing, intensity, and duration of energy use—could influence patterns of energy expenditure and weight gain. This new hypothesis was inspired by Kuzawa and his colleagues' 2014 study showing that the brain consumes a lifetime peak of two-thirds of the body's resting energy expenditure, and almost half of total expenditure, when kids are five years old. This study also showed that ages when the brain's energy needs increase during early childhood are also ages of declining weight gain. As the energy needed for brain development declines in older children and adolescents, the rate of weight gain increases in parallel. Kuzawa and Blair wish "to encourage researchers to measure the brain's energy use in future studies of child development, especially those focused on understanding weight gain and obesity risk," Kuzawa stated.
Testosterone Transfer Among Twins
The rate of twin births has almost doubled in many countries since 1980. In the Proceedings of the National Academy of Sciences, IPR education economist David Figlio, Kuzawa, former IPR postdoctoral fellow Krzysztof Karbownik, and their co-authors examined data on all twin births in Norway between 1967–1978 to find that females exposed in utero to a male twin experienced adverse educational and labor outcomes, as well as altered patterns of marriage and fertility as adults. The researchers used data on 13,800 twin births to show that women who shared their mother's womb with a male twin were less likely to graduate from high school, to complete college, or to get married. They also had lower fertility rates and life-cycle earnings by their early 30s. The study supports the "twin testosterone-transfer hypothesis," which posits that females in male-female twin pairs are exposed to more testosterone in utero via the amniotic fluid or through the mother's bloodstream that they share with their twin brother. One explanation for the long-term effects the researchers discovered is changes in behavior, which have previously been demonstrated in girls with male twins. The researchers found that male twins do not experience long-term consequences of being exposed to a female twin in utero. "[O]ur results suggest that in utero testosterone transfer could present a hidden impact of practices that increase multiple zygote implantation, and provide long-term perspectives concerning the risks and returns of these fertility decisions," the researchers write. Figlio is the Orrington Lunt Professor of Education and Social Policy and the dean of the School of Education and Social Policy.
Pinpointing the Risk for Psychosis
Psychologist and IPR associate Vijay Mittal is working to identify signs of psychosis prior to its onset. In Schizophrenia Research, Mittal uses motion energy analysis to test differences between youth at high risk for psychosis and their healthy peers. The video analysis software provides frame-by-frame measures for both head and body movement in terms of total movement, amplitude, speed, and variability. He discovers significant differences in body movement between the groups, with youth at high risk for psychosis showing greater total body movement as well as faster body movements. The high-risk youth also had less variation in body movement compared with participants not at risk. Mittal concludes that motion energy analysis could be a helpful tool in assessing psychosis risk.  
Exploring the Links Between Household Water and Food Insecurity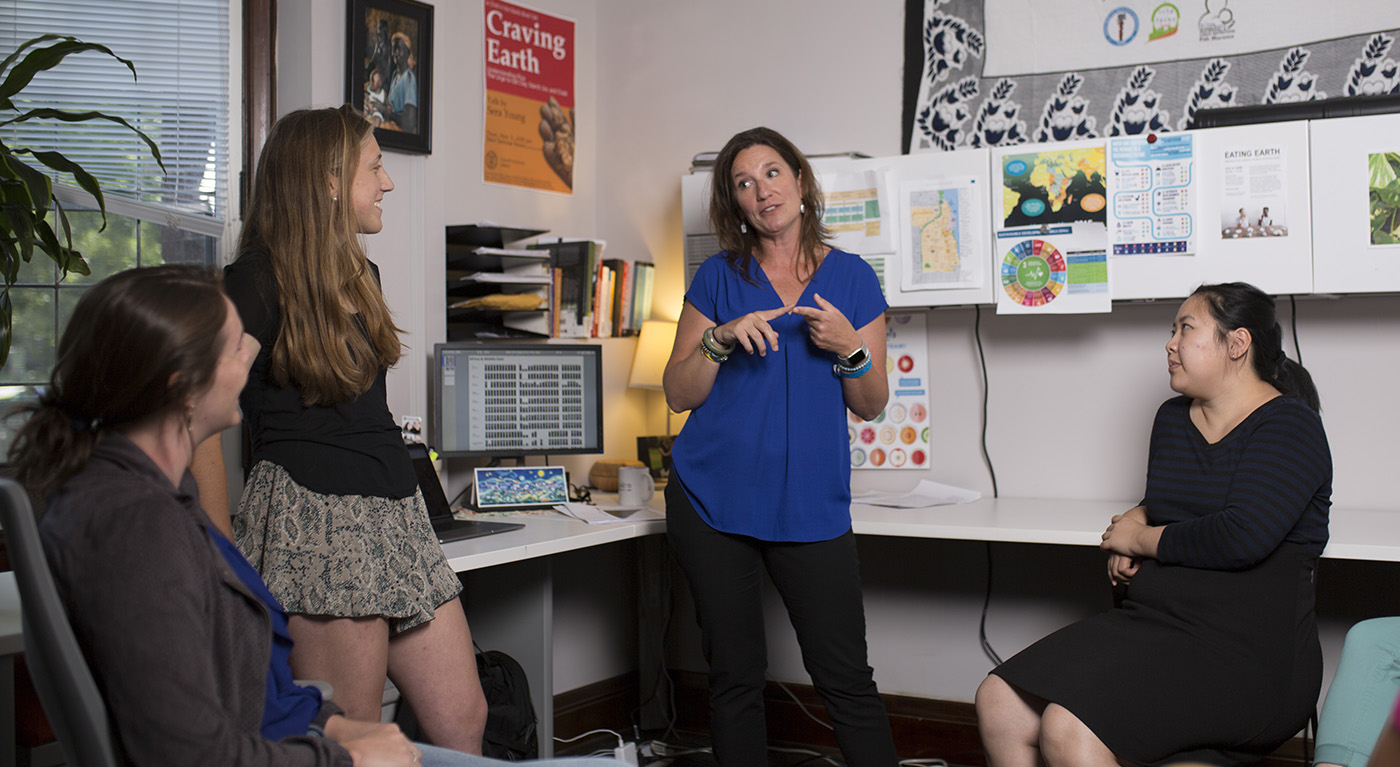 Previous research has shown that both household food and water insecurity undermine individual well-being, including physical and mental health. Yet the relationship between food and water insecurity has not been rigorously assessed. In a study published in the American Journal of Human Biology, IPR anthropologist Sera Young and her colleagues sought to fill this knowledge gap by exploring the connections between food and water insecurity across 21 low- and middle-income countries in Africa, Asia, the Middle East, and the Americas. Data were drawn from the Household Water Insecurity Experiences (HWISE) study, a large-scale project that aimed to develop the first cross-culturally validated to measure water insecurity. Young and her colleagues discovered that worse water insecurity was associated with worse food insecurity. Specifically, food quantity and quality both decreased when household water insecurity increased. Interestingly, rural households appeared to be buffered against water insecurity's deleterious impact on food quantity, while urban households were buffered against its impacts on food quality. Additionally, the effects of water insecurity on worsening food insecurity were more acute for lower-status households. Their findings directly challenge traditional siloing in development and research that considers food and water insecurity separately. Instead, they argue that policies and interventions must concurrently address barriers to quality food and water to be most effective.