Policy and Legal Issues
Do Enrollment Brokers Increase Medicaid Enrollment?
In 2018, only 79% of the 86 million Americans eligible for Medicaid had enrolled in it. To increase participation, some state Medicaid agencies contracted with independent brokers to reach out, assist, and enroll those who qualify. In Health Affairs, IPR economist Molly Schnell and her colleagues analyze the effects of enrollment brokers on Medicaid enrollment and other outcomes, such as application processing, for 2008–2018. During those years, six states and Washington, D.C., began contracting with brokers, joining 18 states that already had contracts as of 2008. The researchers compared changes in Medicaid participation following the initiation of a contract with an enrollment broker with contemporaneous changes in Medicaid participation in the 26 states that never used brokers. The results demonstrate that state contracts with enrollment brokers had no significant effects on Medicaid participation. Plus, the researchers did not find any other advantages stemming from broker contracts, including improved processing times, better plan choices, or reduced administrative costs per eligible person. States aiming to expand Medicaid enrollment must consider whether contracting with independent brokers is the best use of limited funds.
Identifying Federal Agencies with Substantial Personnel Change in the Trump Era
U.S. presidents and federal government agencies often have an adversarial relationship, but it's unclear how the Trump administration, plagued by tension between President Trump and members of the civil service, impacted the federal workforce. In PLOS One, IPR political scientist Brian Libgober and Mark Richardson of Georgetown University explore the Trump administration's approach to personnel politics Using federal employment records from the Office of Personnel Management (OPM), they examine rates of entry and exit at agencies and bureaus across the executive branch during President Trump's term. Because some bureaus have fewer employees than others, they used a Bayesian hierarchical model, which considers differences and similarities in groups, to analyze employment changes and account for the different size of each bureau. They find that across the bureaus, employment rates by the end of the Trump administration in 2021 were not significantly different from the rates in January 2017. However, certain bureaus, such as immigration and veteran-affairs bureaus, grew substantially, while others like civil-rights focused bureaus showed signs of stress and lost employees. Compared to the first terms of President George W. Bush and President Obama, the Trump administration lost more employees across most agencies. While the media and members of Congress reported that agencies like the State Department and Environmental Protection Agency were in crisis during the Trump administration, these findings show that other bureaus also suffered a large loss of staff during President Trump's term.
Policy and Science During the Pandemic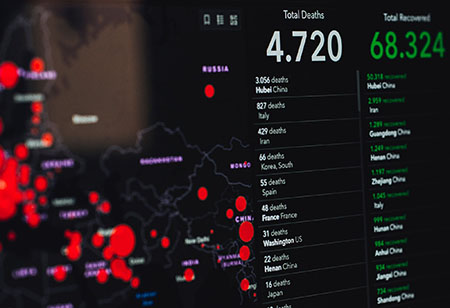 The disconnect between science and policy is a long-standing concern, especially during a global pandemic. In Science, strategy professor and IPR associate Benjamin Jones and his colleagues examine the coevolution of policy and science during the pandemic. Using a dataset of 37,735 policy documents published by government agencies and think tanks from 114 countries and 55 intergovernmental organizations from January 2–May 26, 2020, the researchers matched each document to scientific references in a second dataset of academic publications and citations. They find in the early stages of the pandemic, 90% of the policy documents were focused on medical and public health, but beginning in March, there was more focus on issues around the economy and society. The researchers also show studies referenced in policy documents had on average 40 times more citations in other scientific studies than those not referenced, indicating that policymakers used the research that scientists themselves consider especially impactful. The researchers find that many policy documents created to combat COVID-19 used recent and peer-reviewed scientific studies, despite the rapidly evolving nature of the pandemic. The researchers write that these findings are encouraging for the role of science during the pandemic, where the evolution of policy has been closely intertwined with important, recent, and peer-reviewed scientific developments. Jones is the Gordon and Llura Gund Family Professor of Entrepreneurship. 
Wage Theft in a Recession
During the COVID-19 pandemic recession, millions of low-wage workers have become increasingly vulnerable to exploitation. In a study published in the International Journal of Comparative Labour Law and Industrial Relations, IPR political scientist Daniel Galvin and his colleagues examine the relationship between unemployment, labor standards violations, and government's enforcement of labor policies during an economic recession. Using Current Population Survey data from the Great Recession in 2008–10, they find that minimum wage violations rose with unemployment, with Black, Latinx, female, and immigrant workers facing the greatest loss of wages. Industries such as real estate, educational services, and personal and laundry services had the highest violation rates due to a disproportionate increase in violations among women. The researchers then analyzed internal complaint data from the San Francisco Office of Labor Standards Enforcement and compared it to their estimates of minimum wage violations by industry in 2005–18. They discovered that in certain industries, including private households, social assistance, and food manufacturing, the number of minimum wage complaints received by the agency were far fewer than estimated violations. Even during ordinary economic times, in other words, enforcement agencies completely failed to detect high rates of violations in major low-wage industries. This suggests that high unemployment rates can make workers who are unlikely to complain—for fear of losing their jobs—even more vulnerable to exploitation. The researchers argue that to protect workers from wage theft during economic recessions, the government should engage in strategic enforcement—targeting their resources to industries with the worst problems—and co-enforcement—partnering with civil society organizations to gain better information about what is happening in these industries. 
The Unexpected Consequences of Policy Drift  
"Policy drift" is when a policy stays the same but the broader social or economic context in which it operates changes. This leads to a shift, often negative, in the policy's intended effects. Examples of policy drift abound: the eroding value of the minimum wage as inflation rises is one example. Increasing gridlock and partisanship in American politics makes it easier to preserve policy rules than to change them, magnifying this drift. In Studies in American Political Development, Galvin and Jacob Hacker of Yale examine how drift affects the political process. They outline two types of drift: contraction, when a policy's generosity decreases, and expansion, when it increases; and two potential outcomes: formal policy revision or perpetual stalemate. Galvin and Hacker then examine four policy areas—labor law, healthcare, welfare, and disability insurance—to trace how the dynamics of policy drift influence subsequent political development in each policy domain. The consequences primarily involve actions taken by the "losers" of policy drift, as reformers and activists take steps to circumvent the drifting policy and soften its effects. The researchers demonstrate that drift encourages several types of responses: policy "layering" to address the policy in new ways; the adaptation of old groups seeking to survive; and the formation of new groups to respond to emergent problems. Galvin and Hacker's findings indicate that the "downstream effects" of drift can have a significant impact in reshaping the dynamics of U.S. politics over time.
The Disappearing Jury Trial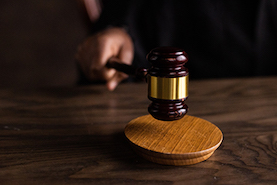 The decline in the number of U.S. jury trials over the last 50 years is well-documented. In a report commissioned by the American Bar Association and published in the Louisiana Law Review, law professor, psychologist, and IPR associate Shari Seidman Diamond and Jessica Salerno of the University of Arizona survey nearly 1,300 attorneys and 173 judges to understand the causes and consequences of fewer jury trials. The authors find that judges and lawyers see jury trials as slower, less predictable, and less cost effective than other methods of resolution, but they also view them as fair and preferable to the alternatives. The respondents attribute the decline in jury trials to damage caps and mandatory binding arbitration in civil matters and to mandatory minimum sentences and harsh sentencing guideline sentences in criminal cases. The researchers examine whether there is pressure to forego jury trials and from whom the pressure comes. In criminal trials, judges pointed to defense lawyers as the main source of pressure on defendants to plead guilty before trial, although the attorneys see themselves, judges, and the defendants' family as sources. In civil cases, lawyers identify pressure to settle without a jury trial from plaintiffs' attorneys, mediators, and judges, while judges do not see themselves as a frequent source of pressure. The authors suggest that the deterrents to jury trials most cited by the respondents be removed by eliminating or raising the level of damage caps, eliminating mandatory arbitration, reforming sentencing guidelines, abolishing mandatory minimum sentences, and reforming sentencing guidelines. Diamond is the Howard J. Trienens Professor of Law.
Who Makes Money from College Sports?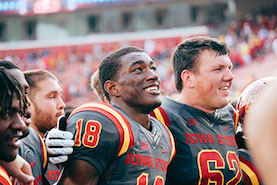 High profile sports like football and men's basketball are known to be money makers for colleges and universities, but unlike professional athletes, college athletes do not profit from the revenues their activities generate. In a working paper, economist and IPR associate Craig Garthwaite and his co-authors use revenue and expense data for 64 of the 65 NCAA Division 1 Football Subdivision (FBS) schools for 2006–2019, as well as rosters of students matched with neighborhood socioeconomic characteristics, to investigate rent-sharing in collegiate sports. Rent-sharing—here, the transfer of excess profits from revenue sports, like football and men's basketball, to lower profile non-revenue sports—is common in intercollegiate athletics. The researchers find that this results in moving resources away from revenue sports played by students who are more likely to be Black and from poor neighborhoods to non-revenue sports where students are more likely to be White and from higher-income neighborhoods. The authors estimate that the average football and men's basketball player at FBS schools came from high schools with median family median incomes of $58,400, while players for other sports attended high schools with a median family income of $80,000. Nearly half of football and men's basketball players in the sample were Black compared to just 11% in other sports. This study provides data relevant to recent ethical debates and legislative disputes over student-athlete compensation. Garthwaite is the Herman Smith Research Professor in Hospital and Health Services Management.
Factors That Encourage Syrian Refugees to Return Home Voluntarily
Nearly 5.6 million Syrians have been refugees since 2011, but only 1.8 percent returned to Syria voluntarily by 2018. With few refugees returning home, understanding return behavior can help policymakers understand what encourages an early, voluntary return to the refugees' home country. In the Journal of Development Economics, IPR economist Lori Beaman and her colleagues analyze the refugees' characteristics, living conditions in the host country, and conditions in Syria to parse out which factors may encourage refugees to return home. All the refugees in the sample left Syria between January 2011 and March 2018 and went to Lebanon, Jordan, or Iraq. The researchers used the Profile Global Registration System (ProGres) database of the United Nations High Commissioner for Refugees (UNHCR) to collect data on 2.16 million refugees. To determine conditions in the host country, Beaman and her co-authors used survey data from the United Nations. Then to determine conditions in Syria, the researchers collected monthly conflict activity, such as airstrikes and small fights, between January 2011 and August 2018, and nighttime light data to represent access to utilities. The researchers find refugees are more likely to return home if there is less conflict and if light conditions improve in Syria. Additionally, improved conditions in exile encourage refugees to return more than poor conditions in the host country. In fact, the researchers discover that poor conditions reduce the likelihood of return in some situations, such as food access. Understanding who stays is also important for the host country because it can help guide its economic welfare support and humanitarian interventions for refugees.