IPR Research Program Prepares Undergraduates for Careers After College
Over 40 students picked up valuable hard and soft skills working with IPR faculty researchers this summer
Get all our news
SESP and Weinberg senior Amelia Vasquez (right) discusses a research project with IPR developmental psychologist Terri Sabol (left), who mentored Vasquez during the SURA program over the summer.
For 25 years, the Institute for Policy Research's (IPR) Summer Undergraduate Research Assistants Program (SURA) has given undergraduate students the opportunity to work alongside its esteemed faculty, providing them with real-world social science research experience.
Over the summer, 41 students participated as IPR undergraduate research assistants (RAs) and contributed to research projects focusing on important social issues like trends in adolescent depression and anxiety and COVID-19 mortality and how efficient early vaccine rollouts were. 
IPR sociologist Christine Percheski, who directed the program, said the the SURA program is valuable for undergraduate students because it allows them to see inside the "black box" of how research is produced.
"The program allows them to be part of the research process and contribute in meaningful ways to IPR's mission of producing rigorous research with policy impact," she said.
While students leave the program with the hard skills needed to succeed in a research lab, like crunching data and summarizing research, they also leave with the more understated but all-important soft skills that can often make or break careers.
Amelia Montagnino: Getting a Glimpse of Life After Northwestern
Weinberg senior Amelia Montagnino, majoring in psychology, global health, and mathematics, said working with IPR developmental psychobiologist Emma Adam throughout the summer gave her a glimpse of possible next steps.
"This program helped give me a better idea of what working in a lab may look like after life at Northwestern," she said.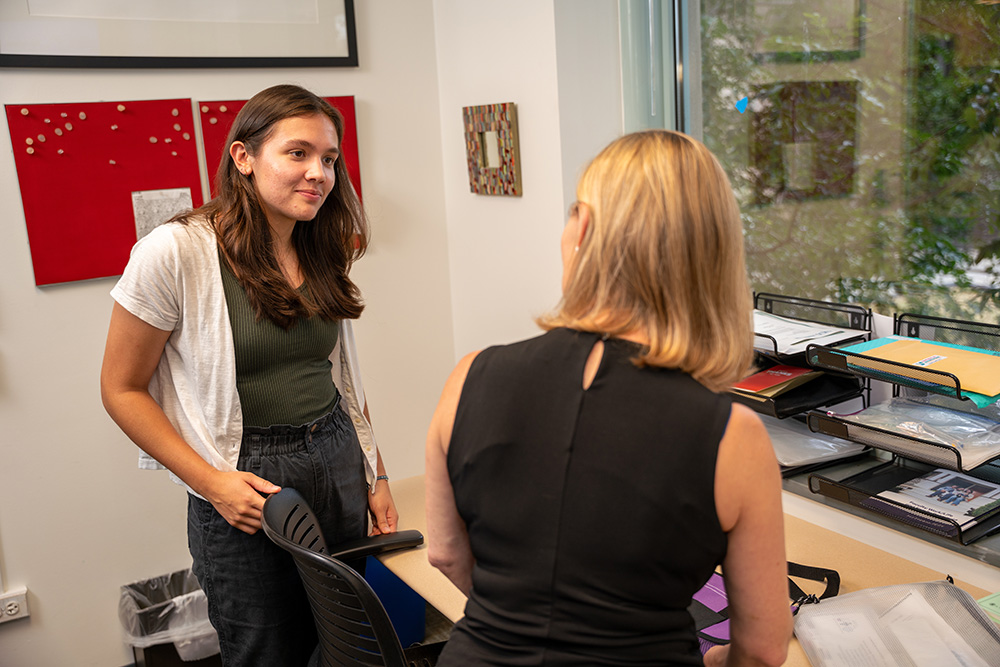 Montagnino helped organize and code qualitative data from the Biology, Identity, and Opportunity study at the Contexts of Adolescent Stress and Thriving (COAST) Lab at Northwestern, which investigates how racial and ethnic stressors affect the biological stress measures of high school students.
She also conducted searches of academic articles to capture recent trends in adolescent depression and anxiety, particularly during and after the COVID-19 pandemic.
Gaining experience with R, a software program used for statistical computing and graphics, and working in a lab has helped Montagnino better understand where she might see herself within the field of public mental health.
"This mix of awareness and hard skills will help me at whatever my next step ends up being," she said. 
In the COAST Lab, research assistants can attend lab meetings, lab parties, and interact informally with researchers at all stages of their careers, including undergraduate research coordinators, PhD students, postdocs, and a professor, namely Adam.
In addition to learning the hard skills of being a strong researcher, Adam said that the array of scholars helps drive home a seemingly simple point: We're all human.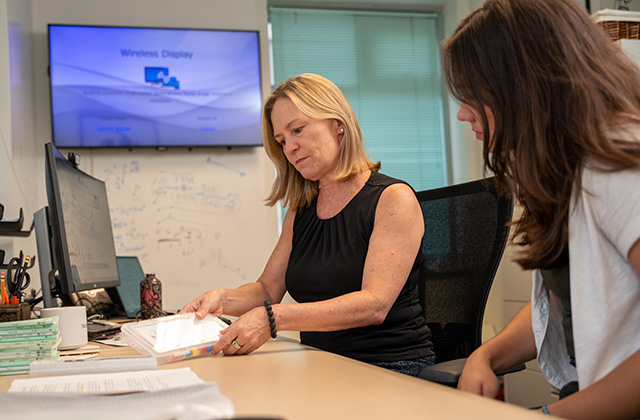 "It is my hope that SURA RAs emerge not only with new scientific skills, but also an understanding that researchers are human beings, with real lives and real choices, and that we support one another both in the research process and beyond," Adam said.
The COAST Lab investigates stress, an integral part of the human experience. The team seeks to answer how everyday life factors such as school, family, and peer relationships influence the stress and health of children and adolescents. Adam said involving undergraduates in the lab is important because the research and its answers applies to them as well.
"I think it is important for undergraduate students to know that research is both challenging and enjoyable, and that it has the potential to have a meaningful impact on the world," Adam said. "The questions we focus on in the COAST Lab are relevant to the everyday lives of adolescents and young adults, and SURA RAs such as Amelia bring a combination of passion, talent, and insights into the lives young people are living today."
Amelia Vasquez: Making Meaningful Connections, Growing Interpersonal Skills
As a SESP and Weinberg senior and former IPR research aide, Amelia Vasquez wasn't new to the research world, but the SURA program allowed her to collaborate with other researchers as a team for the first time. Vasquez, who is majoring in social policy and political science, worked with IPR developmental psychologist Terri Sabol on the Chicago Universal Pre-Kindergarten Study at IPR, which aims to evaluate the effects of the citywide pre-K expansion that occurred in the 2018–19 school year. She interviewed research study participants, transcribed interviews, gathered policy information, and helped write policy memos on the team's findings.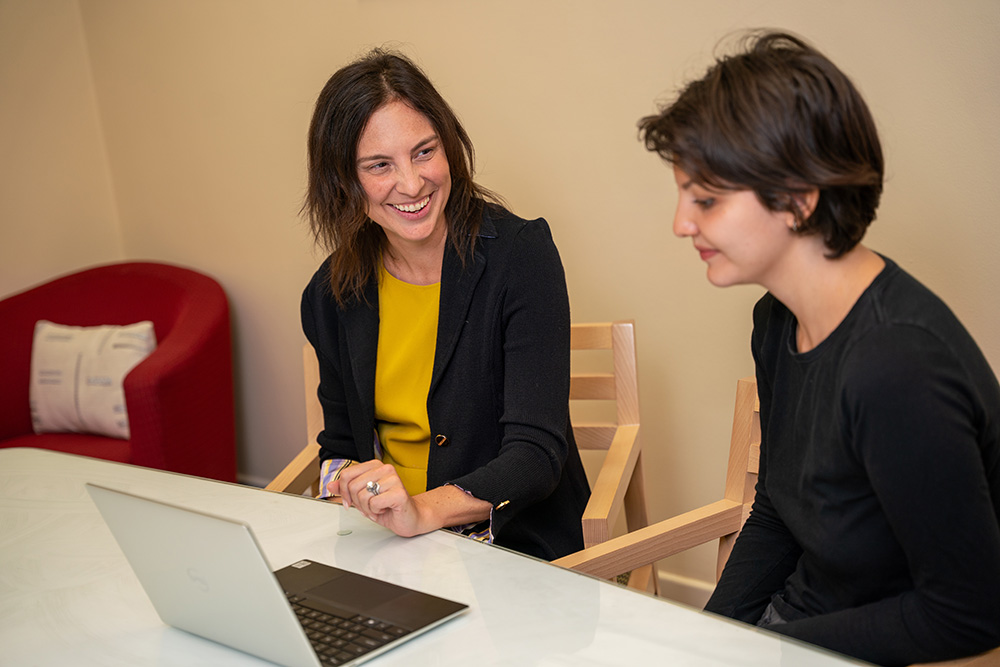 "Amelia had the opportunity to participate in every stage of the research, from collecting data to supporting the write-up of our findings for our policy partners," Sabol said. "Even in a short time, she got to make a real difference to policy."
SURA provides the opportunity for students to not only develop their research skills, Sabol said, but also skills like communication and working in a team that they can use in any future career.
For Vasquez, the interpersonal and collaborative skills she developed will be invaluable for and beyond her career.
"Because of my participation in SURA, I have a better grasp on the different career paths in research, and I better understand my own interests and preferences when it comes to working," she said. "I also made a lot of meaningful connections and grew my interpersonal skills which I think will continue to help me as I move forward in my career."
"Overall, I think the SURA experience has made me feel like a more well-rounded researcher and worker," Vasquez said.
Terri Sabol is associate professor of human development and social policy. Emma Adam is the Edwina S. Tarry Professor of Human Development and Social Policy. Both are IPR faculty fellows.
Photo credits: Rob Hart

Published: October 23, 2023.