SURA Program Gives Undergraduates Practical Research Experience
24 undergraduates worked with IPR faculty over the summer
Get all our news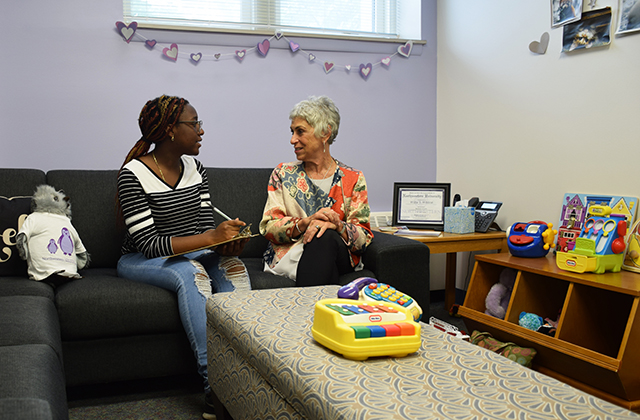 Northwestern student Mary Okematti (left) discusses a project with IPR psychologist Sandra Waxman (right), who mentored Okematti during the SURA program over the summer. 
Since 1998, the Institute for Policy Research has hired undergraduate students to work with IPR faculty for the Summer Undergraduate Research Assistants (SURA) program. This year, 24 students were matched with faculty to work on research projects exploring topics such as early math education, gender and racial bias in children, the impact of stress on pregnancy, and the constitutions of Tribal Nations.
The SURA program began under former IPR director Fay Lomax Cook to engage Northwestern undergraduates in social science research. Co-directed by IPR education researcher James Rosenbaum and social demographer Christine Percheski, the SURA program gives undergraduates practical research experience and skills to carry with them beyond the summer.
"It's a great program that allows faculty to have a chance to connect with undergraduates and talk about what we're passionate about—research that has policy impact—and to teach in a different way than in the classroom," said Percheski, who has hired several students to work on research for SURA over the last few years. 
The experience is also valuable for undergraduates she explained, because "they don't get that many opportunities to see how the research is produced and to really see the nitty gritty of the process of producing cutting-edge research that can have a policy impact."
Mary Okematti, a junior majoring in cognitive science, worked for IPR psychologist Sandra Waxman  looking at the emergence of racial and gender bias in preschoolers. Okematti hopes to become a doctor caring for underserved minority communities, and she said this project can help her understand the experiences of these communities.
"Race bias is a topic that interests me because it is seen so much in today's society whether it be in the classroom, the workplace, or social settings," Okematti said. "By determining where this bias starts, we can start to work towards preventing it from infiltrating society in a way that can be detrimental to others."
For some of the SURA students, the program can be an entryway into further research as they continue to pursue advanced degrees. Ahmadu Simpson, a junior majoring in psychology, took a SURA position with IPR health psychologist Edith Chen tracking the physical and psychological benefits of being in a mentor/ mentee relationship. Simpson is considering pursing a PhD in psychology and researching with Chen has allowed him to see what further education would look like on a daily basis. 
"I found it very valuable to gain research experience and understand the ins and outs of a lab, so that I can have a better understanding of what to expect," Simpson said.
The mentor/mentee relationship that can develop between faculty and a student is also an invaluable part of the SURA program. Junior Kaitlyn Rubinstein, who worked with IPR sociologist Beth Redbird to code the constitutions of Tribal Nations, said Redbird has taught her deeper truths about research, including that research is both an art and science, requiring flexibility as a scholar. Rubinstein, who is majoring in international studies and sociology, started working for Redbird prior to SURA in April 2018, which has given her more time to develop a relationship with Redbird and invest in the project.
"I have greater familiarity with the project and a stronger mentor/mentee relationship with Professor Redbird, allowing me to see and be involved with multiple steps in this project," Rubinstein explained.
Rubinstein also plans to pursue a PhD, and she said that working on this project has put her on the "perfect track for my future careers goals" as she continues to explore Native American and Indigenous studies and questions of decolonization.
Percheski pointed out that research skills and insights about the research process gained through the program can benefit undergraduates later in their professions, even if they choose not to go into academia. She noted that if undergraduates go into policymaking, communications, or the law, their research experience will help them in those careers.
"We're thrilled to be helping to create the next generation of social science researchers," Percheski said. "We're thrilled to be creating the next generation of informed citizens." 
Read more about the SURA program from the perspective of the undergraduates on the 2019 SURA blog. 
Published: September 24, 2019.