Meet IPR's New Fellows
Researchers add expertise in diverse areas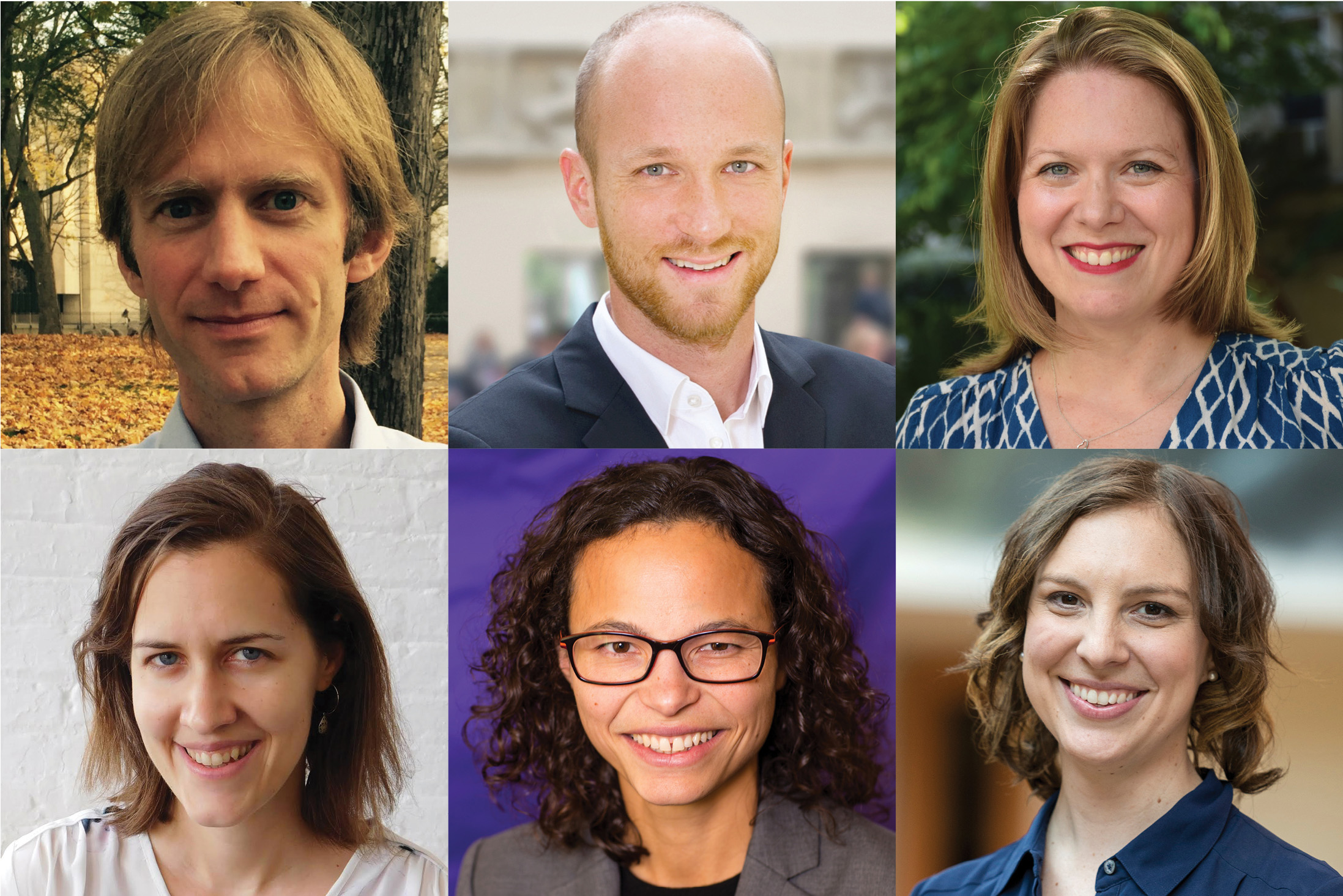 Clockwise from left: Robin Nusslock, Hannes Schwandt, Beth Tipton, Terri Sabol, Chloe Thurston, and Julia Behrman.
Five new fellows are joining the Institute for Policy Research in September, adding their expertise in statistics, political science, psychology, and economics to IPR's rigorous research output. 
Robin Nusslock, Terri Sabol, Hannes Schwandt, Chloe Thurston, and Elizabeth Tipton join IPR's more than 140 faculty researchers, representing 33 departments across the University. IPR sociologist Julia Behrman will also be coming to campus after a year-long sabbatical at the University of Oxford.
"IPR has a uniquely interdisciplinary approach to policy research, so we are thrilled to welcome these six fellows into the IPR community," said IPR director and economist Diane Whitmore Schanzenbach, the Margaret Walker Alexander Professor. "Our new colleagues are working on exciting, innovative research in diverse areas with clear policy impact, and we look forward to collaborating with them."
Read more about the new fellows and their research below.
Robin Nusslock
A psychologist, Nusslock's research uses neuroscientific methods to investigate the brain systems underlying human thought and emotion. He strives to understand the relationship between the brain and mental and physical well-being, whether by examining how emotion guides our decisions or by developing a "brain stress test" to determine one's risk for psychiatric illness.
Nusslock is currently working with IPR health psychologists Greg Miller and Edith Chen to examine how stress and poverty "get under the skin" to affect mental and physical health. His work suggests that the brain and the immune system create a feedback loop that when dysregulated puts individuals at risk for illnesses across the lifespan.
Nusslock has published in a variety of psychology journals, including Biological Psychiatry, Translational Psychiatry, and the Annual Review of Clinical Psychology. He received his PhD in clinical psychology from the University of Wisconsin–Madison and joined Northwestern in 2010.
Terri Sabol
Sabol, a developmental psychologist, studies pressing social policy issues that affect low-income children and families. In particular, her research seeks to identify ways to maximize investment in early childhood education as a means of reducing disparities for young children living in economic hardship.
At Northwestern's School of Education and Social Policy (SESP), Sabol directs the Development, Early Education, and Policy (DEEP) Lab. The lab is conducting a study to define and measure how early childhood education centers engage and support families. Another study seeks to determine how professional development programs improve early childhood classroom quality and child learning outcomes.
In 2017, Sabol was named an early career fellow by the American Educational Research Association and the Society for Research on Child Development. She has published in Child Development, Developmental Psychology, Science, and the Journal of Policy Analysis and Management. Before receiving her PhD from the University of Virginia, Sabol was a first-grade teacher in Chicago through the Teach for America program.
Hannes Schwandt
An economist, Schwandt focuses on health and economic inequality. In a branch of his research, he looks at society-wide shocks, such as stock market fluctuations, unemployment, trade shocks, and epidemic disease spread, exploring their impact on health, human capital, and fertility.
In one project, Schwandt examines seasonal influenza, commonly known as the flu, which causes strong inflammatory responses in pregnant women. Using Danish data, he finds maternal influenza leads to a doubling of prematurity and low birth weight in newborns; in utero exposure also affects their job prospects as adults.
His research has been published in journals such as Science, Proceedings of the National Academy of Sciences, and the Harvard Business Review. He joins IPR as an assistant professor in SESP from the University of Zurich. Schwandt received his PhD from Universitat Pompeu Fabra in Spain in 2012. He is on leave for 2018–19 at Stanford University.
Chloe Thurston
Thurston, a political scientist, studies American political development and political economy, with a focus on social and economic policy, organized interests and social movements, and historical analysis.
She recently published At the Boundaries of Homeownership: Credit, Discrimination, and the American State (Cambridge University Press, 2018), which focuses on the political and market processes by which women, minorities, and low-income households have been excluded from mortgage markets in the twentieth century. The book also examines how advocacy groups, including the NAACP and Women's Equity Action League, fought back against discriminatory practices such as restrictive covenants and the discounting of women's income on their loan applications. In other research, with IPR political scientist Daniel Galvin, Thurston is studying the limited ability of policy feedback processes to cement partisan loyalties.  
Thurston's work has appeared in the Journal of Public Policy, Studies in American Political Development, and Politics, Groups, and Identities. Before joining Northwestern in 2014, Thurston was a postdoctoral fellow at Johns Hopkins University. She received her PhD in political science from the University of California, Berkeley.
Elizabeth Tipton
Tipton is returning to Northwestern (she completed her PhD here in 2011) from Columbia University's Teachers College. Her research focuses on methods for causal generalization, including methods for making generalizations from field experiments to policy relevant populations, as well as methods for meta-analysis.
A statistician, Tipton is currently working on a webtool that will enable education researchers to design cluster randomized trials in K-12 schools with both adequate statistical power and generalizability. This builds off of another tool—developed with IPR education researcher and statistician Larry Hedges—that guides researchers through the development of a recruitment plan and reporting guidelines for generalization.
Tipton has received early career awards from the American Psychological Association, the Society for Research Synthesis Methods, and the American Education Research Association. Her work has been published in the Journal of Educational and Behavioral Statistics, Research Synthesis Methods, Psychological Methods, and Statistics in Medicine, among others.
Julia Behrman
Behrman, a sociologist, has been on leave the past year as a postdoctoral fellow at Oxford University. Her research explores the relationship between inequality in educational opportunity and demographic processes, notably fertility and family formation, and she is especially interested in sub-Saharan Africa and South Asia.
In sub-Saharan Africa, Behrman examines school expansion and social mobility across generations, looking at the quality of the schooling and intergenerational mobility in school progression and skill acquisition. She is also analyzing the interplay between women's paid employment opportunities and the number of children young women desire in African countries with very high fertility rates.
She received her PhD in 2017 from New York University.
Published: August 29, 2018.