IPR Faculty Receive Cascade of Honors
Awards recognize impact in research and service
Since May, more than a dozen IPR faculty have received noteworthy awards from a handful of prominent national academies, scholarly bodies, and universities.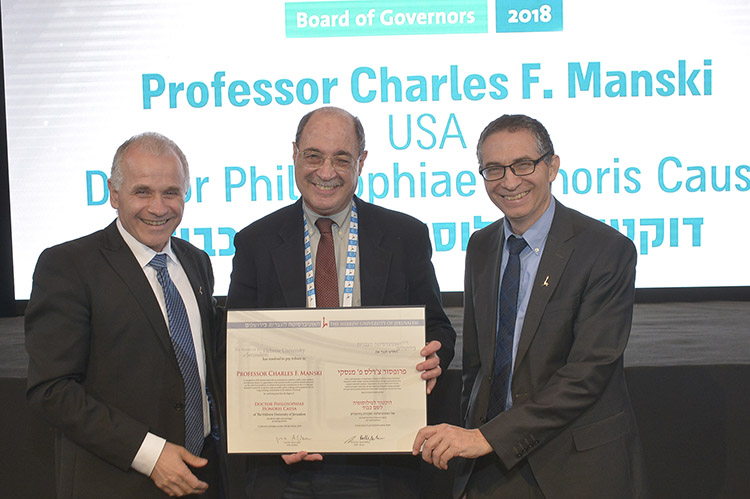 Charles F. Manski (center) accepts his honorary degree from the Hebrew University of Jerusalem President Professor Asher Cohen (left) and Rector Professor Barak Medina (right). 
"These IPR faculty were recognized for their original research contributions, innovative policy solutions, and service to their respective fields," said IPR Director Diane Whitmore Schanzenbach, the Margaret Walker Alexander Professor. "We applaud them for their outstanding achievements. They embody the excellence that we all strive for at IPR and Northwestern."
U.S. Academies and Institutions | Scholarly Societies | Universities
U.S. Academies and Institutions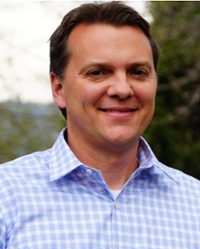 The National Academy of Sciences (NAS) elected IPR anthropologist Christopher Kuzawa a fellow in May, one of the highest honors a scientist can receive. Fellows are chosen by their peers for their outstanding research contributions, and Kuzawa's include examining how intrauterine and early postnatal environments affect development and long-term health. Kuzawa, a founding member of IPR's Cells to Society (C2S): The Center on Social Disparities and Health, joins IPR economist Charles F. Manski and sociologist, legal scholar, and IPR associate John Hagan as an NAS fellow.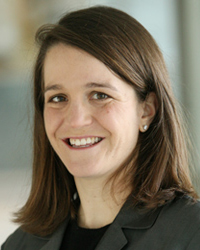 The Cooper Hewitt, Smithsonian Design Museum's National Design Award for corporate and institutional achievement honored Design for America (DFA), founded by mechanical engineer and IPR associate Elizabeth Gerber and three of her undergraduate students. The award recognizes excellence and innovation in design, and previous institutional awardees include Apple, Etsy, and TED. DFA is a national network of students, mentors, and community leaders who use design thinking to solve social problems. From its start at Northwestern in 2009, it has grown to include 36 universities and more than 1,200 members. Gerber is Charles Deering McCormick Professor of Teaching Excellence.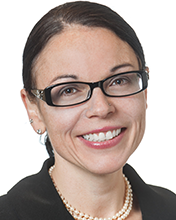 The White House Office of Science and Technology Policy and the National Science Foundation awarded health disparities scholar and IPR associate Melissa Simon the Presidential Award for Excellence in Science, Mathematics, and Engineering Mentoring in June. She was honored for her contributions as a mentor to students and junior faculty from nontraditional backgrounds in and outside of the lab. Simon is the George H. Gardner, MD, Professor of Clinical Gynecology and vice chair for clinical research in obstetrics and gynecology.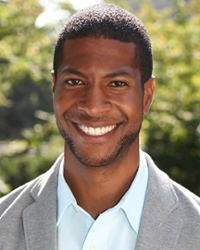 The Association for Psychological Science named IPR social psychologist Mesmin Destin a fellow for his scientific contributions to psychology. He also received the American Psychological Association Committee on Socioeconomic Status Emerging Leadership Award in June. Destin conducts research on the social and psychological factors that contribute to educational outcome disparities.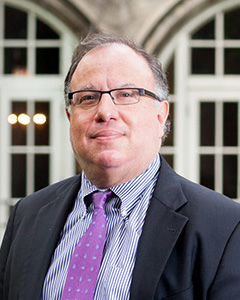 The College of Law Practice Management named IPR associate Daniel Rodriguez, the Harold Washington Professor and outgoing dean of the Pritzker School of Law, a fellow in its class of 2018 for exemplifying the highest professional standards and achievements. Rodriguez studies administrative, constitutional, and local government law.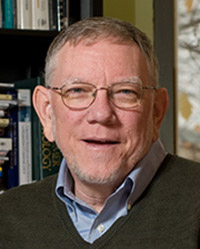 Communications studies researcher and IPR associate Daniel O'Keefe, the Owen L. Coon Professor, was elected a fellow of the International Communication Association in recognition of his distinguished scholarly contributions to his field of persuasion studies, where he employs quantitative methods for research synthesis.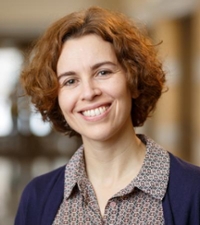 Political scientist and IPR associate Ana Arjona won the 2018 Conflict Research Society Book of the Year Prize for Rebelocracy: Social Order in the Colombian Civil War (Cambridge University Press, 2016). The society praised the book, which examines the emergence of wartime social order in the midst of conflict, as "truly innovative and a unique study."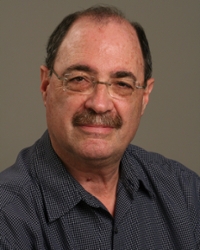 In June, the Hebrew University of Jerusalem awarded IPR economist Charles F. Manski a Doctor Philosophiae Honoris Causa for his "path-breaking" methodological contributions to econometrics, statistics, and decision theory and their applications to economics and the social sciences. The university also recognized him for his "role as the founder of the research field of partial identification." Manski is Board of Trustees Professor in Economics.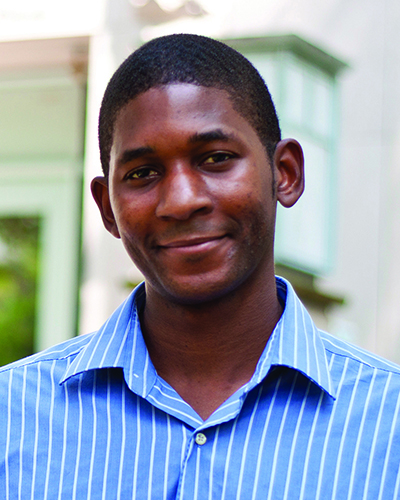 Northwestern University named IPR labor and education economist Kirabo Jackson the 17th recipient of the Martin E. and Gertrude G. Walder Award for Research Excellence, given each year to one faculty member in any department. "Bo's work is quantifying the relationship between school funding and student outcomes at a critical time for public education in the United States," said Provost Jonathan Holloway. "His research has the potential to inform education policy and make our education system more equitable."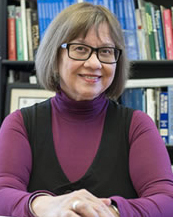 Northwestern also presented communications studies researcher and IPR associate Ellen Wartella with the Dorothy Ann and Clarence L. Ver Steeg Distinguished Research Fellowship Award. The award honors faculty "whose research and scholarship are so outstanding as to enhance the reputation of Northwestern, nationally and internationally." Wartella is a leading voice on the impact of media on children's health and cognitive development. She is the Sheikh Hamad bin Khalifa Al-Thani Professor of Communication.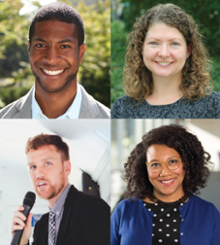 The University's Weinberg College of Arts and Sciences announced its latest round of research innovation grants, which are intended to provide funding for catalyzing creative exploratory research. Four IPR faculty were among the 2018 awardees: Destin (top left) to examine challenges of social mobility; IPR political scientist Laurel Harbridge-Yong (top right) to study intra-party conflict as a challenge to compromise; political scientist and IPR associate Thomas Ogorzalek (bottom left) as co-investigator on the Chicagoland Neighborhood Study; and psychologist and IPR associate Sylvia Perry (bottom right) to examine parental socialization's role in negative intergroup attitudes in white children.
Published: June 27, 2018.