Poverty & Income Inequality
Poverty and Income Inequality
The Social Safety Net in the Wake of COVID-19
The COVID-19 crisis has led to spiking unemployment rates, disproportionately impacting low-income families and increasing food insecurity and use of food banks. In an IPR working paper, IPR economist Diane Whitmore Schanzenbach and her colleagues explore why there remains so much need in the United States despite strong policy responses from the government, including the Families First Coronavirus Act and the Coronavirus Aid, Relief, and Economic Security (CARES) Act. They find that relief efforts, including unemployment insurance (UI) and the new Pandemic Unemployment Assistance (PUA) payments, increased Supplemental Nutrition Assistance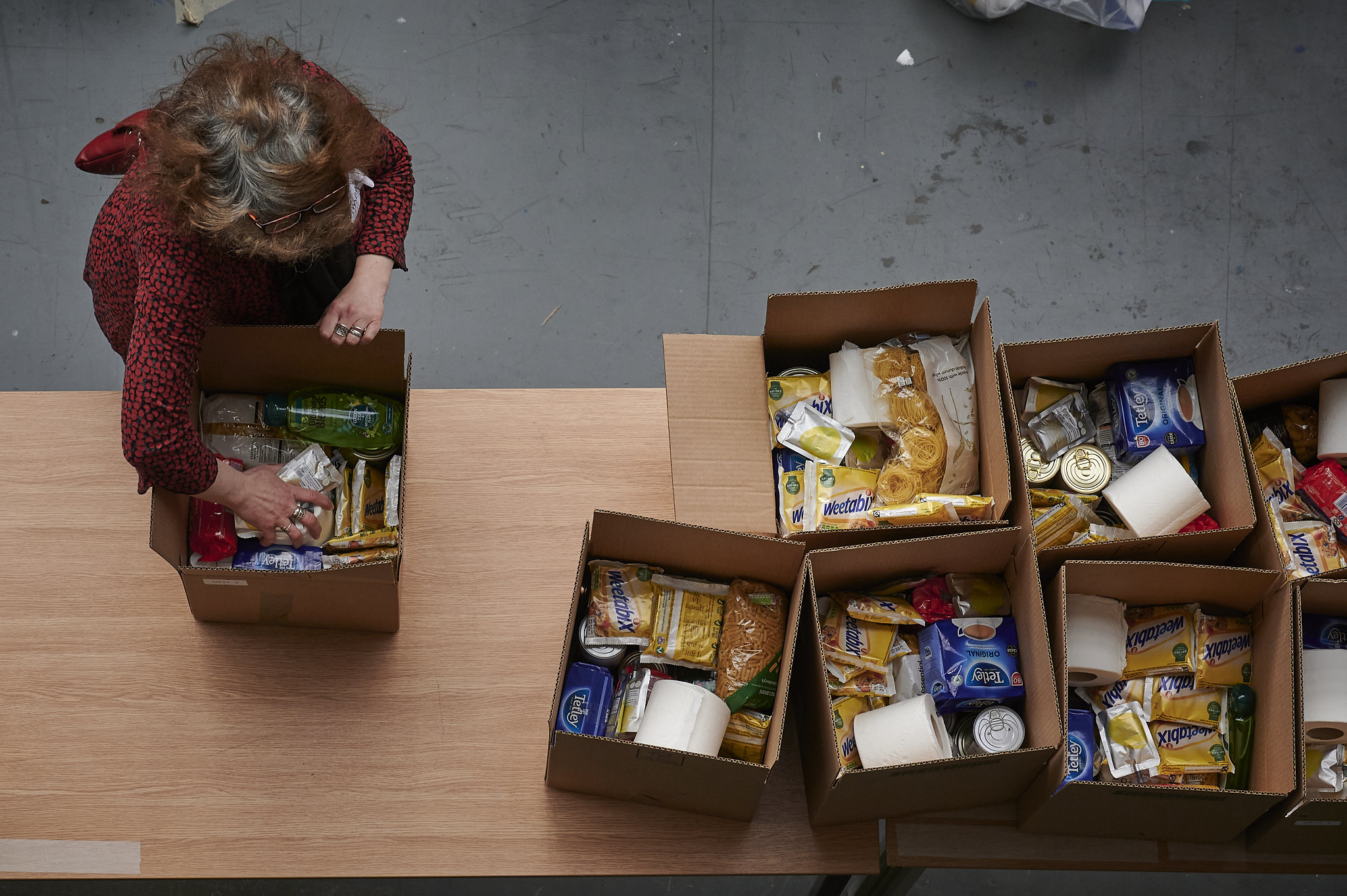 Program (SNAP) payments, and the one-time Economic Impact Payments (EIP), reduced hardship, but have fallen short on several dimensions. First, outside of UI, payments made to low-income families have been relatively modest, averaging $30-$40 per week. Second, many relief payments were delayed due to difficulties states faced in implementing the $600 boost to UI, setting up new programs, and processing unprecedented numbers of claims. Third, there are important gaps in coverage. For example, at least 14% of those under the poverty level who lose their jobs are likely to be ineligible for any unemployment benefits. Schanzenbach is the Margaret Walker Alexander Professor and IPR director.
Food Insecurity Amid the Pandemic
Schanzenbach continues to study the impact of food insecurity on Americans during the pandemic and beyond. One of the nation's foremost experts on the food safety net, she has analyzed data from the COVID Impact Survey and the Census Bureau's Household Pulse Survey (CHHPS) in six IPR rapid research reports since spring 2020. In a June 2020 report, Schanzenbach and then-research assistant Abigail Pitts estimated that food insecurity had doubled and tripled in households with children from April 23–May 19, 2020. They found that 23% of households overall experienced food insecurity. Schanzenbach and Pitts' subsequent reports revealed ongoing and elevated rates of food insecurity. They also uncovered that Black and Hispanic households with children remained much more likely to experience food hardships than were White households with children. Important disparities across racial and ethnic groups also included current employment status as well as people's expectations about future income losses and the ability to afford necessities.

New App Visualizes Food Insecurity

Schanzenbach has worked to convey the severity of the ongoing crisis and has also testified about it in April 2021 before the House Rules Committee. Additionally, she and former undergraduate researcher Natalie Tomeh (B.A. 2021) created an app that allows users to easily access food insecurity rates and other information for each U.S. state. The app creates visualizations for seven key indicators:

food insecurity,

employment,

housing,

expectations about the future,

mental health,

finances, and

children's education.
Using data from CHHPS, the app also can sort by household types, such as those with or without children, as well as racial and ethnic groups.
IWISE Scale Shows Which Individuals are Water Insecure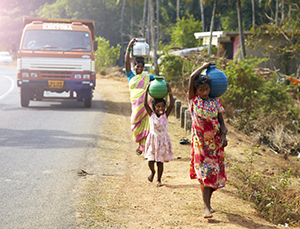 Many around the globe do not have access to water, but the lack of a cross-culturally equivalent scale for measuring water insecurity at the individual level has prevented large-scale data collection about those most vulnerable. In BMJ Global Health, IPR anthropologist Sera Young, IPR research associate Hilary Bethancourt, and their colleagues study whether the 12-item Individual Water Insecurity Experience Scale (IWISE) can work to measure water insecurity across countries. The researchers partnered with UNESCO-IHP Secretariat and Gallup, who conducted a national representative survey of 43,970 individuals from 31 low- and middle-income countries, including Brazil, China, India, and much of sub-Saharan Africa, as part of their World Poll. In the survey, run between September 2020 and February 2021, participants were asked questions such as how often they worried about having enough water and went to bed thirsty. The researchers find that the IWISE scale is reliable, meaning that the items in the scale work together consistently, and it performs equivalently across countries. The scale is also valid, accurately reflecting how the experiences of individuals' water insecurity differ across countries and among individuals within countries. This makes it the first tool to permit comparisons of individuals' experiences with water access, use, and reliability across diverse climates, geographies, and cultures. The researchers write that the IWISE scale will allow for better data collection around the globe about water insecurity, which will enable practitioners and policymakers to tailor interventions to the most at-risk populations.

Tap Water Avoidance is Connected to Food Insecurity
Food insecurity is a large and growing problem in the United States, and water insecurity may be an overlooked factor that contributes to the lack of reliable access to food. In the Journal of the Academy of Nutrition and Dietetics, Asher Rosinger of Penn State University, assistant research professor Hilary Bethancourt, and IPR anthropologist Sera Young investigate how tap water avoidance, a proxy for water insecurity, is associated with food insecurity in the U.S. Using the National Health and Nutrition Survey (NHANES), a nationally representative sample of the U.S. population, they examined a survey of 31,390 U.S. adults in 2005­–06 and 2017­–18. The survey asked participants questions about their household food security in the prior year, how often individuals drank tap water, and about their demographic background. The researchers find that adults who avoided tap water had a 21% higher chance of food insecurity compared to those who drank tap water, and the probability of food insecurity doubled from the 2005–06 survey to the 2017­–18 survey. They also find that food insecurity decreased across tap water drinkers and avoiders as income rose, but it was higher among tap water avoiders at all income levels. The study highlights how water insecurity and food insecurity—both public health problems—are connected and can occur in the United States, a high-income country. The researchers argue that future research is necessary to understand why people avoid tap water and how water insecurity relates to food insecurity.
Reservation Labor Markets and Native American Wellbeing
An estimated one in three of the roughly 10 million Native Americans in the U.S. lives in poverty, yet little is known about the causes of that poverty. In her working paper, IPR sociologist Beth Redbird investigates the interplay between reservation labor markets, tribal policy, and Native economic health to come to a better understanding of the primary factors contributing to Native poverty. Analyzing microdata from the 1980, 1990, and 2000 U.S. Censuses, and answers to the 2001–13 American Community Survey, Redbird evaluates which factors most drive economic hardship in indigenous communities. She finds that the persistence of Native poverty, despite impressive increases in educational attainment and job access, is primarily due to shifts in Native labor. Native workers have experienced the highest growth in jobs that pay below a living wage or have insecure employment arrangements. In addition, the structure of reservation labor markets, while creating innovative and expansive opportunities, are not always able to address the increasing disadvantage experienced by Natives in the larger market. In particular, two of the largest tribal industries, energy and gaming, generate high revenues, but the profits are often removed from the reservation economy, increasing inequality instead of resulting in higher wages for Native workers. This research leads to a better understanding of the unique economic challenges facing tribal governments, and provides important insight into the effect of labor policies on the economic wellbeing of indigenous communities.