Class, Gender, and Social Dynamics
Class, Gender, and Social Dynamics
Using Master Narratives to Analyze Gender
In Child Development, IPR developmental psychologist Onnie Rogers investigates how children's gender identity narratives reinforce or disrupt hierarchy around gender and if age and gender matters to these narratives. Rogers interviewed 233 children from diverse racial backgrounds aged 7–12 from three schools in the Pacific Northwest. She asked students about their social relationships, academic experiences, and the importance of gender. She divided student responses into four different narratives or "shared cultural stories" that reinforce structural inequality by organizing how individuals formulate their own identity about gender. The majority of children, 61%, recounted a difference narrative in which they spoke about gender in ways that emphasized the differences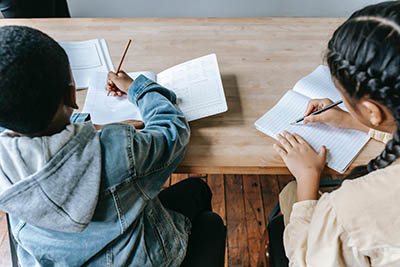 between boys and girls. Only 3% told genderblind stories, which consider gender as inconsequential. The gender stories seemed to express conflict and tension in incongruent narratives for 22% of the children. They voiced discrepancies embedded in gender hierarchy, such as "I like being a girl," but "I don't like being treated badly." The remaining 13% constructed a counternarrative, acknowledging that boys and girls are not treated equally and protesting gender injustices. Overall, age and gender mattered in the narrative children told about gender. Older students, fifth and sixth graders, were more likely to tell narratives that disrupted the status quo than younger students, second, third, and fourth graders, and girls told more of these narratives than boys. This work underscores that children are able to and will question injustices related to social groups. Rogers writes that future work should explore whether these attitudes are specific to this age of development and the role race plays in children's attitudes about gender.
Husband's Dominance in Decision-Making About Women's Health

Women's ability to make decisions about their own health is critical for their well-being, but many women around the world do not have autonomy over these decisions. In Demography, IPR sociologist Julia Behrman and her colleagues investigate how husbands' dominance over the health decisions of their wives in sub-Saharan Africa varies geographically and over time. Using survey data from 28 countries in sub-Saharan Africa between 2001–2005 and 2010–2014, the researchers created maps comparing husbands' dominance in the health decisions of their wives between the two time periods within and between countries. The surveys asked women between the ages of 15–49 about reproductive health, well-being, education, and geographic location. Women reporting that their husbands were the main decision-maker decreased from 55% in the 2000s to 47% in the 2010s. They made more joint decisions with their partners, which increased from 20% in the 2000s to 36% in the 2010s. Western African countries had a higher prevalence of husbands' decision-making dominance during both periods compared to Eastern and Southern countries, but it decreased overall in most countries. This decline was not the same within countries—husband's decision-making dominance decreased in some areas between the 2000s and 2010s, while it increased in other areas, highlighting the importance of looking at the changes in countries from a spatial perspective. The researchers find education and living in an urban area were associated with greater decision-making power for women—likely because these are places where people are exposed to new ideas and gender norms. These results can help policymakers target interventions to areas where women's participation in health decision-making is low and provide insights about what interventions could be most effective.
The Impact of COVID-19 on Gender Equality
In an IPR working paper, economist and IPR associate Matthias Doepke and his colleagues explore how COVID-19 has impacted the employment of women and men differently. The researchers look at which gender held jobs considered critical during the pandemic and were in occupations where employees could work from home using the American Time Use Survey (ATUS) data and the American Community Survey in 2017-18. They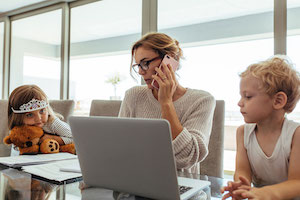 find that 28% of male workers and 22% of female workers are employed in jobs where they could easily telecommute. Roughly 24% of men were employed in critical jobs versus 17% of women. They also examine who is responsible for watching children while schools are closed due to COVID-19. According to the U.S. Census, 70% of children live with both their parents, 21% live with their mother, and only 4% live with their father. Even in married couples, women do more childcare than men, with husbands providing 7.4 hours of childcare per week versus the 13.3 hours wives provide, according to ATUS data. The findings show that women have been disproportionately affected during COVID-19 by the loss of employment and taking on the majority of childcare work. While COVID-19 has negatively impacted women, the pandemic could present opportunities for greater equality in the future, if employers provide more flexibility to work from home and if fathers take on more childcare work. The researchers suggest policies such as government subsidies to replace 80% of employee pay for workers who need to provide childcare during the crisis as one way to promote gender equality.
Maternal Attitudes Impact Girls' Math Scores
The math gender gap has costly implications for girls as it may impact their future outcomes, including pursuing a career in STEM and potential earnings, but what drives the gap? In the Journal of Economic Behavior and Organization, IPR education economist David Figlio, finance professor and IPR associate Paola Sapienza, and their colleagues study whether a family's attitude toward gender impacts a girl's math score with two analyses. First, the researchers match Florida public school data with about 1.6 million birth certificates to examine whether a family's preference for a son affects a girl's math performance. Families were defined as "boy biased" if they had more children after firstborn girls than families with firstborn boys did. The findings indicate that girls in boy-biased families score three percentage points lower than those in other families. However, the researchers note the limitations of fertility patterns, including that they may be random. The researchers expand their analysis with data from the National Longitudinal Survey of Youth and compare 4,934 mothers' gender attitudes and their child's gender attitudes and math performance. The results show that a mother's conservative attitude toward gender roles correlates with lower math scores for girls, but they find no correlation with boys' math performance. Additionally, maternal attitudes correlate with children's attitudes, suggesting that parental beliefs transfer across families. This research helps explain one potential reason behind the math gender gap by demonstrating the connection between family attitudes and girls' math scores. Figlio is the Orrington Lunt Professor of Education and Social Policy and Dean of the School of Education and Social Policy. Sapienza is the Donald C. Clark/HSBC Chair in Consumer Finance.
Black Girls' Identities and Resistance to Colorism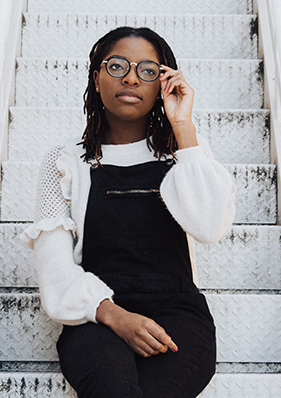 Colorism, or prejudice against individuals with dark skin or physical features associated with Black people such as broader noses, is pervasive in the U.S., yet is understudied in adolescent research. In the Journal of Adolescent Research, IPR developmental psychologist Onnie Rogers and her colleagues investigate how colorism shows up in the ways Black girls make sense of their own identities and wellbeing. During the 2017­–18 school year, the researchers asked 59 Black girls, who were on average 16-years-old and enrolled in a predominantly Black all-girls school, to complete a survey about their identity and wellbeing. They interviewed the girls later that academic year about school, their racial and gender identity, and intersectionality. They find that the girls were acutely aware of colorism, and those who resisted notions of White beauty standards had higher self-esteem. Of the girls interviewed, 44, or 75%, mentioned colorism without being prompted in relation to their skin color, hair, attractiveness, and body type, but nearly 75% of those conversations mentioned resistance to colorism. These results show that Black girls were able to engage with and resist colorism, specifically in a school where they were represented among the administration and in the majority of the student body. The researchers suggest colorism should be integrated into the study of racial identity among Black girls in research that is centered on their voices and experiences.