Building a Research Tool, Thanks to Community Power
IPR researchers create a toolkit to measure racial bias in preschools with help from Evanston families and a local business
Get all our news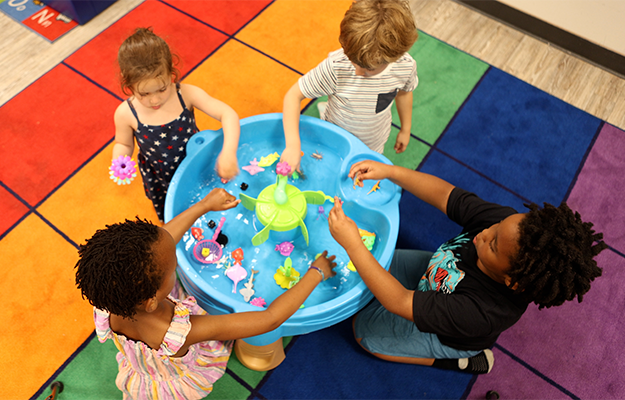 Researchers filmed interactions of preschoolers to create a new video measure of implicit bias in classrooms.
On a balmy summer day, 17 Evanston preschoolers happily played with blocks, worked on puzzles, danced to music, listened to a teacher read a story, and ate a snack as a videographer filmed. At the same time, they were contributing to deepening the scientific study of racial bias in early childhood classrooms.
The videos produced from this play session will be part of a new research tool designed to measure preschool teachers' implicit biases, or their expectations about race and children's behavior. Created by IPR psychologists Sandra Waxman, Onnie Rogers, and Terri Sabol, the video measure will be part of a three-part toolkit called "On the Road to Discovery."
"We know that disciplinary practices in preschool classrooms are racialized—that even for kids as young as three or four, discipline in their classrooms is meted out in what seems to be a pretty imbalanced and unfair way," Waxman said. "And in particular, young Black boys tend to be disciplined most frequently."
Research has shown that preschoolers are expelled at a rate three and a half times that of K–12 students. Of the 17,000 preschool children suspended or expelled across the U.S. in 2021, half were Black boys—yet they only make up about 20% of children enrolled in preschool. This persistent, racialized pattern of disciplinary injustice, evident across the school years from preschool through high school, warrants careful attention.

"We currently have a paucity of measures that we can use to understand racialized practices in preschool classrooms," Sabol said. "Our goal is to remediate this by creating a set of measurement tools to understand what is happening in every day practices and experiences."

The IPR research team has developed three measures designed to unpack the processes of and find solutions to racial bias in preschool classrooms: teachers' implicit biases, children's perceptions of classroom dynamics, and children's emergent ethnic and racial identities.

That summer afternoon in Evanston, the researchers were generating the raw footage to create perhaps the most challenging of these measures, the EyeTEACH, which will be a video tool that will seek to assess how teachers' implicit biases may shape disciplinary actions. While teachers watch short videos of groups of preschoolers playing, the preschool teachers' eye movements will be recorded.
The video tool will systematically track teachers' visual attention. This will help the researchers answer the open question of who teachers are paying attention to the most in the classroom, to see if teachers are more likely to increase their vigilance over kids of color, boys, or Black boys.
To develop this tool in a way that represents a real classroom setting, the team needed local families to help.

Community Cooperation
Finding an appropriate space, recruiting local preschool-aged children, and getting them to play and interact on camera was a daunting task because of the complex logistics and set-up required to make such a video. For example, the space had to resemble a real preschool classroom. All of this could not have happened without key community members coming forward to offer their resources and their time. They also needed a skilled videographer. Northwestern alumnus Jay Towns '22, a content creator, was up for the task.
"We're researchers and scientists who understand a lot about kids but very little about the media and technology required to make a quality film," Rogers noted.
Jennifer Marino, the research study coordinator, orchestrated the complex logistics. Shannon Valko, the owner of Little Beans Café and Play Space, an Evanston preschool and play space, donated the space. Marino recruited families by posting fliers at Evanston libraries, parks, and summer camps, as well as posting them on Facebook. Fifteen socioeconomically and racially diverse local families agreed to have their four-, five-, and six-year-olds participate.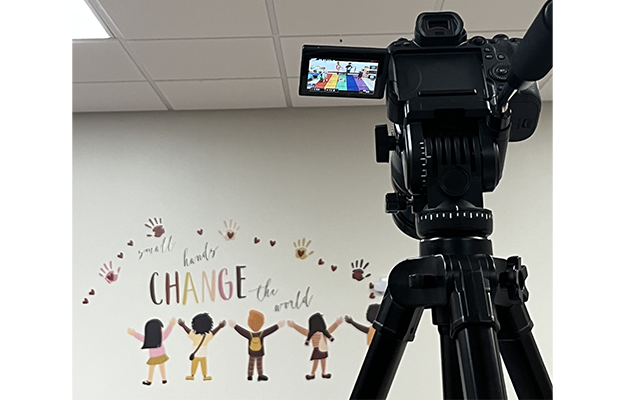 On the day of the filming event, Marino, Rogers, and Waxman worked together with Towns and Northwestern undergraduates to organize the kids and serve as makeshift film crew members setting up the camera angles and helping with the video shoot. Each vignette, or short scene, featured four children at a time, so the others played with their siblings, peers, and other family members while waiting for their turns on camera.
"The film day was organized chaos! The families and crew were adaptable and patient, and the preschoolers had a great time," Rogers recalled. "We spent many months poring over the design, activities, the filming structure, so it was very rewarding to see it all come together—and to see the families comfortable and content with the process."
These Evanston families, who understood the importance of the research question and wished to contribute, made it possible to develop EyeTEACH, Waxman notes.
"It was difficult and logistically challenging because it required real, sustained engagement with the community," Waxman said. "The filming is just step one, and we're over the moon with it."
Sandra Waxman is the Louis W. Menk Chair in Psychology. Onnie Rogers and Terri Sabol are associate professors of psychology. All are IPR fellows. The project is supported by Northwestern's School of Education and Social Policy (SESP) Venture Research Fund.

Photo credit: O. Rogers
Published: October 17, 2023.