Andrew Papachristos Tapped to Become IPR's Next Director
Prominent sociologist is an engaged policy researcher and community collaborator
Get all our news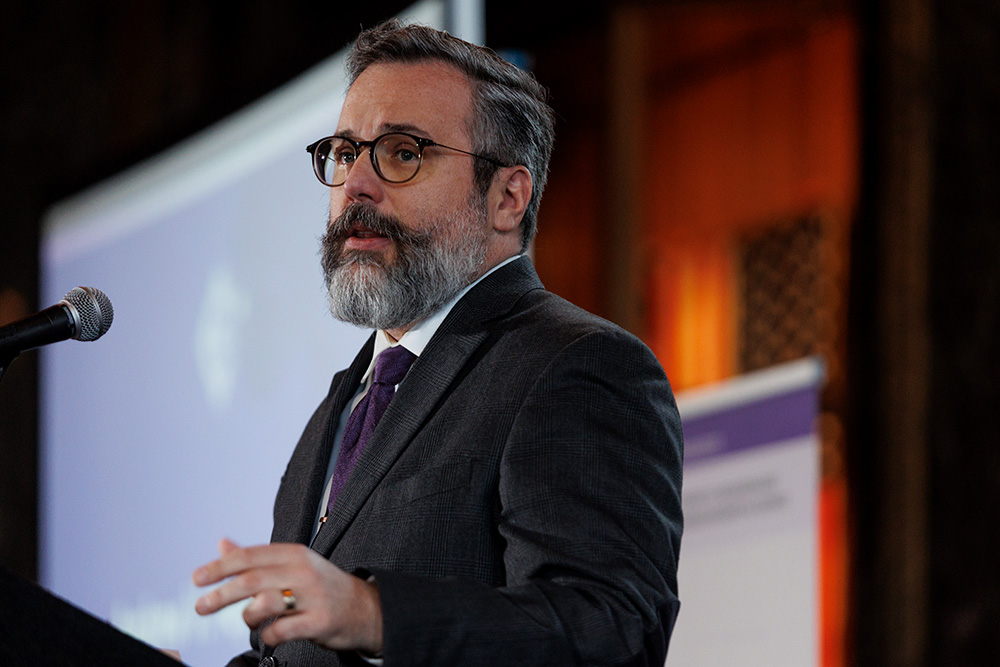 Andrew Papachristos speaks at a CORNERS symposium in December 2022.  
Northwestern University has appointed prominent sociologist Andrew Papachristos director of its Institute for Policy Research (IPR) and the John G. Searle Professor of Sociology, starting September 1.
An IPR fellow since 2018, Papachristos is widely recognized for his pioneering and policy-relevant research deploying network science in rigorous and interdisciplinary examinations of police misconduct, gun violence, and neighborhood inequality in urban America. He is also actively involved in the evaluation of gun violence prevention programs in several U.S. cities.
"We are extremely pleased that Andrew Papachristos will bring his exemplary leadership to IPR, a flagship research institute where he already has made a major contribution as a faculty member pursuing important research with societal benefit," Provost Kathleen Hagerty said in announcing his appointment.
Papachristos' work has appeared in top-shelf journals such as JAMA, the American Sociological Review, Proceedings of the National Academy of Sciences, Criminology, and the American Journal of Public Health. An award-winning scholar, he received the American Society of Criminology's Ruth Cavan "Young Scholar" award and a National Science Foundation's Early CAREER award. In 2022, he was named a Harry Frank Guggenheim Distinguished Scholar.
News outlets, including the BBC, Chicago Tribune, and Washington Post, have covered his studies and sought out his expertise. He has published editorials in the New York Times and Scientific American, among others, describing the findings and importance of his research for a broad public. He is currently finishing his book manuscript, "Murder by Structure: How Street Gangs Built the Great American City."
"Andy is an engaged scholar who understands the importance of applying rigorous research insights to some of our most pressing societal challenges," Northwestern's Vice President for Research Milan Mrksich said. "He's bold and determined to create collaborations that bridge theory and practice to make a real difference in people's lives. He is also committed to supporting the success of his colleagues at all levels of their career."
"I'm confident his leadership will further elevate IPR as a home for some of the very best policy research anywhere," Mrksich continued.
From Witnessing Crime in Chicago to Examining Solutions for It
A Chicago native, Papachristos grew up in the city's Rogers Park neighborhood, the son of Greek immigrants. From his neighborhood and the vantage point of his parents' neighborhood diner, he witnessed gang violence, crime, and policing first-hand at the height of the city's homicide epidemic in the 1990s.
"A lot of the stuff from the street sort of spilled into the diner," he recounted to IPR in 2018 about his upbringing. "Whether it was the politicians, the gang members, or the cops, all of that was playing out in front of me."
As a first-generation college student, his interest in crime led him to study criminology at Loyola University Chicago, where he received his bachelor's. From there, he went on to receive a master's in the social sciences and his PhD in sociology from the University of Chicago. He was a tenured faculty member at the University of Massachusetts Amherst and Yale University before he joined IPR and Northwestern in 2018.
In 2019, Papachristos launched what is now known as CORNERS: the Center for Neighborhood Engaged Research & Science at IPR. A unique research group comprised of faculty, data scientists, and field-based project coordinators, the center builds on his approach to using network analysis in studying neighborhood inequality. The CORNERS team seeks to examine and find solutions to the epidemic of gun violence by partnering with community and civic organizations to co-design research projects aimed at building safe, healthier, and more equitable neighborhoods. He is the center's faculty director, leading it with Executive Director Soledad Adrianzén McGrath. He also serves as an adviser to Evanston and Chicago on matters of public safety.
An IPR Sociologist Becomes its Eighth Director
Founded in 1968, IPR is one of the country's preeminent academic social policy research institutes and one of more than 35 University-wide research institutes and centers at Northwestern that harness faculty knowledge from across schools. IPR's 160-plus faculty experts conduct research at the forefront of a wide range of pressing social questions, including many related to poverty, race, inequality, education reform, and social disparities and health, among others.
Papachristos will be IPR's eighth director, succeeding economist Diane Whitmore Schanzenbach, who served from September 2017 until July 2023. He praised her for elevating IPR's national profile and building a research environment whose infrastructure encourages cross-field engagement.
"Diane has left us such a great team and framework to build on," he said. "Her legacy will have a long-term impact for IPR."
He will be the second sociologist to lead IPR—the first being its founding director Raymond Mack, who led the Institute when it was known as the Center for Urban Affairs from 1968 to 1971. Indeed, Papachristos' work follows the intellectual lineage of landmark IPR research conducted by experts such as political scientist Wesley Skogan, who studies policing and police-community interactions; behavioral scientist Linda Teplin, who conducts longitudinal studies of juvenile detainees; and former associate director John McKnight, who co-launched the Asset-Based Community Development Institute at IPR. Not only familiar with IPR's intellectual legacy, Papachristos has also been actively involved with the Institute's governance, having served as a member of IPR's Executive Committee since 2020.
"I'm truly honored to be a part of IPR's history of using research to help build safe, healthier, and more equitable communities and developing new directions for the Institute's and Northwestern's work in this and other exciting new areas," Papachristos said.
A self-described "nerdy scientist and committed community partner," Papachristos says he would like to increase IPR's status as a vigorous policy incubator that actively engages with community and government stakeholders at the city, county, and state levels—as well as developing the potential of its faculty, particularly that of younger faculty, and of its students.
Noted IPR Associate Director James Druckman, a political scientist, "It certainly is a vitally important time for IPR given national and world events, and I have no doubt that Andy will ensure IPR faculty continue to shape academic and policy discussions going forward."
Read Northwestern's announcement.
Andrew Papachristos is professor of sociology and will become IPR's director and the John G. Searle Professor of Sociology on September 1. Diane Whitmore Schanzenbach is the Margaret Walker Alexander Professor of Human Development and Social Policy and IPR's previous director. James Druckman is the Payson S. Wild Professor of Political Science and IPR associate director. All are IPR fellows.
 Photo credit: Laura McDermott
Published: August 30, 2023.