IPR Sociologist Named Harry Frank Guggenheim Distinguished Scholar
Andrew Papachristos will explore how powerful politicians and warring street gangs shaped Chicago's concentrated violence
Get all our news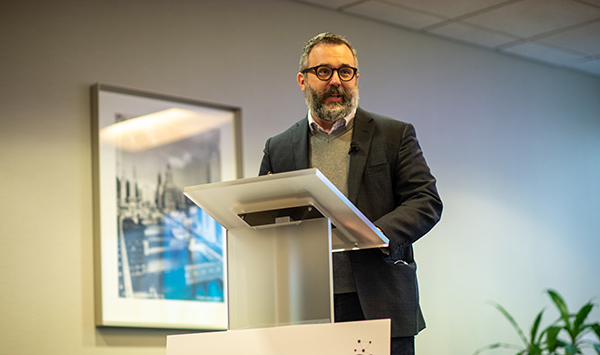 Andrew Papachristos welcomed guests to an N3 symposium on the science and
practice of street outreach in December.

The Harry Frank Guggenheim (HFG) Foundation named IPR sociologist Andrew Papachristos a 2022 HFG Distinguished Scholar on February 2. He is one of 12 internationally known scholars to receive the award this year.
A highly respected researcher who uses network science to examine gun violence, police misconduct, street gangs, and urban neighborhoods in American cities, Papachristos will use the one-year grant to work on his book manuscript, "Murder by Structure: How Street Gangs Built the Great American City."
"Andy's pathbreaking work using network science to improve neighborhoods has both pushed back the frontiers of knowledge in sociology and addressed core problems facing Chicago," said IPR Director and economist Diane Whitmore Schanzenbach, the Margaret Walker Alexander Professor of Human Development and Social Policy. "He is highly deserving of this prestigious award."
The HFG Foundation seeks to examine "enduring and urgent problems of violence, such as war, crime, and human aggression" through basic and applied research. It selects its distinguished scholars annually based on a competitive peer-review process.
"As always in our deliberations, the research projects funded in this round of our Distinguished Scholars competition were chosen for their exceptional potential to shed light on situations of serious violence," said Joel Wallman, the HFG Foundation's director of research.
The book manuscript, which is currently under contract with Oxford University Press, will examine how structures of power—over a century in the making—have shaped the concentration of violence in some of Chicago's poorest neighborhoods. Papachristos will trace how this enduring violence resulted from powerful city politicians' policies and planning on one hand—and on the other, white, Black, and Latino street gangs and their ensuing turf wars as well as clashes with police. 
"I'm deeply honored for this fellowship and the space it will afford me to complete this project," Papachristos said. "Many of the themes in this book—much of the violence that built our cities—are as relevant today as they were 100 years ago."
Papachristos, who came to Northwestern and IPR from Yale University in 2018, grew up in Chicago's Rogers Park neighborhood, the son of Greek immigrants. From the vantage point of his parents' neighborhood diner, he witnessed gang violence, crime, and policing first-hand at the height of the city's homicide epidemic in the 1990s.
A first-generation college student, he received his BS in criminology from Loyola University Chicago and PhD in sociology from the University of Chicago. He is the author or co-author of more than 50 peer-reviewed journal articles and founding faculty director of the Northwestern Neighborhood and Network Initiative, or N3.
Andrew Papachristos is professor of sociology and an IPR fellow. 

To find out more, please read the HFG press release and a conversation with Papachristos.

Photo credit: R. Hart
Published: February 3, 2022.