New Book Explores How Voters Relate to Candidates' Promises
Tabitha Bonilla shows what campaign promises signal to voters
Get all our news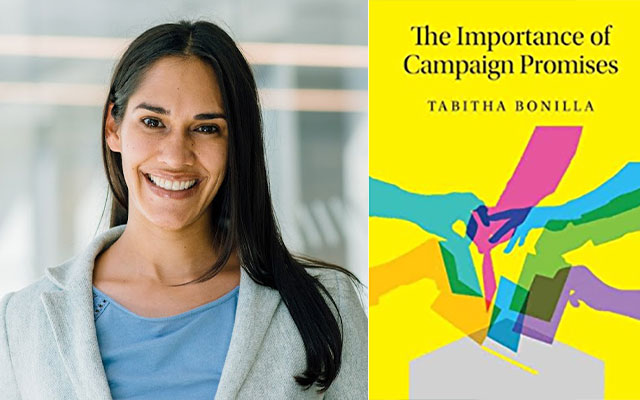 At the Republican National Convention in 1988, presidential candidate George H. W. Bush told fellow Republicans that he would not allow Congress to raise taxes, saying "Read my lips, no new taxes." It was an explicit promise during his campaign to indicate what Americans could expect if they voted for Bush as president. 
In her new book, The Importance of Campaign Promises (Cambridge University Press, 2022), IPR social policy expert Tabitha Bonilla examines what campaign promises like Bush's signal and how voters use promises to evaluate candidates. She finds that voters notice how committed candidates are to policy issues based on their language and hold candidates accountable for promises.
"I was really fascinated by what I felt were interesting nuances in the way that different candidates were talking about their policy issues," Bonilla said. "And I think it just made me really curious about how voters perceive these nuances."
Her book draws on historical presidential debates and a series of experimental surveys about gun control to assess voters' reactions to campaign promises. She details that not only do voters understand the difference between a general policy stance and a specific promise to take action, but also that voters judge candidates more harshly if they do not follow through on their promises. 
And she finds that promises can be polarizing. When voters agree with a candidate, they want a candidate to make promises, and when they disagree with a candidate, they prefer one who does not make promises.
Looking at presidential debates from 1960–2012, Bonilla shows that candidates' promises increased in 1992 and continued to rise over the next two decades. She speculates that candidates made more promises because cable news networks began airing debates to larger audiences and presidential candidates, such as Bill Clinton, turned to a more performative style of campaigning.
"There's probably a certain level of a showmanship and needing to be better for TV that is happening a little bit around this time," Bonilla suggests.
An analysis of the 2016 debates between then-presidential candidates Donald Trump and Hillary Clinton reveals that candidates make strategic choices about when to use promises, signaling which issues matter to them. Trump's promise to "build a wall" indicated a strong stance on immigration, while Clinton's promise to defend Roe v. Wade showed her commitment to women's reproductive health.
Bonilla says one of the book's major contributions is the use of experimental surveys about how voters respond to promises after they know whether they have been broken or kept. One interesting survey finding revealed that respondents still object to breaking a promise, even when it meant elected officials did something voters preferred.
This strong reaction is one drawback of the rise of campaign promises, Bonilla points out. If we think about democracy as a system that allows us to compromise, candidates' promises, which end up polarizing voters, could make it harder to reach a middle ground on issues.
"The reactive nature to promises is probably a concern," she explained.
Bonilla says her book emphasizes why scholars need to revisit our understanding of campaign promises and what we know about voters' attitudes toward them.
"The voters might interface and interact with them [promises] differently just because political times have changed," Bonilla said.
Tabitha Bonilla is an assistant professor of human development and social policy and an IPR fellow.
Image credits: Headshot by S. Drey; Book cover by Cambridge University Press
Published: February 2, 2022.