In the Last Year, 1 in 5 Adults Voted in a Local School Board Election
Top concerns when choosing a school board include school safety, COVID-19 vaccines, and mental health
Get all our news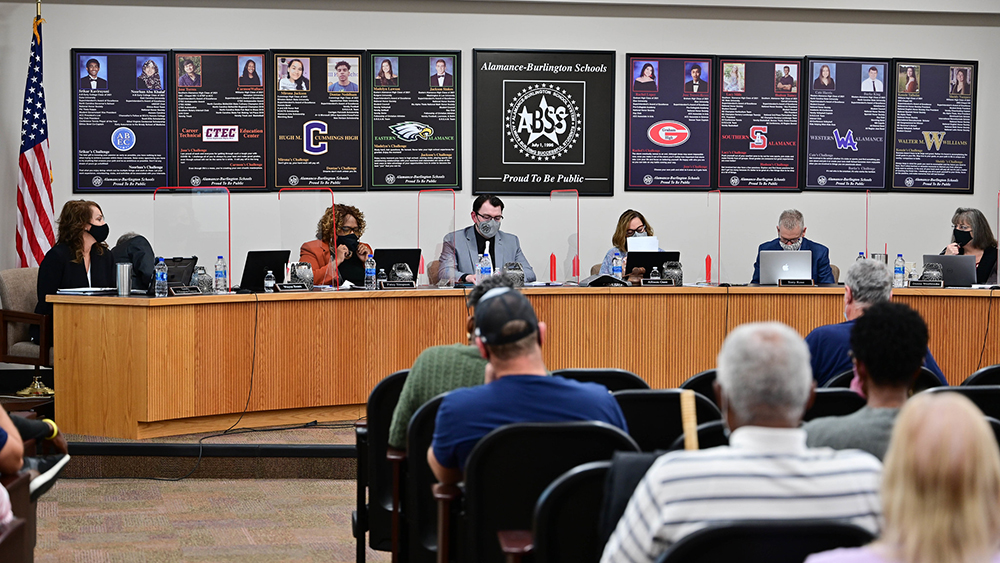 In October 2021, community members attend a school board meeting in Burlington, North Carolina.
Conflicts around COVID-19 restrictions and teaching critical race theory have increased attention on school board elections and meetings. Tense school board meetings over differences among community members led Attorney General Merrick Garland to direct federal authorities to monitor the growing threats to school board members in October.   
A new survey shows that 1 in 5 adults, or 22%, say they voted in a school board election over the last year.
Of those voters, 14% say school safety and COVID-19 vaccines were their top concerns when choosing their school board, followed by 8% who reported that students' mental health and requiring face masks were the most important issues. Voters cited in-person or online instruction (7%) and teaching about race/ racism (6%) as other important issues on their minds when they cast a ballot.
The national survey of 22,277 individuals, conducted between November 3­–December 2, by researchers from Northwestern, Harvard, Northeastern, and Rutgers, sheds light on who participates in school board elections and attends meetings and what issues matter to them.
"We generally know little about school board voters and so these results are intriguing," IPR political scientist James Druckman said, who co-authored the report. "Safety concerns trump CRT worries even though the latter seem to get much more media coverage."
Druckman co-leads the COVID States Project and is working on it with IPR graduate research assistants Jennifer Lin and Caroline Pippert.
The findings show respondents who voted in a school board election were more likely to be affiliated with either the Republican or Democratic party, college-educated, wealthier, and over 30 years old.
Along with those surveyed who voted in a school board election, 4% of respondents say they attended a school board meeting in the last six months. The majority who attended a school board meeting were Democrats or Democratic leaning (56%), had a child under 18 (71%), and were younger than 50 (79%).
Political affiliation, race, vaccination status, and age factored into which issues matter most to school board election voters.
Democrats (19%), those with COVID-19 vaccines (16%), and Americans over 30 years old (14­–16%) were most likely to report COVID-19 vaccine requirements as their top concern when voting for their school board.
Voters under 30 (14%) and Hispanic voters (12%) were more likely to say prioritizing mental health was their top issue compared to voters over 50 (4–5%) and non-Hispanic voters (6­–7%).
Black voters (12%) and Republican voters (8%) were more likely to rank teaching about race and racism as their top concern compared to 5% of White and Democratic voters.
Republicans (15%) and voters over the age of 65 (16%) were slightly more likely to list school safety as the issue they were most concerned about versus Democrats (13%) and voters younger than 65 years old (11–14%).
Read the report about participation in school board elections and meetings.
James Druckman is the Payson S. Wild Professor of Political Science and IPR associate director and fellow. Jennifer Lin and Caroline Pippert are IPR graduate research assistants and PhD students in political science.
Photo credit: Flickr; A. Crider 
Published: December 17, 2021.