Sally Nuamah Receives Recognition for Her Work on Education, Gender, and Race
Policy expert honored for her scholarship and work as a filmmaker and activist
Get all our news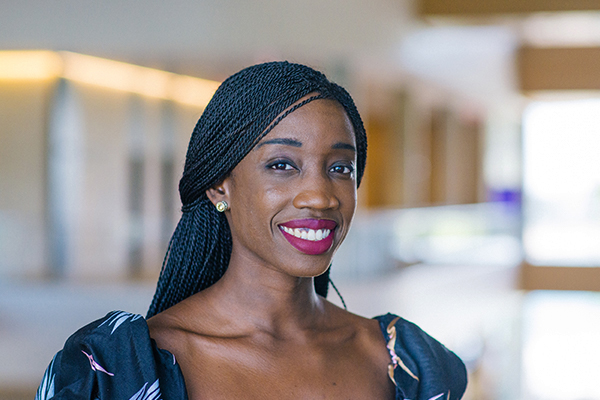 IPR social policy expert Sally Nuamah recently received two prestigious awards that recognize her contributions to research and activism in education, gender, and race this spring.
In April, Nuamah received the Jackie Kirk Award for her book How Girls Achieve from the Comparative and International Education Society (CIES). In May, the Urban Affairs Association (UAA) named her the 2021 Marilyn J. Gittell Activist Scholar.
"To receive awards for both my scholarship and community work is such an honor," Nuamah said. "I try not to take for granted the importance of working directly with the communities that I write about. These are all communities similar to where I grew up."
Gittell was a scholar and community activist who wrote about citizen participation, and she was the founding editor of Urban Affairs Quarterly, which is now Urban Affairs Review. The award recognizes field-based work in urban areas and promotes research by a scholar who connects activism, scholarship, and community engagement, as Gittell did in her work.
The awards committee spotlighted Nuamah's work with communities across Ghana and the United States and her portfolio of "scholarship, advocacy, and film-making."
"Her commitment to improving the lives of Black girls and women includes illuminating educational inequities in punishment and abuse, and lifting up the potential for schools to support girls' achievement and ultimately their participation in democracy," the UAA awards committee stated.
Nuamah, a first generation Ghanaian-American, and Chicago native, started her work with girls from low-income backgrounds in Ghana in 2009, and produced a film about girls becoming the first females in their families to go to college.
The film, HerStory, (distributed by Discovery Channel Education) encompasses five years of Nuamah's research, and the screenings help fund her foundation, TWII Foundation. The foundation provides scholarships to girls from Ghana and helps them earn their college degrees. Thirty-one Ghanaian girls have graduated from college with the foundation's help.
"It is important to me that my actions not only reveal disparities but also address them," Nuamah said. "I wish for actual improvement in the material conditions of marginalized people, and my work is just one small part of enabling this to happen."
CIES selected How Girls Achieve (2019, Harvard University Press) as the winner of the 2021 Jackie Kirk Outstanding Book Award. Kirk was an activist and CIES member, and the award celebrates scholarly contributions in gender identity and education in zones of conflict, two of Kirk's key areas of commitment.
In Nuamah's book, she proposes developing "feminist schools" that intentionally educate girls to challenge society's norms and provide them with achievement-oriented identities based on her research in the United States, Ghana, and South Africa. The Kirk Award is Nuamah's third major recognition for her book.
Nuamah's dissertation, and now forthcoming book, investigates the impacts of mass school closures on the democratic participation of low-income Black communities in Chicago and Philadelphia. Expert testimony from her research was used in 2018 to stop the closure of the National Teacher's Academy (NTA)—a predominantly Black school in Chicago's South Loop neighborhood.
Sally Nuamah is an assistant professor of human development and social policy and an IPR fellow.
Photo credit: S. Drey
Published: June 15, 2021.