Northwestern Undergraduates Experience the 'Nuts and Bolts of Day-to-Day' Research
Over 40 undergraduates worked on policy-relevant research with IPR faculty this summer
Get all our news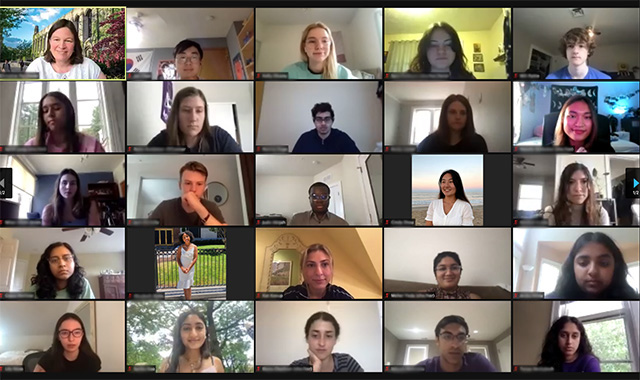 When sophomore Elisabeth Betts applied to IPR's Summer Undergraduate Research Assistants (SURA) program in early 2021, she was a first-year student intrigued by doing research, but without much research experience. She also wondered if her majors–journalism and political science–were a good fit for the program and if SURA could shed light on what it might be like to do an honors thesis.
Fast forward to the end of the summer, and it turns out that SURA was a good match.
"I saw this as a way to engage in research and see if the thesis is something I want to do," she said of her research assistantship with IPR education sociologist Simone Ispa-Landa.
Betts says now she not only plans to pursue an honors thesis, but she also learned about how social science research can have a policy impact and help people face pressing societal issues. With Ispa-Landa, she worked on a project evaluating racial discrepancies in disciplinary actions toward high school students.
"I identify with that a lot because I have my own experiences with that," Betts said. "To see a professor doing research on that topic was a pivotal moment."
The SURA program began in 1998, under former IPR Director Fay Lomax Cook. It is one of the Northwestern's longest-running undergraduate research programs.
Betts was one of 40 students working alongside IPR faculty from different disciplines to gain first-hand experience conducting social science research and learning how research influences policies to address critical societal issues.
For many students like Betts, this may be their first exposure to social science research. To help students ease into their summer projects, IPR social demographer Christine Percheski held a training in campus research resources and best practices for being a research assistant during their first week. Then, the students dove into their research projects with IPR faculty.
"Our students get an incredible opportunity to participate in cutting-edge, policy-relevant research, and we as faculty benefit from their enthusiasm, hard work, and fresh-eyed perspectives," Percheski said. "It's a win-win program!"
Thanks to generous sponsorship from corporate director and former healthcare executive Terry Bayer (Communication '72), the program was able to offer two additional positions this year, held by Joe Choi and Betts.
Choi is a rising junior studying neuroscience who wants to go to medical school. He worked with epidemiologist and IPR associate Gregory Phillips II.
One project focused on identifying the impacts of COVID-19 on young sexual and gender minorities (SGM), and the other focused on analyzing data from the Centers for Disease Control and Prevention (CDC) to identify health disparities. Additionally, he helped identify different strategies for recruiting participants, learned how to clean quantitative data, and ran reports.
"I learned a lot about how the research process works, so how does an idea or a research question develop," Choi said. "On the larger level, I learned about how public health operates and how research and academia support public health." 
In addition to learning skills for her honors thesis, Betts said this experience working with qualitative data helped her become a better journalist and interviewer.
"I learned how to be more attentive to the interviewee and what they were saying, and I wasn't just trying to get through the questions," Betts said.
For faculty, the experience is equally rewarding. Phillips, who mentored Choi, said the program allows him to connect with students who are interested in public health and social sciences.
"I also enjoy interacting with students from different disciplines and seeing what different viewpoints they bring to our work," Phillips said.
Ispa-Landa said it was exciting to train and mentor undergraduate students like Betts and Emma Stein who do not usually have the opportunity to conduct research.
"It's fun to bring someone into the nuts and bolts of the day-to-day part of our research," Ispa-Landa said.
For more information on the program or to find out more about IPR's 2021 summer undergraduate research assistants, read their bios or the blog. For students interested in applying for SURA in summer 2022, please check IPR's website in January for application instructions.
Simone Ispa-Landa is associate professor of human development and social policy. Fay Lomax Cook is professor emerita of human development and social policy and served as IPR director from 1996–2012. Christine Percheski is associate professor of sociology. Gregory Phillips II is assistant professor of medical social sciences and preventive medicine (epidemiology). All are IPR faculty members.

Published: November 17, 2021.