Study Finds COVID-19 Antibody Response Falls Two Months After Second Shot
IPR biological anthropologist finds that prior exposure to COVID-19 does not guarantee a high level of antibodies
Get all our news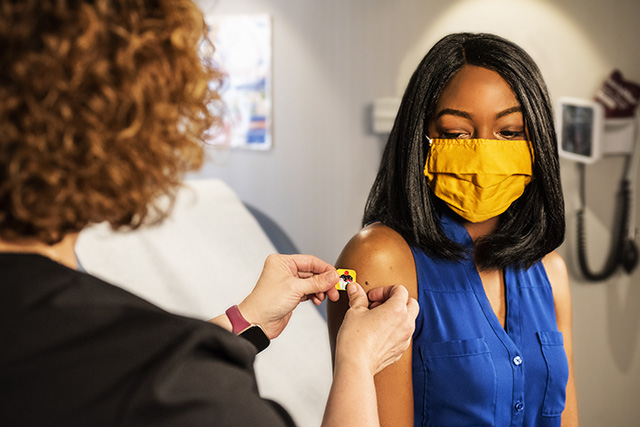 How long do the immunity benefits of Pfizer and Moderna vaccines last? A new study by IPR researchers biological anthropologist Thomas McDade, postdoctoral fellow Amelia Sancilio, and professor of medical social sciences Brian Mustanski finds that it may fall as soon as two months after an individual's second dose of the Pfizer and Moderna vaccines.
Among individuals with clinically confirmed cases of SARS-CoV-2—the virus that causes coronavirus disease 2019 (COVID-19)—the study shows antibody response fell 20% two months after their second dose.
The study also reveals that those with clinically confirmed cases of COVID-19 and several symptoms had a higher level of antibodies than individuals who tested positive but had mild symptoms or were asymptomatic. Prior research by McDade, Mustanski, and Sancilio shows most cases in the community are mild and asymptomatic, which do not generate high levels of protective immunity.
"Our study shows that prior exposure to SARS-CoV-2 does not guarantee a high level of antibodies, nor does it guarantee a robust antibody response to the first vaccine dose," McDade said.
At the beginning of the pandemic, McDade and his colleagues developed at-home antibody testing kits, allowing people to share blood samples. For this study, the researchers tested blood samples from individuals who were participating in a community-based sample of Chicago-area adults. The participants submitted blood samples two to three weeks after their first and second vaccine doses and two months after the second dose.
"When we tested blood samples from participants collected about three weeks after their second vaccine dose, the average level of inhibition was 98%, indicating a very high level of neutralizing antibodies," McDade said.
This study highlights why two doses of the Pfizer and Moderna vaccines are more effective than one dose, even for individuals who previously had cases of the virus.
Additionally, the study examines how effectively the vaccines work on emerging variants B.1.1351 (South Africa), B.1.1.7 (UK), and P.1 (Brazil). The results show that the antibody response to viral variants was significantly lower, between 67% and 92%.
McDade and his colleagues conducted the study before the emergence of the delta virus, but he notes similar results.
"As far as protection goes after vaccination, the story is the same for all the variants, including delta," he said. "The vaccine provides good protection, but not as good protection as the original version of the virus for which the vaccine was designed. Combine that with the fact that immunity wanes over time, you get increased vulnerability to breakthrough infection." 
Read more about the findings here.
Alexis Demonbreun, Richard D'Aquila, and Elizabeth McNally are coauthors of the study. All are faculty at Northwestern University's Feinberg School of Medicine.
Thomas McDade is the Carlos Montezuma Professor of Anthropology and an IPR fellow. Amelia Sancilio is an IPR postdoctoral fellow. Brian Mustanski is a professor of medical social sciences and psychiatry and behavioral sciences, director of the Institute for Sexual and Gender Minority Health and Wellbeing, and an IPR associate.
Photo credit: Unsplash; CDC
Published: August 30, 2021.