Public Trust and Americans' Willingness to Vaccinate for COVID-19
Survey shows that a desire to vaccinate depends on trust in leaders and institutions
Get all our news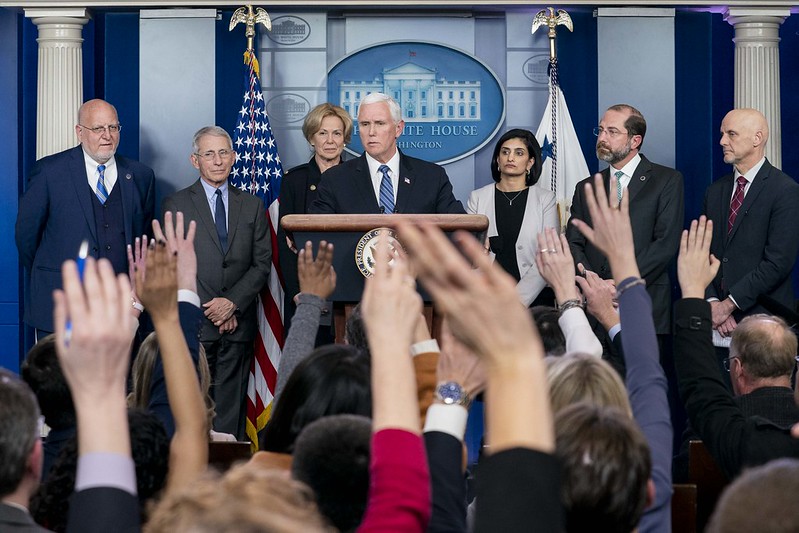 The White House Task Force takes questions from reporters early on the pandemic in March 2020. 
How much do Americans trust politicians, organizations, and others to "do the right thing to best handle the current coronavirus (COVID-19) outbreak?"
That is a key question of the latest survey of more than 21,000 individuals between August 7 and 26.
The results show that public trust for 15 government institutions and leaders' ability to manage the pandemic gradually eroded between late April and August. Four institutions—state government (68%), Congress (42%), the White House (46%), and police (65%)—have seen double-digit declines of between 12 and 13 points in trust since the spring. That said, trust levels for most others like banks and media have stabilized since late July.
"These are concerning trends that people's trust in the institutions charged with managing the pandemic and societal tensions are moving in the wrong direction," said  IPR political scientist James Druckman, who is part of a university consortium between Northwestern, Harvard, Northeastern, and Rutgers conducting the survey.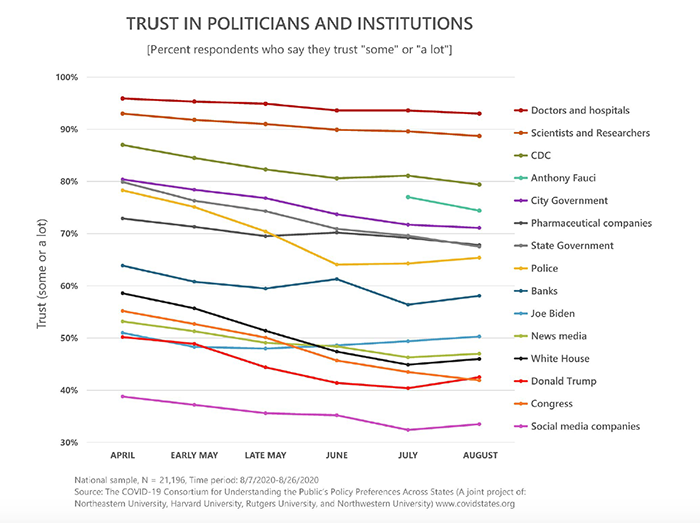 Trust in President Trump's management of COVID-19 crisis declined from 50% in late April to 43% in August, though it has slightly increased by 2 points since July. Democratic presidential candidate Joe Biden saw the smallest decline in trust with only a 1-point drop to 50%.
The erosion of trust has implications for whether or not Americans intend to take a COVID-19 vaccine when it's available. Just under 6 in 10 people surveyed (59%) said they would get a COVID-19 vaccination, a 7-point decline from late July (66%). 
The differences in who intends to vaccinate are closely related to trust in institutions and leaders. People who said they trusted President Trump had the lowest intention of seeking a COVID-19 vaccination. On the other side, those who either trusted the media (70%) or social media platforms (68%), and 68% of those who expressed trust in Dr. Anthony Fauci, director of the National Institute of Allergy and Infectious Diseases, said they would vaccinate.
Public trust in institutions also varies by political party and race. While there was a downward trend in trust from April to July among Democrats, Republicans, and Independents for the White House and President Trump, Republicans' and Independents' trust of both institutions remained fairly stable from July to August. Notably, Democrats had a 10-point higher level of trust in the White House (24%) than in the president (14%).
This trust, however, does not necessarily align with acceptance of a vaccine, suggesting that partisanship and trust are not entirely interchangeable. Independents were least likely to seek the COVID-19 vaccine or to have received a flu shot this year—especially those who trusted President Trump's management of the pandemic. For Republicans, more than Democrats, trusting their party's candidate is also associated with a lower probability of a willingness to get vaccinated.
Across racial groups, levels of trust in institutions remained stable—with exceptions for President Trump, the Democratic presidential candidate Joe Biden, police, and the White House. Black respondents had the lowest levels of trust in the president (17%), the White House (27%), and police (42%) compared to White respondents who had the highest levels of trust (51%, 52%, and 72% respectively) for these institutions. When it comes to Biden the reverse is true—he had the highest level of trust among Black respondents (71%) and the lowest among White respondents (44%).
"The persistence of these racial gaps–even if they are not growing–highlight that race will play a crucial role in the November election. It also highlights the extremely different societal experiences and expectations across racial groups," said Druckman.
Earlier survey results released in August suggested racial differences in Americans' willingness to vaccinate. While 67% of White, 71% of Hispanic, and 77% of Asian American respondents said they were likely to vaccinate, just 52% of African American respondents said the same.
Additional survey findings:
Scientists and medical experts have the highest levels of public trust of any institution, which have remained high (over 85%) from April through August.
Since April, trust in states' and city governments' handling of the pandemic has steadily declined across all three political groups. Democrats hold the highest levels of trust in state government.
Republicans (83%) express far higher levels of trust in the police for their handling of COVID-19 than Democrats (57%) or Independents (60%) in August.
In states, the willingness to get a COVID-19 vaccination ranges from a low of 43% in Mississippi to a high of 71% in Washington.
Also, at the state level, higher levels of trust in President Trump are a powerful predictor of lower rates of vaccine acceptance.
James Druckman is Payson S. Wild Professor of Political Science and IPR Associate Director and fellow. Previous surveys can be found here.
Photo credit: Flickr, White House photographer A. Hanks
Published: September 15, 2020.