IPR Experts Discuss Diversity in Developmental Science
Three psychologists examine issues of racial identity and bias in their field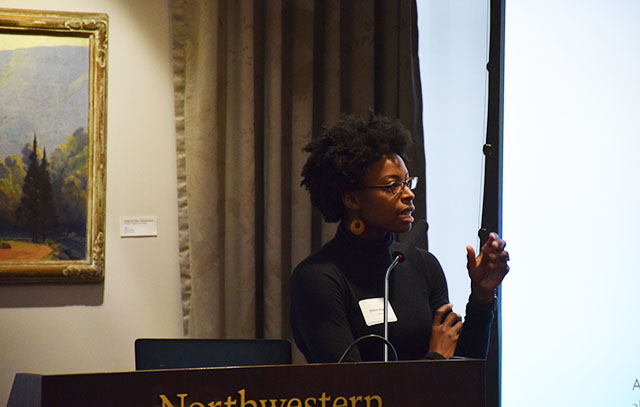 IPR fellow Onnie Rogers presenting at a forum held by Northwestern's Institute for Innovations in Developmental Sciences (DevSci).

Three IPR fellows spoke at a university-wide March forum on diversity-related issues in developmental science, presenting their own research and new frameworks on topics including children's social awareness of racial issues and racial disparities in school expulsions.
IPR developmental psychologist Onnie Rogers focused on how children perceive their own racial identity as they grow, pointing out that they form distinct impressions regardless of whether parents, frequently hesitant to do so, talk with them candidly about race.

Rogers pointed to a recent study in which she interviewed children about how they perceive their own racial identity, finding that they see race the least important aspect — but possibly because they perceive the act of talking about race itself as racist.

"There's a 'colorblind' narrative, where everyone's the same and you can't talk about race, because it's not 'right,'" Rogers said. "Children are very clear about [what they perceive as] what's appropriate and what's not."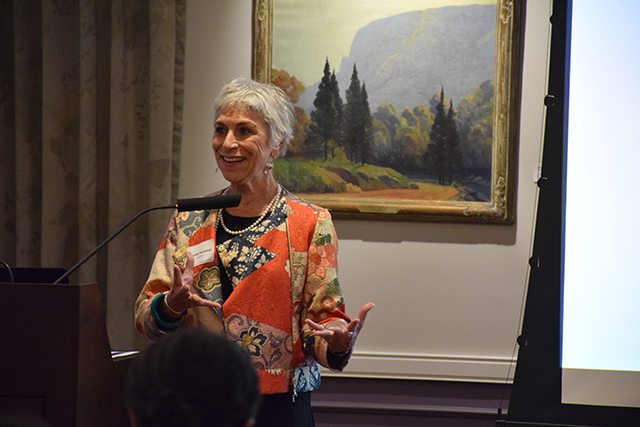 IPR psychologist Sandra Waxman also spoke about children's sensitivity to ideas of bias, specifically bias at the intersection of race and gender. She pointed to recent research she conducted with Rogers and two other co-authors, showing how children form categories, or groups, in their mind, and what those categorizations lead them to infer about the people they contain.

"Nature and nurture go hand in hand in constructing knowledge, and constructing a sense of yourself and your identity," Waxman said. "Finding out, for example, that Pat is a woman, or Fred is an African-American, shapes and colors the kinds of inferences and expectations about behaviors, intuitions, identity and attitude that you may have about that individual," Waxman said.

IPR developmental psychologist Terri Sabol discussed her research on expulsion practices in preschools, telling the audience that not only does the surprising-sounding practice occur somewhat frequently, it also mirrors the racial disparities present in expulsions for older children.

She said that in preschool, black children are three times more likely to be suspended or expelled than white children, and although some states like Illinois have recently ended the practice, the bias that produced such outcomes still remains.
"Even with bans on Pre-K expulsion, our study finds that there are still disparities in micro-level classroom processes, which in turn are harmful for children in the long term," Sabol said.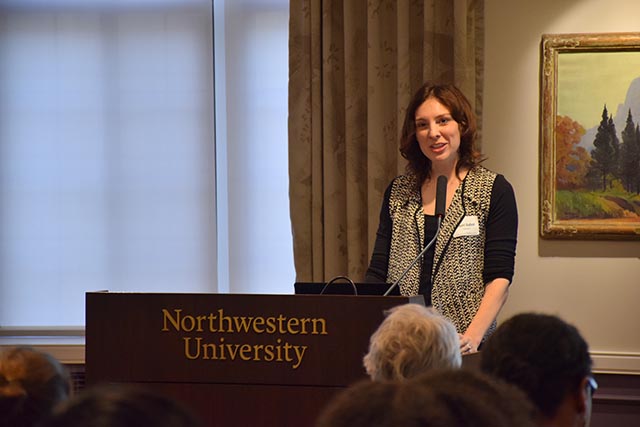 Sabol highlighted the policy implications of her research, pointing to a 2018 decision where the Department of Education considered limiting the government's ability to investigate racial disparities in discipline. Sabol said researchers in her field are at "a critical point in exploring how developmental science can impact public policy."

Waxman said in her remarks at the forum held by Northwestern's Institute for Innovations in Developmental Sciences (DevSci) that the public-facing implications of such research make it paramount that the field reflects the diversity that it studies.

Waxman described how researchers know that social biases are shaped by experience, for better or worse, so it is crucial to widen development work to include more diverse groups of children. She added that the biases expressed in one group may differ considerably from the biases expressed in others, saying  "We can't talk about the capacities of the human mind, and how they're shaped by culture and language and relationships, unless we broaden the playing field."

Onnie Rogers is Assistant Professor of Psychology and of Education and Social Policy (by courtesy) and an IPR Fellow. Sandra Waxman is Louis W. Menk Chair in Psychology, Professor of Cognitive Psychology, and an IPR Fellow. Terri Sabol is Assistant Professor of Human Development and Social Policy and an IPR Fellow.
Published: April 2, 2020.