Celeste Watkins-Hayes Examines the Process of 'Dying From' to 'Living With' HIV/AIDS in Her New Book
Celeste Watkins-Hayes Examines the Process of 'Dying From' to 'Living With' HIV/AIDS in Her New Book
'Remaking a Life' draws upon the personal stories of more than 100 women living with HIV/AIDS in Chicago
Get all our news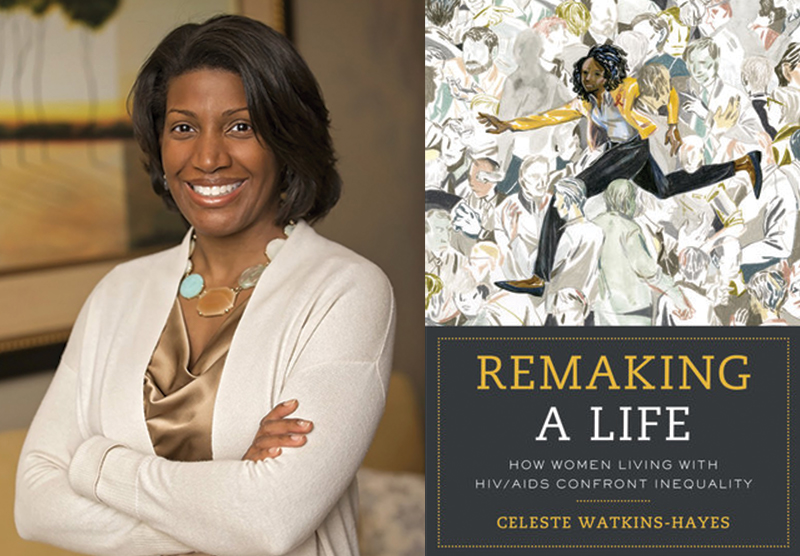 IPR sociologist and African American studies researcher Celeste Watkins-Hayes looks at more than 100 women living with HIV/AIDS in her new book.  
"If it weren't for HIV, I'd probably be dead." This is the first line in a new book by IPR sociologist and African American studies researcher Celeste Watkins-Hayes, Remaking a Life: How Women Living with HIV/AIDS Confront Inequality (University of California Press, August 2019), in which she draws upon the personal stories of more than 100 women living with HIV/AIDS in Chicago, as well as female AIDS activists and advocates from across the nation.
"Talking with women living with HIV/AIDS for more than a decade, I heard many stories about trauma and struggle, perhaps not surprising given the devastation wrought by the epidemic and the dynamics that fuel it," said Watkins-Hayes, professor of sociology and African American studies in the Weinberg College of Arts and Sciences at Northwestern.
"But I also heard stories of transformation. Women in my research talked about following a trajectory that began with 'dying from' HIV/AIDS and took them to 'living with' and even 'thriving despite' HIV. I became deeply curious as more and more women's stories followed this pattern."
Many of the women she chronicles were dealing with obstacles before their diagnoses—poverty, drug addiction, homelessness, sex work and a lack of social services, all of which make the transmission of HIV more likely.
"My book does not downplay or romanticize the devastation of the epidemic or the other struggles women are facing," said Watkins-Hayes. "Rather, it's about how women take those circumstances and reinvent themselves. And in the process, they develop new tools and strategies to cope with and confront what I call the 'injuries of inequality.'
"Women are able to do this through the assistance of a strong HIV safety net that provides critical support. What women were saying is that were it not for the support of the HIV community—and the public policies and institutions produced through its activism—they would probably be dead. My book also grapples with the problematic irony that it took an HIV diagnosis to get access to the support that they needed all along. That suggests that our country's safety net is horribly tattered."
She spoke with women of significant financial resources, who, according to Watkins-Hayes, never imagined that their lives would take this turn. She also spoke to women who have been economically and socially marginalized all of their lives—who told her that the HIV diagnosis was not the worst thing that's ever happened to them.
"The women who probably intrigued me the most were those who had such radical life changes that it was as though they had two lives," Watkins-Hayes said. "I'm thinking of HIV/AIDS activist Gina Brown who describes her history of childhood sexual trauma, drug addiction and living on the streets of New Orleans. Gina is now one of the most inspiring and effective HIV/AIDS activists in the country. She is a community organizer, earned a master's degree in social work and served on the President's Advisory Council on HIV/AIDS during the Obama administration. In the HIV/AIDS community, Gina and many others found an unexpected place to create their lives anew."
Watkins-Hayes said the extraordinary conversion of HIV/AIDS from an inevitable death sentence to a manageable chronic illness in well-resourced countries like the United States is one of the most noteworthy medical achievements of the past 35 years—as well as a significant social achievement.
"This mobilization of these activists brought about an extensive HIV/AIDS safety net offering four vital things: access to healthcare, modest economic assistance, extensive social support and a path to political and civic engagement," she explained. 
Watkins-Hayes' hope is that ending the HIV/AIDS epidemic will continue to have bipartisan support.
"Republican and Democratic presidents have made important contributions to the HIV safety net in the U.S. and abroad," she said. "That doesn't mean that politicians haven't put their own ideological spin on HIV/AIDS policy, sometimes in ways that were contrary to the scientific evidence. But my hope is that this issue continues to have bipartisan support focused on ending the epidemic, and that we can think of the lessons that the HIV safety net teaches us for our broader healthcare system."
Celeste Watkins-Hayes is professor of sociology and African American studies, associate vice president for research, and an IPR fellow. 
This article was written by Hilary Hurd Anyaso and originally published on Northwestern Now.
Published: July 11, 2019.