Improving Academic Achievement
Improving Academic Achievement
The Role of Social-Emotional Development in Students' Lives
Certain characteristics and skills help young people do well in life, research shows, such as being hardworking, understanding, and flexible. High schools encourage these mindsets, habits, and competencies, called social-emotional development, but can its impact be measured? In a study published in Education Next, IPR labor economist Kirabo Jackson, IPR graduate research assistant Sebastián Kiguel, and their colleagues create value-added measures of social-emotional development similar to value-added test score measures to see the impact on short- and long-term student outcomes. They examine surveys of social-emotional development given to Chicago Public School students in combination with administrative and test-score data, focusing on over 55,500 students who were in ninth grade in 2011–17. Outcomes they consider include absences, disciplinary infractions and school-connected arrests, course credits, and freshman grades, as well as graduating from high school and enrolling in college in the longer term. The researchers determine that schools that are better at developing students' social-emotional learning tend to do so in one of two ways—either by promoting social well-being, which improves student attendance and behavior, or by boosting work habits, which increases academic performance. They find that school improvement of students' social-emotional growth has a greater effect on students' outcomes than schools raising students' test scores. The authors conclude the next step is to understand which school practices are working and what policies are needed to implement them widely. A related study appears in the American Economic Review: Insights. Jackson is the Abraham Harris Professor of Education and Social Policy.


The Effects of Positive Versus Negative Reflections on Adolescent Academic Achievement
Research shows that reflecting on and writing about negative experiences can help develop resilience, but few studies explore the benefits of reflecting on positive events. In the Journal of Applied Social Psychology, IPR social psychologist Mesmin Destin and Brady Jones (PhD 2015) investigate whether reflecting on and writing about positive or negative life events improved student outcomes throughout the school year. They conducted a randomized controlled trial of 350 ninth-grade students in three schools of mostly students from low-income backgrounds and students of color. In their English class, they were asked by an outside instructor to participate in a reflection and writing activity about either a general life event, a failure, or a success. Students then worked with the instructor to include narrative themes, such as resilience, that research shows can give benefits to adolescents. The researchers also collected data about the students' absences, detentions, behavior at school, and grades. They find that students who focused on an experience of success became less likely to be absent and receive detention, and they achieved a higher grade point average. Many students who focused on a general life event ended up sharing positive experiences, and they also benefited in the same ways as the students who were asked to reflect and write about a positive event. The results suggest the value of narrative in shaping life outcomes and that teachers should incorporate opportunities for positive expressive writing activities.
How Educators can Encourage Academic Achievement and College Completion
How students think about themselves in the future can be a motivating factor for higher academic achievement, yet it has been understudied at less selective colleges and online institutions. In Frontiers in Education, IPR social psychologist Mesmin Destin and his colleagues identify whether psychological support, grounded in appealing to people's identities, can improve students' academic performance and motivate them to stay in college. The researchers focused on an understudied body of institutions—online colleges and universities—using two studies. In the first study, out of a group of 1,042 students enrolled in an online math class, 429 were given the opportunity to reflect about their futures as potential college graduates. All the students later completed a survey, and the researchers collected final course outcomes. The second study used the same strategy. However, the researchers sampled 2,515 students across several introductory courses and included surveys at multiple time points. The results of the studies showed that having the opportunity to meaningfully reflect about the significance of graduating college improved grades and persistence in college the next semester. The findings indicate that encouraging college students to intentionally imagine their future selves can support student motivation and success.
Educators' Beliefs About Students' Socioeconomic Backgrounds
How students view their own socioeconomic (SES) backgrounds plays a role in their wellbeing and ability to achieve. In Personality and Social Psychology Bulletin, IPR social development psychologist Mesmin Destin and his colleagues investigate how educators' background-specific strengths beliefs, or how their belief about what strengths students have based on their upbringing, influence the motivation and academic persistence of students from lower SES backgrounds. In the first study, 125 educators participated in a learning session emphasizing attention to the unique strengths of students from lower SES backgrounds, with some completing a survey about students before the session and others taking it after. In the second study, 256 high school and university students rated how much they believed their teachers saw their backgrounds as assets to their success, the extent to which they saw their own background as an asset, and their motivation to persist during difficult academic tasks. In the third study, 276 university students were asked to engage with a professor's lecture, with half of the participants randomly assigned to read a lecture recognizing the unique strengths of students from marginalized backgrounds. Then, students completed measures of their school motivation and persistence. The first study showed that teachers' beliefs about lower SES students were more positive after the session. Together, the second and third studies revealed that students' perceptions of educators' strengths-based beliefs about their backgrounds led students to have more positive beliefs about their own backgrounds. The results demonstrate that the educators' beliefs about students' backgrounds are malleable, and exposure to teachers who communicate positive beliefs about background-specific strengths affects the motivation and academic persistence of students, particularly from lower SES backgrounds.
Humanizing Student-Teacher Relationship for Black Students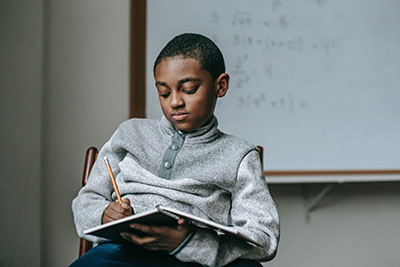 A growing number of urban education scholars note the ways that U.S. education is dehumanizing for Black youth. In Urban Education, IPR developmental psychologist Onnie Rogers and her colleagues consider teachers' ability to develop relationships with students that acknowledge and actively confront the dehumanization of Black students. Decades of research underscore the importance of the student-teacher relationship for developing student learning, and yet, research also shows Black students too often report negative relationships with teachers. The researchers point to transformative social emotional learning (TSEL) as a promising pathway for teachers to promote genuine human connection with students. They recommend teachers receive training in the five social and emotional learning (SEL) competencies: self-awareness, self-management, social awareness, relationship skills, and responsible decision-making. This includes trainings focused on racism and oppression, racial bias, and learning to regulate emotional reactions and perceptions in the classroom, which may be racially motivated. They also encourage training teachers to recognize how racialized perceptions and emotions can shape their curriculum and discipline decisions, as well as how to build caring and genuine connections with students. Along with many other educators and psychologists, the researchers argue that SEL has the potential to improve the experiences of Black students in schools and that the relationships teachers build are a necessary lever in this process. 
Race, Stress, and Academic Outcomes
How do racial stressors affect sleep and academic outcomes among teenagers? With funding from the Spencer Foundation, IPR development psychobiologist Emma Adam, IPR social psychologist Mesmin Destin, and Adriana Umaña-Taylor of Harvard University are following 300 students at a large, racially and ethnically diverse high school. The researchers are specifically measuring the levels of the stress hormone cortisol, as well as sleep length and quality. They will also assign students to different interventions: One group will participate in an eight-week program that promotes developing a positive self-image related to culture, heritage, and race. Another group will receive eight weekly sessions on college and career planning. Adam, Destin, and Umaña-Taylor plan to examine the impact of the programs on stress biology and sleep, student well-being, and academic outcomes, such as grades and high school graduation rates. The study is funded by the Spencer Foundation. Adam is the Edwina S. Tarry Professor of Human Development and Social Policy.
How Incarceration Affects Child Educational Outcomes
Mass incarceration affects not only those placed into the prison system, but their families and communities — especially children whose parents are incarcerated. In a study published in Social Science Research, sociologist, legal scholar, and IPR associate John Hagan, Texas A&M's Holly Foster, and California State University, Long Beach's Chantrey Murphy study how the incarceration of fathers affects their children's educational attainment. Hagan and his co-authors model data from the National Longitudinal Study of Adolescent to Adult Heath (Add Health) combined with state-level government agency data, state population census data, and survey data collected from state correctional facilities, in an effort to characterize how state-level incarceration patterns affect national outcomes. They find that children of incarcerated fathers in states with higher paternal incarceration rates, as well as higher rates of concentrated economic disadvantage, are less than a quarter as likely to graduate from college as other children. The study also considers states' welfare and education institutions designed to help disadvantaged children in general, finding that policies that would seem to promote equity between children with and without incarcerated fathers don't accomplish as much as expected. They say this implies that policies may need to be more directly targeted toward those children and the challenges they face. Hagan is the John D. MacArthur Professor of Sociology and Law.
Encouraging Students to Link Educational Goals to Social Connections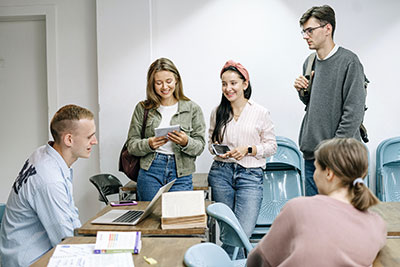 People tend to value their social connections with friends and family, but schools often conceptualize academic goals and success as separate from important relationships, missing out on a strong route to support student engagement and motivation. In the Journal of Adolescence, IPR psychologist Mesmin Destin and his colleagues test whether an opportunity guiding students to connect their educational aspirations to valued relationships improves academic experiences and outcomes. The researchers used a randomized-controlled experiment and split 39 ninth-grade students into two programs. Both received the same content, but the students in the "healthy achievement" program also explored the importance of linking their social support, such as teachers, family, and friends, to their achievement and success. Participants were invited 16–18 months after the program to complete five daily surveys via text message asking them about their experiences with academic difficulty. The results reveal that students in the "healthy achievement" group reported more productive responses to academic challenges and were more likely to reach out for support with their schoolwork. Additionally, a greater sense of support was associated with earning higher grades. The results suggest that educators can sustain student engagement and learning by helping adolescents connect their schoolwork and achievement to meaningful social relationships.