Twitter Use Dips After Elon Musk's Takeover, Largely Driven by Democrats' Departure
Democrats are significantly more likely than Republicans to distrust Musk
Get all our news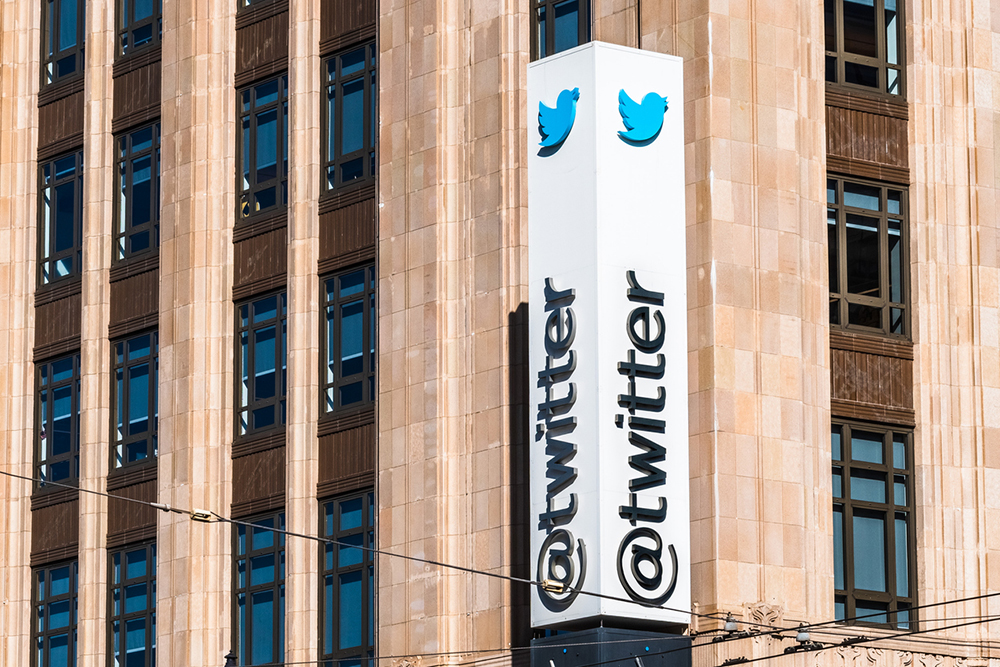 Twitter's headquarters in downtown San Francisco.
Since Elon Musk bought Twitter in October, the platform has experienced several tumultuous months under his leadership. His controversial decisions to lay off a significant portion of the workforce, temporarily suspend several journalists' accounts, and restore previously banned accounts has roiled Twitter.
A national survey conducted before and after Musk's takeover of Twitter shows that its use dipped from around 32% of Americans in October to 30% in December and January. The decrease was largely driven by Democrats who left the platform, with 38% reporting they used it before Musk bought Twitter but only 33% reporting that they used it after he bought it. Use by Republicans and Independents declined slightly after Musk became CEO, but not significantly.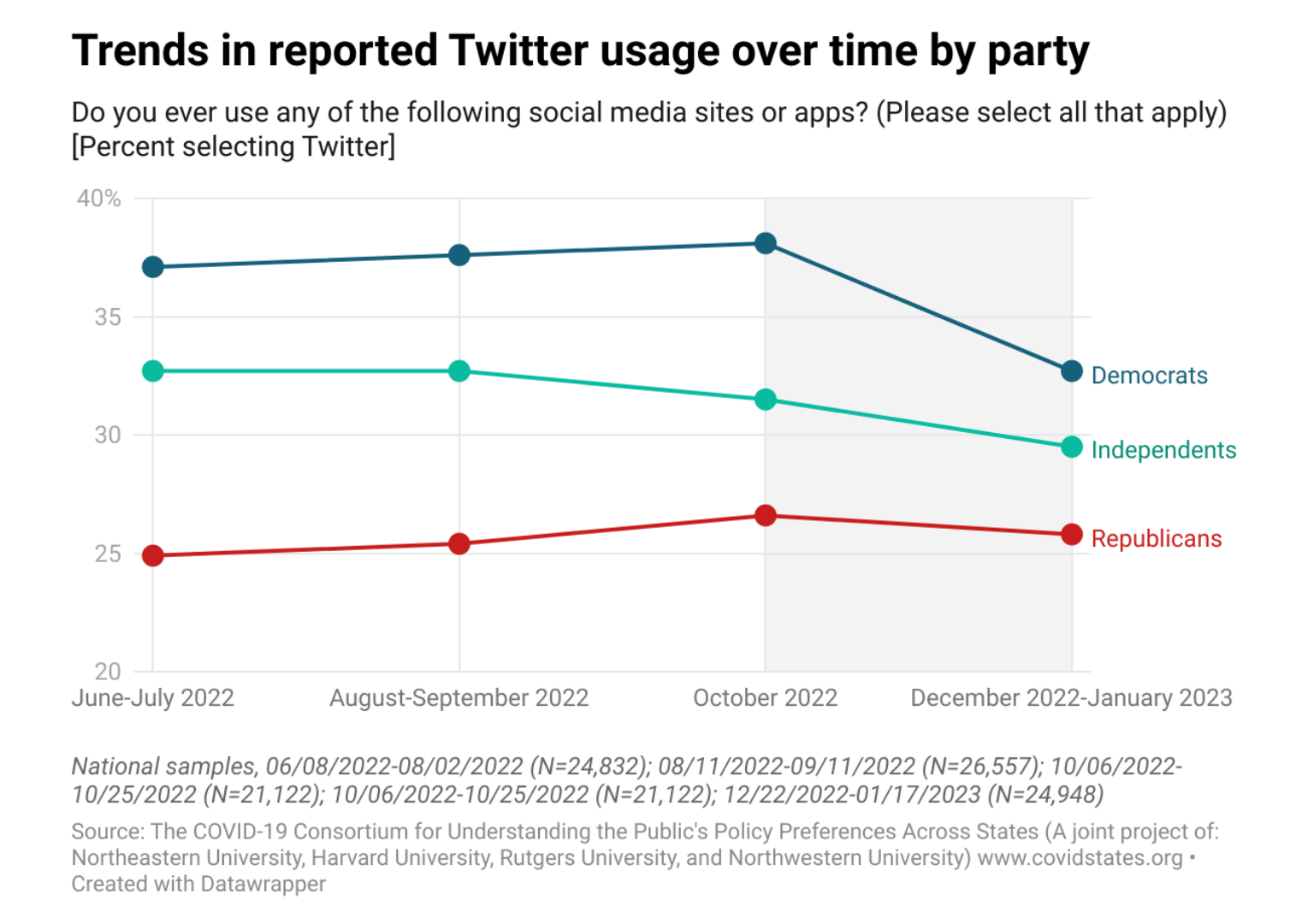 Between June and October 2022, a team of researchers from Northwestern, Harvard, Rutgers, and Northeastern universities conducted three surveys of more than 21,000 American adults about how they use and perceive Twitter. Following Musk's acquisition at the end of October, they launched a fourth survey between December 2022 and January 2023, asking nearly 25,000 Americans the same questions to track changes in attitudes.
"It is not surprising that Democrats see Elon Musk and Twitter as untrustworthy," Northwestern PhD student Jonathan Schulman said, who led the report. "But it is especially noteworthy that this distrust in Twitter and Musk was strong enough to actually drive a significant number of Democrats off the app."
The survey also showed partisan differences in Americans' trust of Musk. Most Democrats surveyed, or 76%, reported that they did not trust Musk and Twitter to do "what is right," compared with 47% of Republicans. Independents were also less trusting of Musk, with 67% saying they did not trust him "at all" or "not much."
Before Musk bought Twitter in October, Democrats were 15% more likely than Republicans to trust that Twitter would "do what is right." After October, trust levels evened out—dropping for Democrats and rising for Republicans—so that 34% of users in each party now trust Twitter to do what is right.
Despite the decrease in Democrats' Twitter use and trust since Musk's takeover, they did not significantly stop using Twitter for political news. Republicans, on the other hand, reported that they were slightly more likely to use Twitter as a source of political news, rising from 10% to 14%.
"Democrats presumably believe the information from particular sources on Twitter will remain trustworthy even if the technology itself may not," IPR political scientist James Druckman said, who co-authored the report.
Additionally, the researchers asked participants about which social media sites they viewed as politically biased in December and January, which they compared with the January 2021 survey results. Though the surveys were two years apart and the changes cannot be solely attributed to Musk's purchase of the platform, they indicate that Republicans and Independents saw a significant reduction in bias towards conservatives on Twitter, while Democrats and Independents saw a significant increase in bias against liberals.
Other key findings:
On Twitter, Republicans' perceptions of bias against conservatives have dropped by 25 percentage points since 2021, while Democrats' perceptions of bias have increased by 10 percentage points over the same period.
Across all social media platforms, over half of Republicans (52%) viewed Facebook as the platform most biased against conservatives in December 2022 and January 2023, compared to just 9% of Democrats. While nearly one-third (31%) of Democrats perceived Twitter as the most biased platform against liberals, only 11% of Republicans said the same.
Independents' assessments of perceptions of bias on social media platforms were in line with those of the major parties. They reported that Twitter was the most biased against liberals (17%) and that Facebook was the most biased against conservatives (30%).
Read the report. Previous COVID States Project reports are available here.
James Druckman is the Payson S. Wild Professor of Political Science and IPR associate director and fellow. Jonathan Schulman is a PhD student in the political science department.
Photo credit: iStock

Published: February 6, 2023.