Psychologist Jennifer Richeson to Examine 'The Mythology of Racial Progress'
Distinguished scholar to discuss how this mythology shapes beliefs about, and solutions for, racial inequality
Get all our news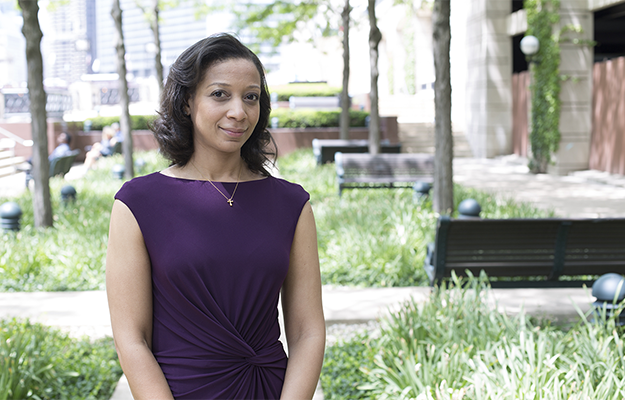 How does Americans' understanding of racial disparities, including perceptions of the wealth gap between Black and White Americans, affect the nation's path to racial progress? Yale social psychologist Jennifer Richeson will examine this issue as the Spring 2023 Distinguished Public Policy Lecturer at Northwestern University's Institute for Policy Research (IPR). Register now for her in-person lecture on "The Mythology of Racial Progress" on Tuesday, May 9, 2023, at 3:30 p.m. CT.
"Jenn Richeson is conducting trailblazing research to expand our understanding of how different social and racial and ethnic groups perceive and interact with one another, critical considerations in our increasingly diverse society," said IPR Director and economist Diane Whitmore Schanzenbach. "She is one of the first scholars to use brain imaging to understand prejudice and stereotyping—pioneering work that she also advanced while at IPR and Northwestern—and we are delighted to welcome her back." Schanzenbach is the Margaret Walker Alexander Professor of Human Development and Social Policy at Northwestern University.
---
Registration is required to attend this in-person-only lecture, which is open to the public and free of charge. No virtual attendance options will be offered.
A brief audience Q&A will follow the lecture, and a recording of the lecture will be made available following the event.
For media interested in attending or queries, please email Patricia Reese at p-reese@northwestern.edu or call 847-491-3395.
---
ABOUT JENNIFER RICHESON
Richeson is the Philip R. Allen Professor of Psychology at Yale University, where she also directs the Social Perception & Communication Lab.
Her research examines how people identify and respond to social injustice and inequality. She has authored or co-authored more than 100 scientific articles published in leading academic journals such as Science, Proceedings of the National Academy of Sciences, and Personality and Social Psychology Review, as well as being cited widely by mainstream media.
She received her PhD from Harvard University in 2000. She was previously a professor at Dartmouth College and at Northwestern University, where she is an IPR faculty adjunct. She is a member of the President's Council of Advisors on Science and Technology (PCAST), one of 30 leading authorities who advise the White House on policy related to science, technology, education, and innovation. Richeson has received numerous accolades for her research, including the prestigious MacArthur "genius grant" in 2007 and Carnegie (2020) and Guggenheim (2015) fellowships. She is an elected member of the National Academy of Sciences, American Academy of Arts and Sciences, and American Psychological Association, among others.
ABOUT THE INSTITUTE FOR POLICY RESEARCH AT NORTHWESTERN UNIVERSITY
The Institute for Policy Research (IPR) at Northwestern is one of the country's oldest and most prominent interdisciplinary social science research institutes. The Institute's more than 160 award-winning faculty are among the top experts in their fields. Using rigorous methods, they conduct innovative, policy-relevant research, tackling some of the nation's most pressing social issues—from education and inequality to social safety nets and gun violence. IPR faculty experts train policy-minded scholars and doers, and they share their research widely with policymakers, foundations, nonprofits, and the media to support sound policy decisions.
IPR Distinguished Public Policy Lectures are given by prominent individuals who can speak to the use of research in policymaking and other issues. Past lecturers have included Raphael Bostic, Arthur Brooks, Raj Chetty, Cecilia Rouse, and Donna Shalala.
For more information about the event, please email ipr@northwestern.edu or call 847-491-3395.
Photo by M. Bowie.
Published: April 12, 2023.