Unpacking the 2022 Midterm Election Results
IPR scholars share insights on the 'red wave that wasn't,' misinformation, and media viewing
Get all our news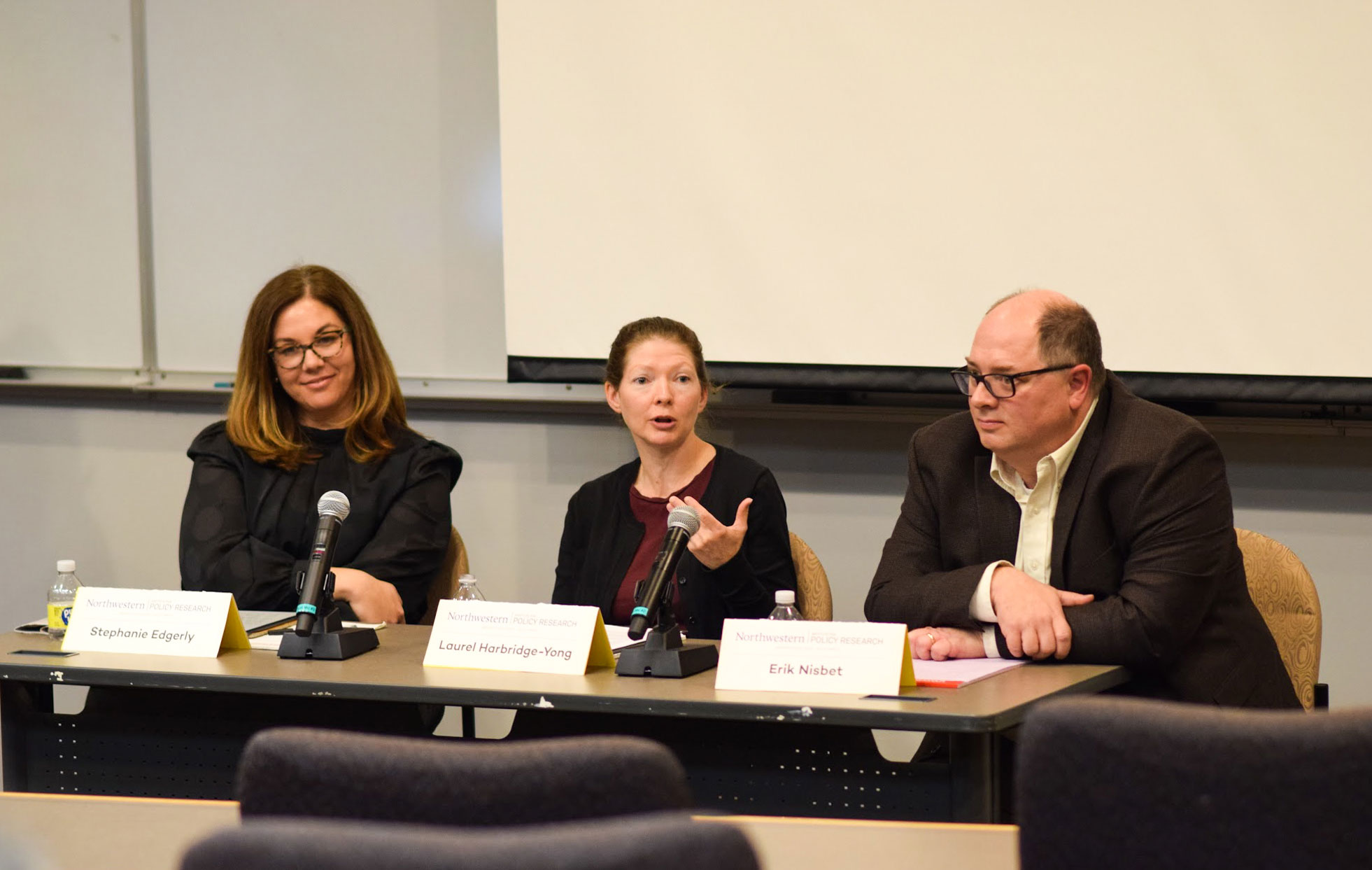 IPR scholars Stephanie Edgerly, Laurel Harbridge-Yong, and Erik Nisbet (left to right) share their insights during the 2022 midterm elections panel. 
In opening IPR's 2022 midterm elections panel on Monday, November 14, IPR political scientist James Druckman recapped the overall election results, saying polls predicting the results were more accurate than expected, more Democrats showed up to vote than predicted, and abortion mattered more than some would have thought—even in red states.
Dubbed the "red wave that wasn't," the midterms split control of Congress, despite President Joe Biden's low approval ratings and high inflation. 
Druckman called it a "historic" election—one of the best midterms for a president in decades. Still, the election exposed the fragile state of U.S. democracy: Across all races, 170 of 291 election deniers won office, according to the Washington Post.
"It's a good thing we held our event today because we couldn't have predicted what would have happened today just last week," Druckman commented.
He then welcomed the three IPR faculty panelists—media scholar Stephanie Edgerly, who analyzed how audiences consumed news about the election; communications and policy scholar Erik Nisbet, who discussed polling data and misinformation; and political scientist Laurel Harbridge-Yong, who broke down what the results might mean for bipartisanship in the next Congress.
The Media Landscape on Election Night
How many Americans tuned in to election night results? Overall, 25.4 million Americans watched in prime time, compared with more than 100 million who watch the last Super Bowl.
"This year was down 30% from the 36.1 million in 2018," Edgerly said.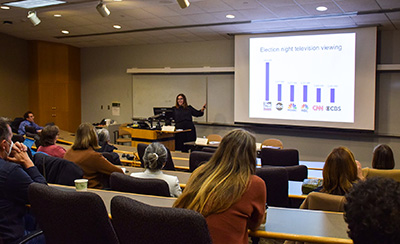 To put those numbers in context, she pointed to the seismic changes taking place in the overall media landscape, where the news audience is shrinking, most news outlets are struggling to turn a profit, and 26% of journalism jobs have been lost since 2008. 
In terms of the major news broadcasters, Fox News dominated with 7.4 million viewers, followed by ABC, MSNBC, and NBC with roughly 3 million viewers each.  
YouTube, Google, Facebook, and Twitter were among the top websites viewed by Americans leading up to the elections in September 2022, Edgerly says. But those top spots also included the websites of mainstream news outlets like CNN, the New York Times, and Washington Post, as well as right-leaning outlets like Fox News and the New York Post.
"One take-home message is that legacy outlets are still a primary, popular source for news, even online," Edgerly said.
She also finds differences in viewers in terms of age, with older Americans tending to get their news from the major networks, where the median ages ranges from 57 at CNN to 67 for MSNBC. While 18- to 34-year-olds also get their news from major media operations online, Edgerly notes that they also turn to outlets like EliteDaily and TeenVogue. She says these more niche websites are speaking directly to a younger audience, with articles like "She Turned Her Quinceañera into a Get-Out-the-Vote Party" and "January 6 Insurrection: One Year Later, Families Are Still Divided." 
"While their audience is a lot smaller, they are doing some interesting reporting around the election and socializing young people into politics and voting and what they can expect," Edgerly said, "but also appealing to  identities (plural)-based politics."
Where people find their news is more complex with some platforms playing an outsize role in news consumption. Other small websites, she says, can play a powerful role in pushing misinformation, creating engagement, and connecting users to one another.
"In a lot of ways, the usual suspects remain popular sources of news, but in a lot of other ways it's more complicated to measure news use," Edgerly said.
Polling, Misinformation, and 'Democracy on the Ballot'
Election results based on high-quality election polls and forecasts were generally correct, Nisbet noted, despite pundits and partisan polls that showed greater support for Republicans in the weeks leading up to the election.
While there was a historical sense that there would be a red wave to "punish" the president's party, Nisbet suggests that there has been a "calcification" in American politics—or that the public is so polarized that swings in a political direction will be very small. He also says that misinformation also played a much smaller role in conversations about the election compared with 2020. 
"Contrary to 2020, misinformation was more of a whisper than a bullhorn," Nisbet said.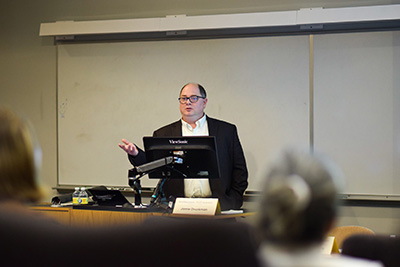 In contrast the last election, we did not experience any post-election political violence, he explains, and social media posts promoting election misinformation were decentralized and focused on local races, such the ones in Arizona. 
"You didn't have a centralized national apparatus or elites putting out these talking points that fed the online ecosphere in terms of misinformation," he said. 
How did the Democrats push for "democracy on the ballot"—or the messaging that extreme 2020-election-denying candidates would be a threat to democracy—work on voters? Nisbet says that this strategy was criticized, especially in swing districts, where issues like inflation or crime seemed more important to voters. But nationwide, results indicate the voters did care about keeping extreme candidates out of office.     
"The 'America First' slate of secretaries of state candidates, they lost except in Indiana," Nisbet said. "The logic there—that they were basically going to take over these battleground states and next election guarantee it for the Republican Party—that didn't work out."
But he points out that of 199 Republicans across all races who were 2020 election deniers according to FiveThirtyEight, two-thirds of them were re-elected. Incumbent candidates were less likely to pay a penalty for denying the election compared to first time candidates.
Looking forward to the 2024 election, Nisbet says three things to watch are: who shows up to vote, whether the economy changes, and President Trump's status as a previous president.
"It didn't work for newcomers being this extreme candidate, but with Trump now a previous president, is he really a political newcomer? He is a known entity," Nisbet said, wondering if a 'democracy-on-the-ballot strategy' would work against him.
Candidate Quality and Primary Voters
If midterm elections usually favor the party opposing the president and voters cared about the economy and inflation more than issues favoring Democratic candidates, why wasn't there a red wave?
Harbridge-Yong says that while abortion became a galvanizing issue after Roe v. Wade was overturned and the "democracy on the ballot" campaign was effective, candidate quality also mattered.
"Another component when thinking about who the candidates are and how it ended up helping the Democrats is thinking about primary elections in conjunction with general elections," Harbridge-Yong said.
During the primary season, 14 incumbent Republicans lost their races, which was not that distinct in terms of the numbers, she says, until you examine the pattern of losses.
"Between retirements and primary outcomes, the Trump, or the MAGA, wing of the Republican party has increased their hold on the GOP," she said.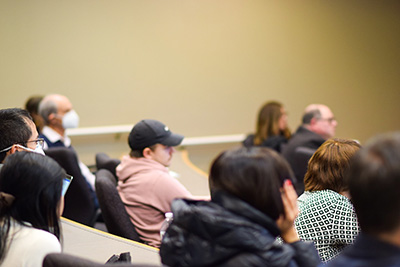 Four Republicans who backed the Trump impeachment lost their seats, including Liz Cheney, and in races with two incumbents vying for the same seat, Trump candidates were more likely to beat their opponent. In contrast, the Democrats who won their primary elections represented both moderate and progressive wings of the party.
"This is where the choice of which candidates Republicans backed in the primary general election came back to affect them in the general election," Harbridge-Yong said.
From her survey of primary voters in four battleground states—Ohio, Pennsylvania, North Carolina, and Wisconsin—on candidate electability, she finds primary voters do think about electability: They consider issues such as fundraising ability, whether the person held office, and perceived moderation when they choose a candidate. The latter matters among Independents but not partisans.
Although she has not examined the survey data by party, the election outcomes point to potential differences in how the parties think about electability.
"The takeaway that I'm seeing from the trends from the overall primary and general election data is, on balance, Democratic primary voters and their party elites seem to either prioritize electability more—or better understand—who is electable in swing states than did Republicans," she explained.
Her own research shows elected officials believe primary voters are more extreme in their views, and politicians have a stronger incentive to respond to the primary electorate because these voters are more unified and care more about legislators' voting record.
Moving forward, Harbridge-Yong predicts that in a divided Congress, politicians will engage in "messaging politics," or presenting bills that they know will not be enacted by the other chamber to make the other party look bad. Republican leadership also may encounter opposition from MAGA politicians who prioritize "purity over pragmatism," and they might struggle to get a majority vote. 
"We can image a situation going forward where a Freedom Caucus or Trump wing of the party won't give in, even on things that must pass to get things done, and it will contribute to gridlock," she said. 
James Druckman is the Payson S. Wild Professor of Political Science and IPR associate director and fellow. Stephanie Edgerly is associate professor and director of research in the Medill School. Laurel Harbridge-Yong is associate professor of political science and an IPR fellow. Erik Nisbet is the Owen L. Coon Endowed Professor of Policy Analysis & Communication. 
Published: November 21, 2022.