Over Half of All Parents Report Concerns About COVID-19 Vaccines for Their Kids
Republican, Asian, and rural parents have higher levels of concerns than other parents
Get all our news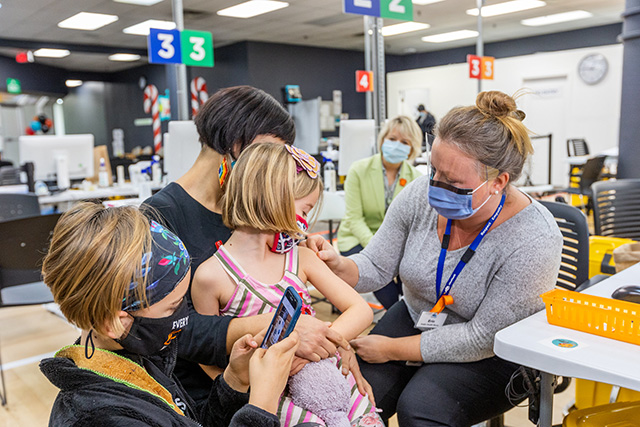 In November 2021, children in the Province of British Columbia received their first doses of the COVID-19 vaccine.

Will parents vaccinate their kids as pediatric COVID-19 hospitalizations rise across the United States? A new survey shows many parents continue to hold high levels of concern about the COVID-19 vaccine, and some concerns are more polarizing among parents.
The report by researchers at Northwestern, Harvard, Rutgers, and Northeastern reveals over half of all parents surveyed in November continue to cite two major concerns about COVID-19 vaccines: 59% of parents report they are concerned about long-term side effects, and 57% state they are worried about whether the vaccine has been tested enough.
IPR political scientist James Druckman, IPR graduate research assistants Jennifer Lin and Caroline Pippert, and their colleagues find these two concerns have consistently been the top issues worrying parents across three waves of nationally representative survey data.
"It suggests that people do not assume safety for adults translates to safety for children, which in turn, could mean increased COVID-related disruptions to school and related activities," Druckman said.
In June 2021 and September 2021 surveys, the researchers found five concerns:
How new the vaccine is,

Whether the vaccine has been tested enough,

Whether the vaccine works,

Short-term side effects, and

Long-term side effects.
Druckman and his colleagues evaluated these concerns in their latest survey of 22,277 people, conducted between November and December 2021.
Overall, the researchers show parent concerns about COVID-19 vaccines for their kids were at their lowest in June 2021, increased substantially in September, and decreased slightly in November. However, another trend shows some parents' apprehensions about the vaccine have remained elevated compared to June.
They find that Republican, Asian, and rural parents have higher levels of particular concerns from September to November, while Democrats, Hispanics, and older fathers returned to lower levels for most concerns after rising in September.
These results suggest some groups are becoming more polarized on specific concerns. According to the researchers, concern about the long-term effects and the newness of the COVID-19 have been particularly polarizing.
This report builds on a separate report where the researchers found that COVID-19 vaccination rates for adolescents between 12 and 18 had stalled between September (54%) and November (55%). The researchers found the number of overall "vaccine-enthusiastic" parents—those who had or intended to get their children vaccinated—fell from 64% to 57%.
Recently, the Food and Drug Administration authorized the use of a Pfizer-BioNTech booster for youth ages 12 to 15 on January 3. Considering the high levels of unease among parents, Druckman said, "Health care professionals should be careful in recognizing basic parental concerns about the vaccines before coming on too strong about the newly approved boosters."
Other trends on parental concern show: 
Republican, Black, and rural parents and mothers under 35 and parents who say they do not intend to vaccinate their kids are among the subgroups with the greatest proportion of people expressing concerns.

College-educated and Democratic parents, and those who have already vaccinated their kids, have consistently reported the fewest concerns.

Fathers aged 35 or older tend to have some of the lowest levels of concerns.

Parents express the least concern about vaccine novelty and short-term side effects.
Read the report.
James Druckman is the Payson S. Wild Professor of Political Science and IPR associate director and fellow. Jennifer Lin and Caroline Pippert are IPR graduate research assistants and PhD students in political science.
Photo credit: Flickr; Province of British Columbia

Published: January 4, 2022.