One Year After Capitol Insurrection Americans Remain Divided in Their Feelings About It
Overall support for the insurrection is low, but an increasing partisan divide is 'concerning,' says IPR researcher
Get all our news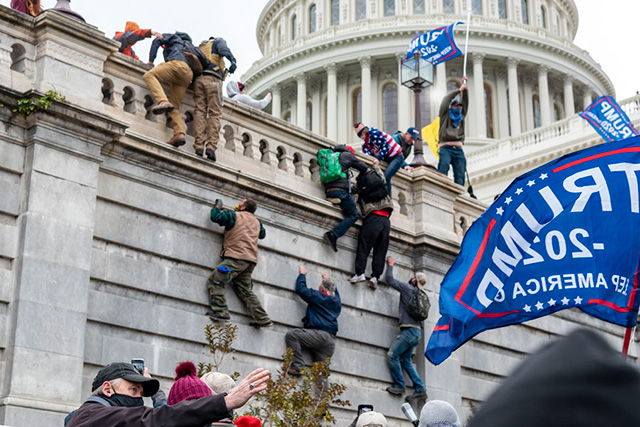 On January 6, 2021, supporters of Donald Trump stormed the U.S. Capitol.
One year after supporters of Donald Trump stormed the U.S. Capitol on January 6, 2021, a new survey finds that 52% of Americans overall feel sadness and anger, and 49% feel shame about what happened, with Democrats expressing these emotions more (65%–71%) than Republicans (34%–41%) and Independents (45%–46%).
While the report by researchers from Northwestern, Harvard, Northeastern, and Rutgers shows overall support for the insurrection is low—with only 5 percent of all respondents saying they support it, opposition to it became more polarized in the intervening year. The February 2021 report showed a 15-percentage point gap between Republicans (74%) and Democrats (89%) who "strongly or somewhat opposed" the riot. But by January 2022, the new report finds this gap had grown to 26 percentage points due to falling Republican support, which had dropped to 63%, while support by Democrats held steady at 89%.
"One notable, perhaps surprising, finding is the low overall support for the storming. Yet the partisan divide and the fact that it has increased in the last year is concerning," IPR political scientist James Druckman said, who co-authored the report. "It suggests a staunch minority of Republicans continue to support the violent disruption of democratic processes."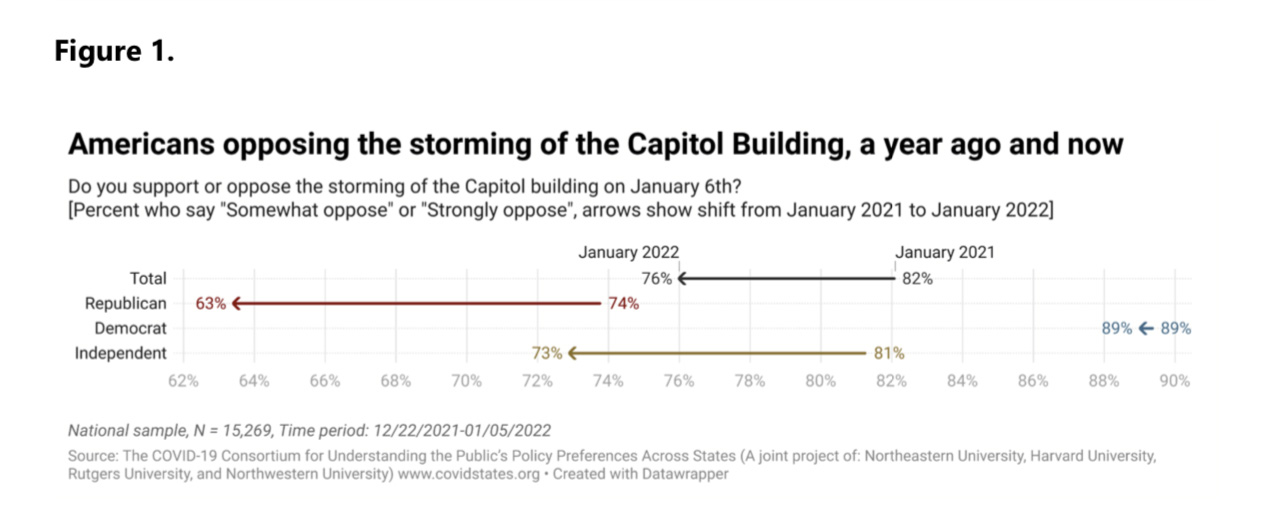 Conducted between December 22, 2021, and January 5, 2022, the survey asked 15,269 Americans around the nation for their opinions on the insurrection, including their support of the mob and whether they thought Antifa was involved in the riot—a claim which has been consistently debunked.
Perceptions about Antifa's involvement were also split along party lines, but these latest results demonstrate Americans are moving away from this belief. In 2022, more Republicans (24%) still agreed that Antifa was involved in the Jan. 6 attack than Democrats (11%) and Independents (11%). One year ago, however, 33% of Republicans and 21% of Independents believed Antifa members were involved, a 9-point and 10-point-percentage drop from 2021, respectively.
Additionally, the survey asked respondents about the fairness of the 2020 U.S. election, who should have won it, and Donald Trump's role in the Republican party.
The results also reveal large partisan splits regarding who should have won the 2020 election. When asked in January 2022, "if votes were fairly counted, Donald Trump would have won the 2020 election," 62% of Republicans agreed with the statement, and 18% disagreed. In comparison, 5% of Democrats agreed, and 88% disagreed.
"This large partisan gap in beliefs about the election echoes other polls," Druckman said. "An outstanding question is the extent to which it reflects strong beliefs about the 2020 election and elections in general, or more partisan signaling. Either way, it provides candidates who lose some latitude in challenging the results. This is not good for democracy."
With the 2022 midterms approaching, the survey sheds light on how voters may react to candidates endorsed by Donald Trump. Of all respondents, 45% said a Trump endorsement would decrease their support of a candidate, and 17% said it would increase their support. 
Other findings reveal:
Overall, public support for the January 2021 storming of the Capitol is low, with 76% of respondents overall opposing it and only 5% supporting it.
While fewer respondents believe Antifa was involved in the insurrection than last year, 14% of people still agree there were undercover Antifa members at the Capitol, and 42% are not sure.
Most Americans (63%) are very or mostly confident about the fairness of the 2020 election. There are wide gaps between Democrats (71%) and Republicans (10%) who said they were "very confident" in the fairness of the election.
Over the last year, confidence fell slightly by 3- to 4-percentage points across all partisan groups. Republicans who said they were "mostly" or "very confident" shifted from 30% to 27%, Democrats' dropped from 96% to 92%, and Independents moved from 63% to 59%.
Read the report.
James Druckman is the Payson S. Wild Professor of Political Science and IPR associate director and fellow.

Photo credit: Flickr; B. O'fanaye 

Published: January 6, 2022.