Democrats More Likely to Approve Their Republican Governors' Pandemic Performance
New survey also shows 53% of Americans support Biden's handling of the COVID-19 crisis
Get all our news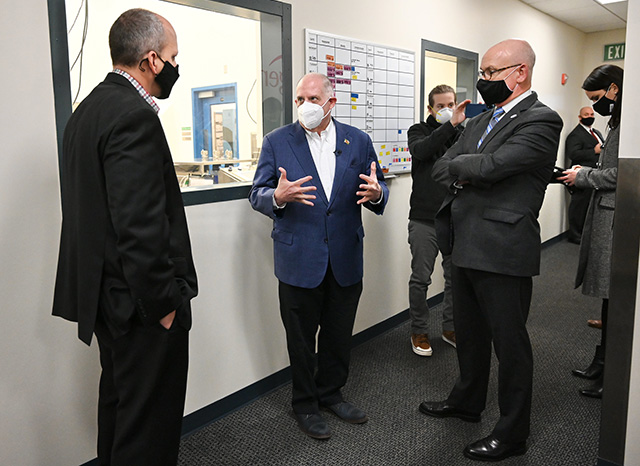 Maryland Gov. Larry Hogan (R) is one of five Republican governors who has higher approval ratings from Democrats than Republicans. 
How much Americans approve—or disapprove—of their governors and the president's handling of COVID-19 in their state appears divided by party lines, according to the latest results from an ongoing national survey of more than 170,000 Americans between April 2020 and February 2021.
Conducted by a consortium of four universities that includes Northwestern, Harvard, Northeastern, and Rutgers, the survey finds that Republicans are generally more disapproving of their governors—even more so when their governor is a Democrat. Meanwhile, Democrats have increased their ratings for all governors on average, especially Republican ones.
"The partisan divide reflects nearly every other COVID-19 dynamic with Democrats favoring caution and public health and Republicans pushing for fewer government restrictions," said IPR political scientist James Druckman, who co-leads the survey.
For Republican governors, Republican voters were 9 percentage points more likely to approve their performance versus Democratic ones (54% vs. 45%). For Democratic governors, however, that difference rose by 40 percentage points between Democrats (71%) and Republicans (31%). This gap in Republican and Democratic voter approval has grown since October, when it stood at 34 percentage points for Republican governors (67% of Republicans approving vs. 33% of Democrats) and 22 percentage points for Democratic governors (44% of Republicans approving vs. 66% of Democrats).
"The partisan divide also reflects Republican frustration with the states stemming from the election and state leaders from both parties insisting on reporting actual voting totals counter to Trump's demands," Druckman said.
Druckman and his colleagues point out that in Arizona and Georgia, Republican approval of the governors decreased following the election, while Democratic approval increased. These were two Republican-led states whose electoral college votes helped President Joe Biden win the 2020 presidential election following extremely contentious electoral disputes and ballot recounts. 
Since the report in October, the number of COVID-19 cases and deaths surged and then decreased. Additionally, more Americans are now eligible for vaccines. Yet even with progress in fighting the pandemic, the average governor's approval rating has been on a long-term decline. In April, the researchers found the average approval of state governors' handling of COVID-19 stood at 64%. As of February, it dropped to 46%.
Approval of the governors in New York (Andrew Cuomo–D), Montana (Greg Gianforte–R), Rhode Island (Daniel McKee–D), and North Dakota (Doug Burgum–R) dropped the most, by at least 10 percentage points. Meanwhile, only four governors saw increases in their approval over this period: Asa Hutchinson of Arkansas (R), David Ige of Hawai'i (D), Eric Holcomb of Indiana (R), and Spencer Cox of Utah (R).
These changes may not be fully motivated by the presidential election though, as some states saw transitions in government. For example, Utah's former governor, Gary Herbert (R), retired at the end of his term in December, and Cox was elected to replace him. Montana's former governor, Steve Bullock (D), reached his term limit, and Gianforte was elected to replace him.
The researchers also note that Cuomo was accused of falsifying data about nursing homes deaths in his state while the survey was underway. The accusations of sexual harassment against him occurred after this wave of the survey.
"There is little doubt that what we found on Cuomo's approval was a precursor for what surely has been a continued plummet," Druckman said.
The March 2021 survey was also the first time the researchers determined how Americans viewed President Biden's handling of COVID-19. They show his rating stood at 53% and exceeded former President Donald Trump's approval from December at 32%. However, in six majority Republican states—Arkansas, Indiana, Louisiana, Oklahoma, West Virginia, and Wyoming—President Biden's approval rating in February was lower than President Trump's approval in those same states in December.
More highlights from the survey include:
The governors with the highest approval ratings were Phil Scott of Vermont (71%), Larry Hogan of Maryland (65%), Ned Lamont of Connecticut (61%), Chris Sununu of New Hampshire (61%), and Charlie Baker of Massachusetts (59%). Only Lamont is a Democrat, but the four Republican governors have some of the highest approval ratings from Democrats.
The governors with the lowest approval ratings are all Republicans: Iowa's Kim Reynolds at 32%, Arizona's Doug Ducey at 32%, Missouri's Mike Parson at 33%, Idaho's Brad Little at 33%, and Mississippi's Tate Reeves at 34%.
Approval of former President Trump's handling of COVID-19 dropped from 35% in October to 32% by December.
Independents generally had lower approval of their governors, and researchers said that trend has been steady.
In five Republican-led states, Democrats approve of their governor more than Republicans do—Maryland's Larry Hogan, Massachusetts' Charlie Baker, New Hampshire's Chris Sununu, Ohio's Mike DeWine, and Vermont's Phil Scott.
Read the full report here.
James Druckman is the Payson S. Wild Professor of Political Science and IPR Associate Director. Previous surveys can be found here.
Photo credit: Flickr; J. Andrucyk
Social media photo credit: Flickr; G. Skidmore 
Funding for the reports came from the National Science, Knight, and the Russell Sage foundations. Data collection was partially supported by Amazon. Any opinions, findings, and conclusions or recommendations expressed in the studies are those of the authors and do not reflect the funders' views.
Published: March 23, 2021.