Study Finds 'High-Dosage' Tutoring Can Double or Triple Math Learning, Help Reduce Widening Disparities
Study Finds 'High-Dosage' Tutoring Can Double or Triple Math Learning, Help Reduce Widening Disparities
As school districts grapple with learning loss from COVID-19, a new study shows personalized tutoring can bring adolescents to grade level quickly and at low cost
Get all our news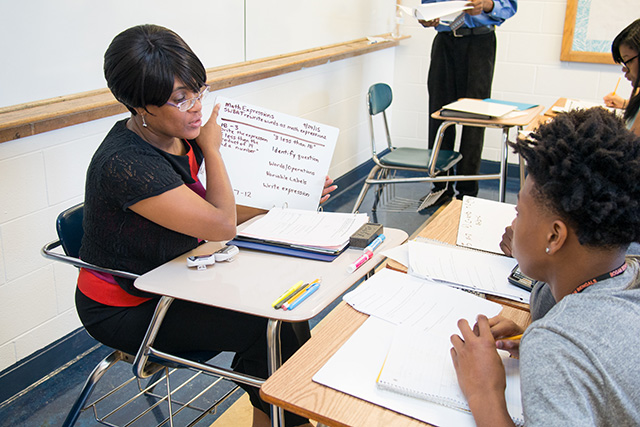 IPR economist Jonathan Guryan released a study with the University of Chicago Education Lab that demonstrates individualized, intensive—or "high-dosage"—tutoring can double or triple the amount of math high school students learn each year, increase student grades, and reduce the number of failed classes in math and other courses. 
Education disparities, especially in math, existed long before the pandemic. For high school dropouts, 80% of them cite failing their classes as their number one reason for dropping out—with Algebra 1 being the course most frequently failed. As these gaps widen due to the pandemic, the evidence is encouraging and reveals how schools can reduce learning loss at a low cost.   
"This rigorous study shows that high-dosage tutoring can be impactful and cost-effective at scale," Guryan said. "We  hope the findings inform how public and private resources are leveraged nationally to address increasing academic achievement disparities as children get older."
The study, Not Too Late: Improving Academic Outcomes Among Adolescents, evaluated the impact of an intervention that provided Chicago Public Schools students with daily 45–50 minute, two-on-one math instruction in ninth and tenth grades. The intervention, which cost $3,500 to $4,300 per pupil per year, was developed by the Saga Education, a nonprofit organization.  
Four key findings from the study, which involved two separate randomized control trials, show how using the intervention could help close learning gaps that accelerated during the pandemic: 
Students' math test scores, GPAs, and graduation rates continued to improve a year or two after tutoring had ended. They were also less likely to fail math and other courses.
Students learned as much as an extra two and a half years of math in one academic year—or the equivalent of closing up 50% of the black-white test score gap in one school year.
The estimated benefit-cost ratio for Saga high-dosage tutoring is comparable to that of many successful early-childhood programs, like the Abecedarian Project and the

 

Perry Preschool Program.
Saga's low-cost, personalized intervention can reduce the variability of academic achievement in classroom settings at scale, an issue teachers report is one of the most challenging aspects of their jobs.
"As cities begin to rebuild from the pandemic, leaders across the country should act on these findings and make high-dosage tutoring a priority to support students," said Chicago Mayor Lori Lightfoot.
The study was conducted by a team of the world's leading education and child development experts as co-authors, and funded by the National Institutes of Health, MacArthur Foundation, and Arnold Ventures (formerly the Laura and John Arnold Foundation).
Read more about the findings and the study here.
Jonathan Guryan is the Lawyer Taylor Professor of Education and Social Policy and an IPR Fellow at Northwestern University.
Photo credit: Saga Education
Published: March 12, 2021.