The Dangers of Collecting Drinking Water
Anthropologists reveal social and gender inequities of a hidden global health challenge
Get all our news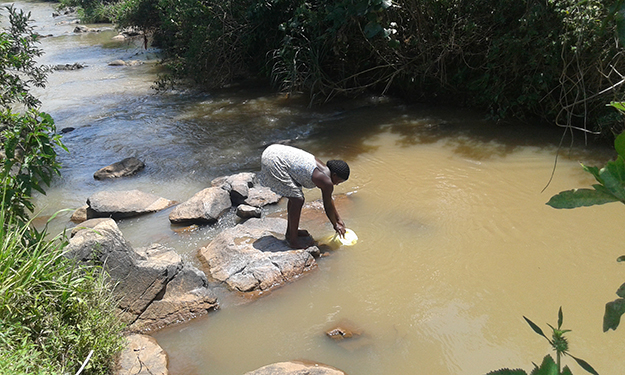 An international study is one of the first to reveal how those who set out to collect drinking water in low- and middle-income countries can face serious injury.
Co-authors IPR anthropologist Sera Young and Northwestern postdoctoral fellow Vidya Venkataramanan report in BMJ Global Health that these injuries more frequently impact women and compound the issue of water insecurity.
"When it comes to water, the bulk of our attention goes to what is in it," Young said. "It's easy to forget that for the millions of people who don't have the luxury of clean drinking water at their home, they can face many dangers before the water even touches their lips."
Such dangers include to falls, traffic accidents, animal attacks, and fights, which can result in broken bones, spinal injuries, lacerations, and other physical injuries.
Their research draws from a survey of 6,291 randomly selected households across 24 sites in 21 low- and middle-income countries in Asia, Africa, Latin America, and the Caribbean. They worked with colleagues from the U.K.'s University of East Anglia and the University of Miami in Florida on the study.
"Our analysis shows 13% of the respondents reported some sort of injury, and that women were twice as likely to be hurt as men," Young said.
The study reinforces how the burden of water scarcity disproportionately falls on women, on rural populations, and on those who do not have water sources close to home.
The data underscore the importance of safe interventions that prioritize personal physical safety alongside traditional global indicators of water, sanitation, and hygiene. Venkataramanan pointed to how water fetching is usually not measured because researchers typically think more about the quality of and access to water, which is why it is important to systematically collect such information to understand the "true burden" of water insecurity.
"It is, therefore, a greatly underappreciated, nearly invisible public health challenge," Venkataramanan said.
The researchers offer that keeping track of such safety measures—in addition to the usual measures of water quality and access—could help better assess progress towards the United Nations' Sustainable Development Goal 6.1, which sets out "to achieve universal and equitable access to safe and affordable drinking water for all" by 2030.
Source: Venkataramanan, V., J.-A. Geere, B. Thomae, J. Stoler, P. Hunter, and S. Young. 2020. In pursuit of 'safe' water: The burden of personal injury from water fetching in 21 low-income and middle-income countries. BMJ Global Health 5 doi:10.1136/bmjgh-2020-003328. 
Sera Young is associate professor of anthropology and an IPR fellow. Vidya Venkataramanan is a postdoctoral fellow in anthropology and the Center for Water Research.
Photo credit: P. Mbullo
Published: October 29, 2020.