Tackling Early Childhood Education
In a course taught by IPR's Terri Sabol, undergraduates give policy recommendations to the governor's office
Get all our news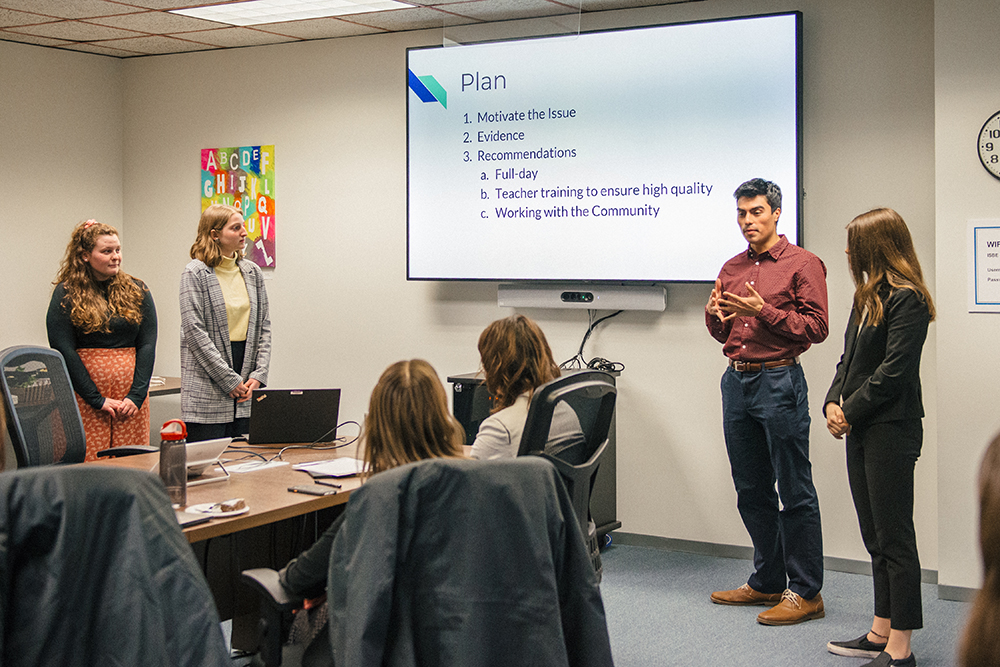 Students in IPR developmental psychologist Terri Sabol's class, including undergraduate Alan Perez (center), made policy recommendations before  the Illinois governor's office about how to tackle early childhood education. 
Researchers, policymakers and students from the School of Education and Social Policy gathered at Illinois Gov. J.B. Pritzker's office in Chicago on March 9 to tackle some of the state's most pressing early childhood education issues.
As part of IPR developmental psychologist Terri Sabol's Crafting Child Policy course, students presented recommendations to the governor's Early Childhood Funding Commission and other state officials to improve the state's early care and education programs. The presentations touched on a wide range of topics, including diversity in early education, kindergarten readiness, parent mental health, and the effect of the opioid crisis on families.
Elliot Regenstein, a member of Governor Pritzker's Early Childhood Funding Commission, said he was impressed by the presentations.
"It's exciting to see students diving into the research on some of the most pressing topics facing Illinois' early childhood system," he said. "And I was extremely impressed at how well the students understood the issues and crafted thoughtful proposals to address them."
I was among the students who made recommendations to improve Illinois' state-funded pre-kindergarten program. My group recommended that the state expand its current Preschool For All program, which prioritizes enrollment for the most at-risk students, to a universal program open to all 4-year-olds in the state. We compiled research, including a studyauthored by IPR director and economist Diane Whitmore Schanzenbach, that showed high-quality universal preschool programs benefit children and families, especially those who are low-income.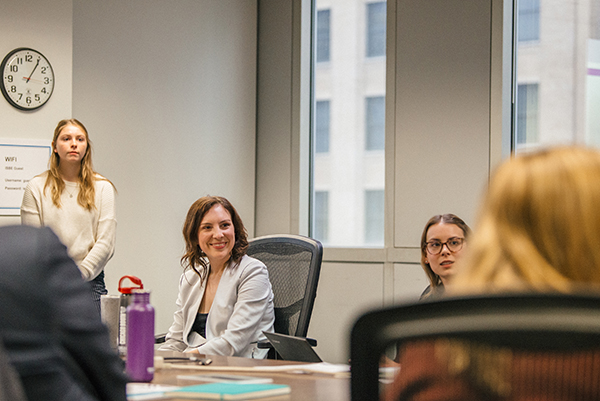 The idea for this course began three years ago. Sabol, an assistant professor of Human Development and Social Policy, had been looking to make her courses "more relevant and less abstract."
"My goal is to teach how policies, programs, and interventions can improve the lives of children through in-depth understanding of human development," she said during opening remarks. "The challenge for teaching is to ensure that my students make meaningful connections between the science of child development and real-world contexts."
In 2017, the Data, Research, and Evaluation Committee from the Illinois Early Learning Council generated research questions they wanted answered about potential policies and programs in the state. Sabol saw an opportunity to give students the chance to apply developmental science to real-world applications while informing the state about policy.
The first cohort of students studied topics like teacher attrition, chronic absenteeism, and the effects of socio-emotional interventions in Head Start programs. Since then, Illinois elected Gov. Pritzker, who has made improving early education in the state one of his top priorities.
This commitment to child programs increased the potential to shape policy. I was especially excited to present about pre-K, since Pritzker has said he plans to transition to a universal program in the next few years.
As an economics and social policy major, I appreciated working with students from different academic and social backgrounds to tackle very important policy issues. While I focused on the impact of pre-K expansions on the existing childcare market, for example, others in my groups looked into coaching to improve how teachers interact with their students. Together, we developed a more comprehensive policy solution that was ultimately better for children.
I am also impressed that our group work could make a real-world impact. As an undergraduate, I sometimes feel like I have to wait to influence policy. But this class gave us the opportunity to get a feel for what it's like to inform policy.
Time will tell whether Illinois adopts our recommendations. In the meantime, Sabol is hopeful that the presentations will have meaningful impact.
"I was humbled and impressed by the quality of the presentations to the Governor's office," Sabol told me. "Their work has the real potential to inform the design and implementation of policies across the state."
Terri Sabol is an assistant professor of human development and social policy. Alan Perez is a Northwestern senior studying economics and social policy, an undergraduate research assistant, and an IPR communications assistant.
Photo credit: Steve Drey
Published: March 24, 2020.